Both the San Diego Chargers and Denver Broncos regular-season meetings were decided by one score. We should expect another close game when the two teams meet in the divisional playoff game on Sunday afternoon at Sports Authority Field in Denver.
Both teams won on the other's field in the regular season, so home-field advantage may not be as big of a deal as it would be in other situations.
The Chargers proved they could win in a hostile environment in the Wild Card Round. Facing a Cincinnati Bengals team that hadn't lost at home in the regular season, the Chargers emerged victorious 27-10.
Beating the Broncos for a second time may not be as easy. This game will come down to the performance of a few key players. Some on the list are obvious choices, others are more like X-factors.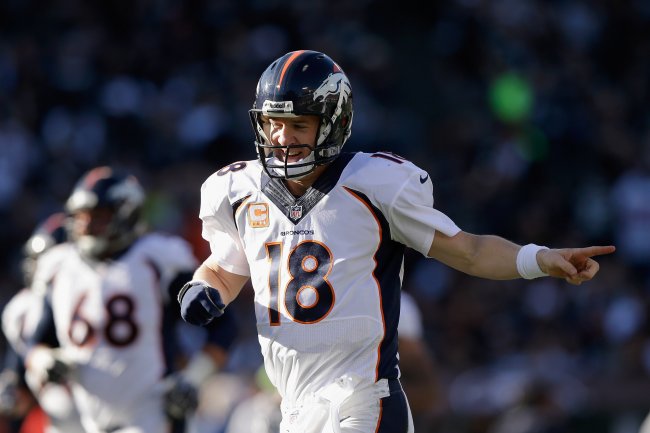 Ezra Shaw/Getty Images
This is definitely one of the obvious ones. Manning is perhaps the player most important to his team's success in the NFL.
Looking at his performance in the regular-season meetings against the Chargers is evidence of that.
San Diego has made it tough for Manning this year—especially on third downs. The Broncos have converted just five of 17 third-down situations against San Diego. That's not what you would expect from the highest scoring offense in NFL history.
Despite the low conversion rate in the Week 10 meeting, Manning still threw for 330 yards and four touchdown passes.
The Chargers sacked him twice, but didn't pick Manning off. In the second meeting, Manning was held more in check. He still threw for 289 yards and two scores, but San Diego was able to force an interception with a blitz.
Rarely will a defense confuse Manning with blitzes, but per Pro Football Focus (subscription required), the Chargers held Manning to a 41.7 percent completion rate against the blitz in Week 15. He didn't burn them for a touchdown and he was also sacked in addition to the interception.
How Manning handles the 'Bolts blitz will be huge in this game. Based on this statistic from ESPN Stats & Info, the pressure is on Manning—literally and figuratively:
In Super Bowl era, Peyton Manning has had twice as many 'one-and-done' playoff games than any other QB. Manning has 8.

— ESPN Stats & Info (@ESPNStatsInfo) January 7, 2014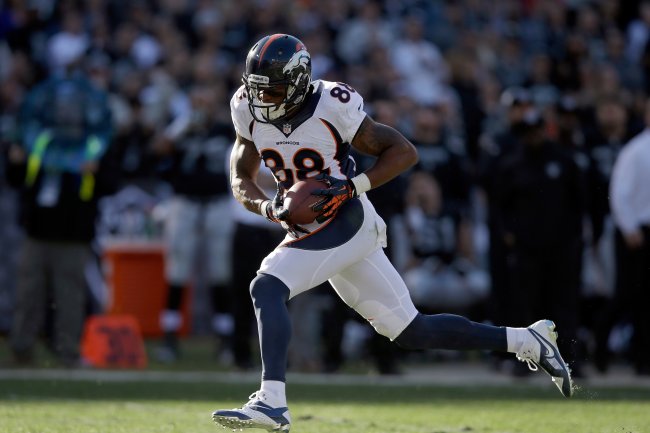 Ezra Shaw/Getty Images
Manning's favorite big-play receiver was just that in Week 10, but not so much in Week 15. In the Broncos' win, Thomas had seven catches, 108 yards and three touchdowns.
Per PFF, Shareece Wright drew Thomas in pass coverage every play in this Week 10 meeting.
In Week 15, the Chargers made an adjustment. Thomas was covered by Wright, Marcus Gilchrist, Richard Marshall and Donald Butler. The mixed bag helped to hold Thomas to four catches for 45 yards and no scores.
Denver needs Thomas to play big if it is going to defeat San Diego.
Mike Scifres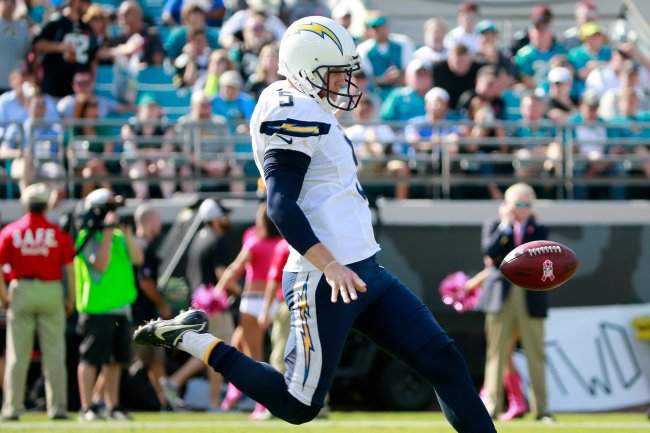 Sam Greenwood/Getty Images
Stopping the Broncos is tough enough; doing it when they have good field position is even tougher. Part of the reason the Chargers have been able to hold the Broncos under their season averages in yards and points is because of the punting of Scifres.
He has pinned Denver inside their 20-yard line on six occasions. The Broncos scored on only two of the drives that came after Scifres pinned them deep.
Scifres has already been instrumental in beating a Manning-led team in the postseason. He was phenomenal in 2009 when the 'Bolts ousted Manning's Indianapolis Colts from the postseason. Mike Greenberg of ESPN notes Scifres' heroic achievements:
Mike Scifres once won a playoff game against Peyton Manning. He's that valuable. And that punt was a huge play. #Chargers

— Mike Greenberg (@Espngreeny) January 5, 2014
Punters don't often get the credit they deserve, but Scifres' play is crucial if the Chargers are to continue to be competitive with the Broncos.
Ryan Mathews
Who wins the Chargers-Broncos game?
After an injury-filled past, Mathews has been a workhorse for the Chargers of late. He had at least 24 carries in all of the team's last four games. That includes his 29-rush, 127-yard, one-touchdown performance against Denver in Week 15.
Nagging ankle injuries held Mathews to just 13 carries against the Bengals, but he told Michael Gehlken of UT-San Diego, he's preparing to play against Denver:
My mindset is I'm playing. We keep fighting. Coach (Mike) McCoy says it all the time. It's the next man up. We're all ready.
San Diego has been committing to a run-dominant offense of late and continued production from Mathews is essential. The Chargers have been successful dominating the time of possession against the Broncos. In the first two meetings, San Diego has held the ball 33:44 longer than the Broncos.
The Chargers need Mathews and the running game to move the chains to keep Manning and Co. on the sidelines.
Follow me. Sports are what I do.