Could Don Brown Leave BC for UMass?
Use your ← → (arrow) keys to browse more stories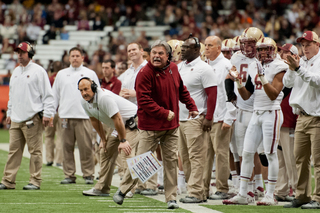 DailyOrange.com

When UMass fired Charley Molnar after Christmas, it didn't take long for rumors to begin swirling about potential replacements. With two abysmal years in their rear view mirror, the process of rebooting UMass football began, and in that, the Minutemen faithful began looking towards some familiar faces to rebuild and start the arduous task of making their program something resembling a team attempting to be respectable.