Updates from Saturday, July 12
Gordon Hayward confirmed on Twitter that he will be returning to the Utah Jazz:
Officially back with the @utahjazz!!!! Wanna thank them and all of #jazznation for believing in me! Lots of work ahead...

— Gordon Hayward (@gordonhayward) July 12, 2014
Jody Genessy of the Deseret Times has more on Hayward's deal:
Lindsey on Hayward's max deal: "It will not do anything to impede our ability to keep our team together and continue to build."

— Jody Genessy (@DJJazzyJody) July 13, 2014
Yahoo Sports' Adrian Wojnarowski reports that Hayward's offer sheet has been matched by the Jazz:
Utah has informed Charlotte that the four-year, $63 million offer sheet for Gordon Hayward has been matched, league source tells Yahoo.

— Adrian Wojnarowski (@WojYahooNBA) July 12, 2014
The Jazz sent Hornets notification this morning, source tells Yahoo Sports. Hayward will sign a four-year, $63M deal with Jazz today.

— Adrian Wojnarowski (@WojYahooNBA) July 12, 2014
Ken Berger of CBS Sports adds more from Hayward's agent about the process:
Hayward's agent, Mark Bartelstein, says Michael Jordan, Rich Cho and Steve Clifford "made a tremendous impression on Gordon."

— Ken Berger (@KBergCBS) July 12, 2014
Hayward came away from Charlotte meetings impressed with team's commitment to building a championship team with Jordan very involved.

— Ken Berger (@KBergCBS) July 12, 2014
Bartelstein said it "makes a great statement" that Jazz value Hayward enough to match. "He'll play his heart out for them as he always has."

— Ken Berger (@KBergCBS) July 12, 2014
Updates from Thursday, July 10
The Charlotte Hornets confirmed that they extended an offer sheet to Gordon Hayward in a press release on the team's official website:
Charlotte Hornets General Manager Rich Cho announced today that the team has extended an offer sheet to restricted free-agent forward Gordon Hayward. Per team policy, terms were not disclosed. In accordance with the NBA's Collective Bargaining Agreement, Hayward's current team, the Utah Jazz, will have three days to match the offer.
Original Text
The Utah Jazz's commitment to Gordon Hayward will be tested as the promising swingman has reportedly agreed to a four-year, $63 million offer sheet with the Charlotte Hornets as a restricted free agent, according to Rick Bonnell of The Charlotte Observer:

Gordon Hayward has agreed to an offer sheet with the Charlotte Hornets, the Observer has learned.

— Rick Bonnell (@rick_bonnell) July 9, 2014
Yahoo Sports' Adrian Wojnarowski confirmed the report:
Charlotte has agreed to a 4-year, $63M maximum offer sheet with Utah RFA Gordon Hayward, league sources tell Yahoo Sports.

— Adrian Wojnarowski (@WojYahooNBA) July 9, 2014
Charlotte offer sheet for Gordon Hayward expected to include player option on fourth year, and a trade kicker, league sources tell Yahoo.

— Adrian Wojnarowski (@WojYahooNBA) July 9, 2014
Jody Genessy of the Deseret News reports more from the Jazz side of things:
Gordon Hayward agreeing to a max deal w/ Hornets is a "non-issue for the Jazz," per a person with knowledge of situation. Utah will match.

— Jody Genessy (@DJJazzyJody) July 9, 2014
Utah committed to a youth movement last season by allowing both Al Jefferson and Paul Millsap to leave via free agency. The Jazz struggled as a team, but Hayward took some big steps forward and established himself as a leader and main contributor in his fourth NBA season.
While it seemed likely that Hayward would be re-signed entering the 2013-14 campaign, the two sides weren't able to come to an agreement. His name even popped up in trade talks in February with the Boston Celtics—coached by Brad Stevens, who coached Hayward at Butler—emerging as potential suitors, according to A. Sherrod Blakely of CSNNE.com.
The Jazz decided to hang onto him, though, and let the restricted-free-agent process play itself out. Now that Hayward has signed an offer sheet, Utah has the right to match the contract and retain Hayward's services if it so chooses.
It remains to be seen if the Jazz will go in that direction, but Tony Jones of The Salt Lake Tribune reported that the intention and expectation is for Hayward to remain in Utah:
Biggest thing I took away from today's workouts: The Jazz Front Office fully expects Gordon Hayward to be with the team moving forward

— Tony Jones (@Tjonessltrib) June 2, 2014
Since being drafted with the No. 9 overall pick out of Butler by Utah in 2010, Hayward has become a key piece for the Jazz. He has shown steady progression in all facets of his game over the past four seasons, and he truly developed into one of Utah's go-to guys last season.
Hayward averaged more than 16 points, five rebounds and five assists per game last season, and he played a career-high 36 minutes per contest as well. While Hayward has improved almost across the board, his percentages have gone down a bit as his attempts have increased, but that is to be expected.
Hayward went through some shooting slumps this past season, but he appears to have the right attitude in terms of working through them, per Mike Sorensen of the Deseret News:
You just keep shooting ... the next one's going to fall. I've been through rough patches before, so this one's not a big deal. Don't take any bad shots and if the shot's not falling, try to get to the free-throw line, get yourself going in transition, do the little things to help yourself.
Despite his issues, there is a lot to like about Hayward. Not only does he have a versatile skill set, but he also has a winning attitude. Following the San Antonio Spurs' NBA Finals triumph over the Miami Heat, Hayward expressed a desire to reach that level:
As a @NBA player, I'm inspired by the sustained success of Ginobili, Parker, Duncan and the @spurs. My blog: http://t.co/GRCzTXeZWH Pls RT!

— Gordon Hayward (@gordonhayward) June 17, 2014
There were some questions about Hayward's ability to thrive in the NBA after a standout career at Butler in which he nearly won a national championship, but he has proved his doubters wrong. He may not yet be an elite, All-Star-caliber player, but he could get there if he continues to improve.
What should the Jazz do with Hayward?
With Utah's commitment to youth quite evident, many are seemingly surprised that things have gone this far with Hayward signing an offer sheet. According to Zach Lowe of Grantland, though, Hayward understands that there is a process that needs to play out.
"It's a business decision," Hayward said. "I've been around enough to know that's what the NBA is. For whatever reason, we didn't reach an agreement. It wasn't a weird feeling for me."
Even if the Jazz opt against retaining Hayward, they still have an exciting, young core in place. Utah added talented prospects Dante Exum and Rodney Hood in the 2014 NBA draft. In addition, the Jazz already signed forward Derrick Favors to a four-year, $49 million extension, according to ESPN.com, and center Enes Kanter and point guard Trey Burke are playing under their rookie contracts for now.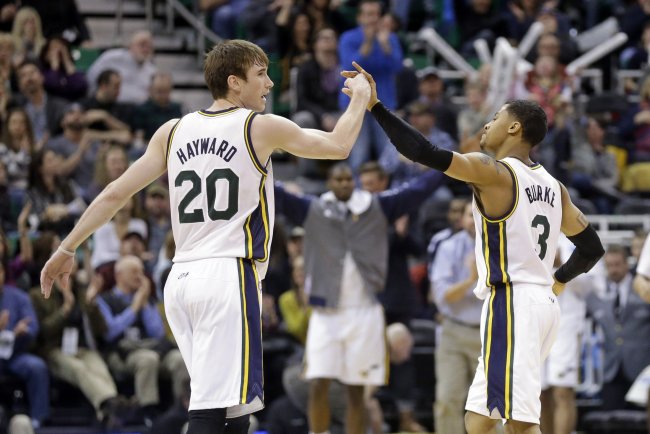 Rick Bowmer/Associated Press
If Kanter and Burke progress as expected, there is little doubt that the Jazz will have a formidable, playoff-contending team on their hands in just a couple of seasons. Hayward is a guy who ties everything together, so he seems like an obvious fit for Utah moving forward.
Hayward excels on both ends of the court due to his athleticism and basketball IQ, and he is the type of player who manages to make his teammates better. Elevating teammates is normally reserved for the point guard position, but Hayward makes it happen as a swingman.
Favors is already on the verge of becoming as good as or better than Jefferson and Millsap, and Kanter has that type of ability as well. Also, the backcourt is promising thanks to the combination of Burke and Alec Burks.
Utah's future is bright, but Hayward may very well be the key. If the Jazz allow him to walk, it will be interesting to see how they intend to replace his production.
Hayward has all the makings of a great leader, which is likely one of the reasons Charlotte signed him to an offer sheet. He may be young, but he already plays a very mature game, and that is only going to help the youngsters around him develop more effectively in the coming years.
Since entering the league in 2010, Hayward has done everything right in terms of doing whatever it takes to be a quality player in the NBA, and there is no reason to believe that will change in 2014-15 with the Hornets or Jazz.
Follow @MikeChiari on Twitter