The 2008-09 Serie A Team of the Season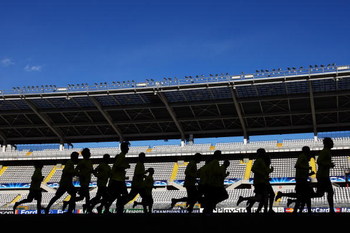 With the final week in Italy bidding on fond farewell to three legends, the final chapter of the 2008-09 Serie A campaign has been written.
Inter Milan have claimed its fourth consecutive Scudetto with Juventus taking second place over AC Milan based on head-to-head result. Fiorentina concludes the top four and will have to go through the Champions League qualification round to compete in Europe's premier club competition.
As the summer transfer window opens, players are already on the move and now is the time to recognize the best of the best from the season that just came to a close.
Selecting Serie A's Team of the Season was no easy task. Many talented players had to be left off the list and the 4-3-3 system that will be utilized is a talented one at that.
Enjoy the show.
Goalkeeper - Julio Cesar, Inter Milan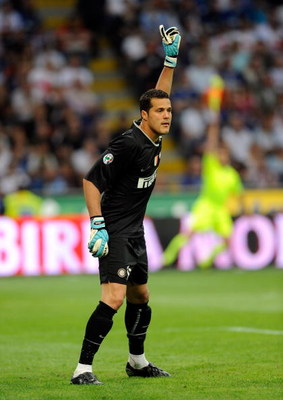 Simply put...Julio Cesar is the reason why Inter Milan had Serie A's best defense this season. With a whirling dervish of central defenders every week for the Italian champions, it was their Brazilian goalkeeper who took charge.
He recorded the lowest goals against average in Italy, the most shutouts, and his wondersaves propelled Inter to yet another Scudetto.
When Inter were average at best, the Brazlian No. 1 put the team on his back and was the man of the match almost as many times, if not more, as striker Zlatan Ibrahimovic.
If you think Ibrahimovic is Inter's MVP, then Julio Cesar has to be an incredibly close second.
Left Back - Domenico Criscito, Genoa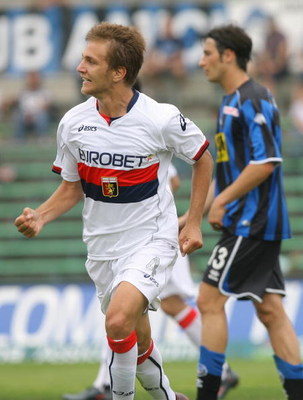 In his second stint on loan at Genoa, Criscito showed that he's not just a defender. In Gian Piero Gasperini's 3-5-2 system, the Juventus-owned 22-year-old played on the left wing, spinning in his deadly crosses with regularity, recording three assists on the season.
Criscito also added three goals with his final one coming on the last day of the season against Lecce. If you haven't seen it, look it up on YouTube. It was an absolute strike.
He has recently come out and said that he's keen on returning to Juve, which is music to the ears of any Old Lady follower.
Center Back - Giorgio Chiellini, Juventus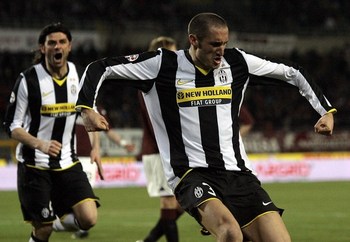 Chiellini wasn't the dominating force that he was every week like he was last season for Juventus, but he still turned in a damn good campaign.
Is it a surprise that Juve struggled most when Chiellini was out of the lineup? They didn't seem to miss Gigi Buffon when he was out with his long-term injury, but when Chiellini was not in the lineup, Juve lacked identity at the back and had to rely on Nicola Legrottaglie to lead the way.
No offense to Olof Mellberg, but there are few who can compare to the beast that is Giorgio Chiellini.
Center Back - Simon Kjaer, Palermo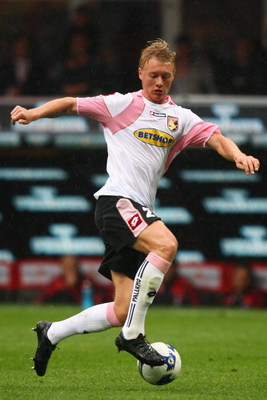 The youngest player on the team, the 20-year-old Kjaer burst onto the scene at the end of October when he received his debut in the pink of Palermo. He scored his first goal just two games later and was a mainstay in the starting lineup from then on.
Kjaer's big-time potential and fantastic debut season led to a call-up from the Danish national team in February and, like a lot of young players who have burst on to the scene, his name has been linked to some of Europe's biggest clubs.
Right Back - Maicon, Inter Milan
Can you argue with having possibly the world's best right back on the list?
With all of Inter's injuries and personel inconsistencies this season on defense, Julio Cesar and fellow Brazilian were the only consistent pieces to the puzzle.
Ironically, he got injured during international duty and missed two months only to return on the final day of the campaign.
At a certain point in time, he was Inter's second-leading scorer, proving it just isn't defending that makes him so good.
Midfield - Thiago Motta, Genoa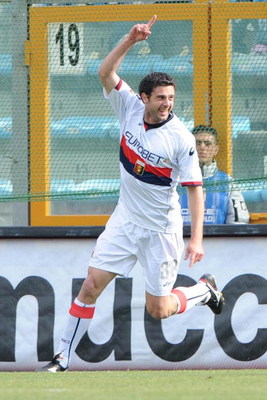 Taken off the scrapheap like many other Genoa players, Motta has become in only a year's time one of Serie A's best midfielders.
He proved he could stay healthy and the results proved it. He did everything in Genoa's five-man midfield. He defended when needed and scored crucial goals at crucial times, six total on the season.
Genoa fans will have only one season to remember their Brazilian midfielder as he is on his way to Inter with striker Diego Milito.
Midfield - Esteban Cambiasso, Inter Milan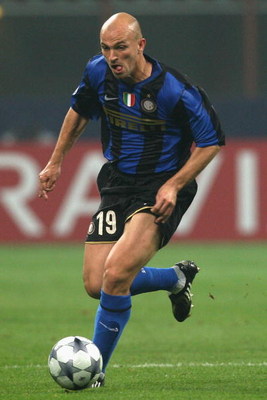 It's hard to imagine one of the world's best midfielders flying under the radar as much as Cambiasso has the past couple of years.
He's been the unsung hero for Inter so many times before and this year is no different. The man who sits in front of the back four in Milan gets all the dirty work done while others grab all the headlines.
Fact is, the bald head of Cambiasso has earned it and he will continue to do so.
Midfield - Felipe Melo, Fiorentina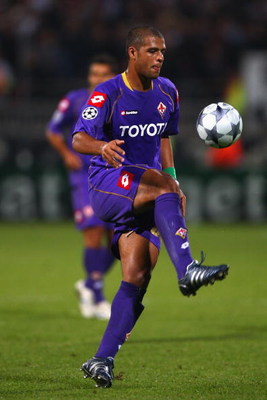 Like fellow countryman Motta, Felipe Melo's first season in Serie A was fantastic.
Riccardo Montolivo was supposed to be the star of the Fiorentina, that wasn't the case as Melo took control in the center of the park for the Viola. He didn't score as many goals as Motta did for Genoa, only two, but he still played a key role in helping Fiorentina clinch a spot in the qualifying rounds of the Champions League.
Also over the course of the just-concluded campaign he received his first cap with the Brazil national team. Ironically enough, it came against Italy when the two teams faced off at Wembley in February.
And it's no surprise that every big team in Europe are now trying to secure his services next year.
Striker - Mauro Zarate, Lazio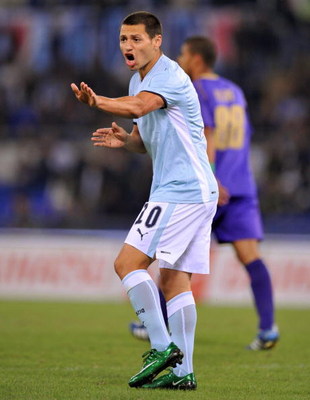 Scoring a brace in your Serie A debut is a nice way to show you belong, isn't it?
That's what Mauro Zarate did the first time he donned the sky blue jersey of Lazio and from then on, he was the leader of the cause. With a goal in the final, the 22-year-old Argentine propelled his side to the Coppa Italia trophy. He finished the Serie A campaign with 13 goals for the Biancocelesti.
Lazio fans will be seeing a lot more of their young star after he made his loan move from Qatari League side Al-Sadd permanent. The cost of Lazio keeping such a talent? €20 million.
Striker - Zlatan Ibrahimovic, Inter Milan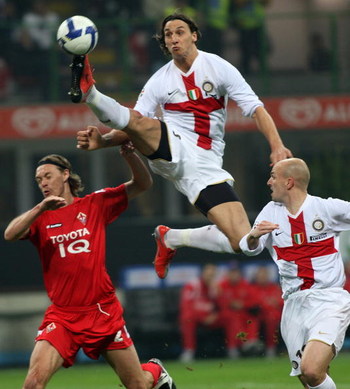 You may not like his style, his flair, or hair, but there's doubting the boy can play.
Fact is, no Ibra, no Scudetto for Inter.
Serie A's leading scoring has been Inter's offense this year, netting game winner after game winner and has showed why he is Serie A's best hitman.
25 goals (only two penalties) and seven assists in 35 games says it all.
Striker - Diego Milito, Genoa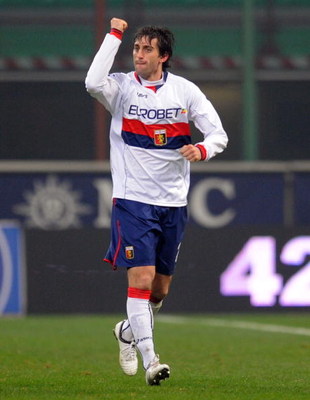 He'll be joining Inter next season, but will it be alongside Ibrahimovic? If Ibra doesn't bolt to Barcelona, what a insanely good strike partnership that will be.
Nevertheless, The Prince was phenomenal in his return to the Stadio Luigi Ferraris, finishing one goal behind Ibrahimovic for the top scorer crown with 24 goals on the season. He was a clear emotional leader and a player the Grifione could lean on when they were down.
Head Coach - Gian Piero Gasperini, Genoa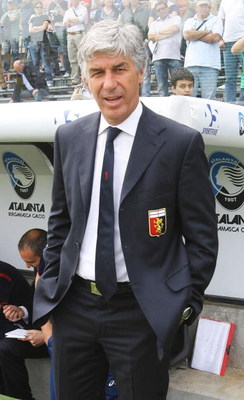 Many will point to Inter's Jose Mourinho being the coach of the year in Serie A, but no coach could have done a better job than Gasperini did at Genoa this season.
He put faith in players that other clubs didn't and he gave Genoa fans a reason to smile by leading the team to a spot in next season's Europa League after spending a good portion of the season in contention for a spot in the Champions League.
Genoa finished the season in fourth place, tied with Fiorentina with 68 points, but will only get a spot in the new UEFA Europa League due to the head-to-head between the two teams. No matter what, just two years out of Serie B and in European football is something to be quite proud of.
Keep Reading

Inter Milan: Like this team?