Teams Best Equipped for Cold-Weather Super Bowl: Road to MetLife Stadium
Jeff Hanisch-USA TODAY Sports

The NFL has been widely questioned and criticized for putting Super Bowl XLVIII in MetLife Stadium in New Jersey.
The league has had cold-weather Super Bowls in Indianapolis. Detroit and Minnesota, but all of those facilities have roofs or domes that allow players to compete in optimum conditions and allow fans to sit in comfort.
The NFL is taking a huge gamble that the brutal cold weather that is currently enveloping a majority of the northern states will not be a factor Feb. 2.
Good luck with that.
Cold weather will obviously be a factor on Super Bowl Sunday, and some teams are better equipped to deal with it than the others. In years past, teams from New York, New England, Pittsburgh or Chicago would have had the advantage over southern or West Coast teams.
That's not true any longer, as the 49ers proved in their wild-card victory at Green Bay. Here's our ranking of how the eight remaining teams are built for playing in winter-weather conditions.
(NFL.com provided all temperature conditions.)
Follow Steve Silverman @Profootballboy on Twitter.

Begin Slideshow

»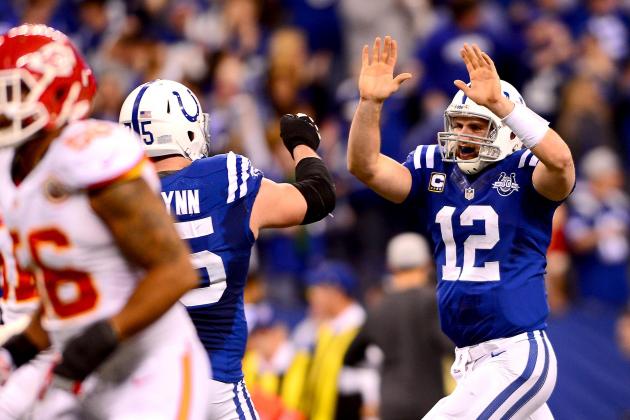 Andrew Weber-USA TODAY Sports

Cold-weather games: Week 16 at Kansas City, 23-7 W (22 degrees); Week 14 at Cincinnati, 42-28 L (28 degrees).
Winter warriors (1-10): 3 — The Colts did not even have a whiff of winter weather until their two road games in December. They appeared to be outclassed in the loss to Cincinnati, but they were surprisingly dominant when they played the Chiefs on the road.
Overview: The Colts have a tough-minded leader in Andrew Luck, but he has not been asked to get the job done in bad-weather conditions. He has played the majority of his career in domed stadiums and warm-weather cities. The Colts don't have the kind of ground game that would pay off in snow and winter-weather conditions. The Colts' defense ranks No. 20, and that's simply not good enough in bad-weather conditions.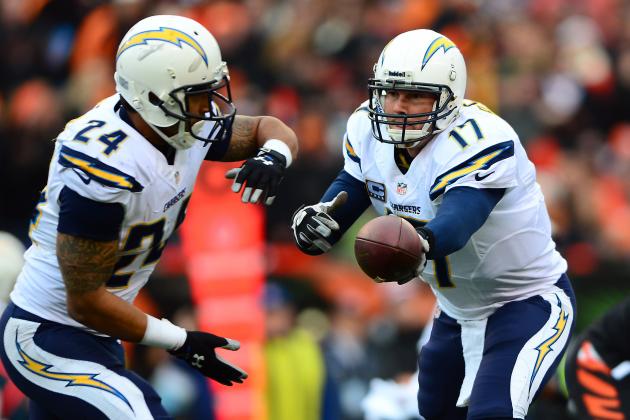 Andrew Weber-USA TODAY Sports

Cold-weather games: Wild-card at Cincinnati, 27-10 W (42 degrees); Week 15 at Denver, 27-20 W (40 degrees); Week 12 at Kansas City, 41-38 W (24 degrees).
Winter warriors (1-10): 5 — The Chargers are traditionally looked at as one of the softest teams in the league because they play in, well, San Diego. When you live and compete in perhaps the nation's best climate, outsiders are going to think you are soft. However, the Chargers' two regular-season road victories at Kansas City and Denver were impressive. The victory at Cincinnati was a shocker because the Bengals were undefeated at home, and the Chargers did it by dominating the home team. While the weather was not as bad as it could have been, it was cold and wet in the second half when the Chargers asserted themselves.
Overview: Philip Rivers is a hungry competitor who is not going to let poor weather intimidate him. The Chargers have a tough runner in Ryan Mathews who gained 1,255 yards this year. The Chargers are not an overpowering defensive team—they ranked No. 23 in yards allowed—and they could have a problem against a dominating running attack.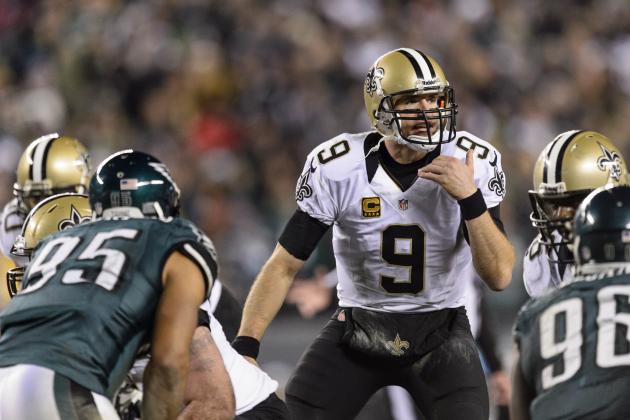 Howard Smith-USA TODAY Sports

Cold-weather games: Wild-card at Philadelphia, 26-24 W (25 degrees); Week 13 at Seattle, 34-7 L (41 degrees); Week 9 at N.Y. Jets, 26-20 L (48 degrees).
Winter warriors (1-10): 6 — The Saints would have found themselves at the bottom of this list prior to their wild-card victory against the Eagles, but they demonstrated a mental toughness that they had not shown in the past. Many believed the Saints would freeze up in the cold 25-degree temperature, but they played a strong, determined game and beat a team that was on a roll. That game demonstrates the mental toughness needed to play in poor-weather conditions.
Overview: Drew Brees is a warrior who is looking to punish anyone who doubts his ability to come through in the postseason. He completed 20 of 30 passes for 250 yards vs. the Eagles, and the Saints had a complementary power-running game from Mark Ingram (97 yards vs. Philadelphia). The Saints have a hard-hitting defense led by middle linebacker Curtis Lofton that ranked No. 4 in yards allowed this year.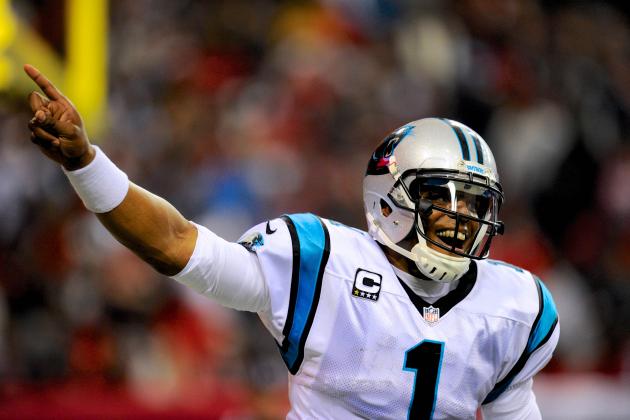 Dale Zanine-USA TODAY Sports

Cold-weather games: None
Winter warriors (1-10): 1 — The Panthers are completely untested in winter-weather conditions. They played in Buffalo this season, but it was an Indian summer game played in September. Head coach Ron Rivera's team has not played a cold-weather game since Week 13 of the 2012 season, when the Panthers dropped a 27-21 decision at Kansas City.
Overview: While the Panthers don't have a cold-weather resume, they have the kind of running game that could be effective in poor weather. DeAngelo Williams, Mike Tolbert and quarterback Cam Newton can all make positive plays running with the football. The Panthers also have the No. 2-ranked defense in the league, and they may be the nastiest group of tacklers. Middle linebacker Luke Kuechly played his college football at Boston College, and he is quite familiar at playing in poor-weather conditions.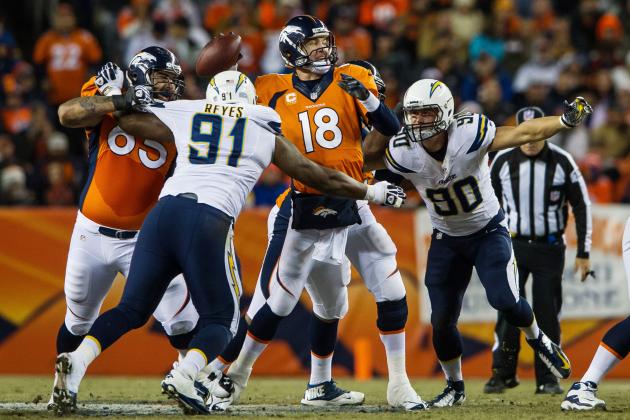 Dustin Bradford/Getty Images

Cold-weather games: Week 15 vs. San Diego, 27-20 L (40 degrees) ; Week 14 vs. Tennessee, 51-28 W (18 degrees); Week 12 at New England, 34-31(OT) L (22 degrees)
Winter warriors (1-10): 6.5 — The Broncos play their games in the middle of ski country and almost always have to contend with cold weather and snowy conditions once the calendar gets to mid-November. However, they lost a home game to the Chargers and blew what appeared to be a one-sided victory at New England. That puts some degree of doubt on their winter-warrior qualifications.
Overview: The Broncos have the best offensive team in the NFL by a wide margin. While bad weather could limit them, they will still have more talent than their opponents in those bad-weather games. The biggest issue is the overall health of Peyton Manning. While he is a record-setting quarterback who had the best year of any quarterback in the history of the game, he may have problems gripping the football in poor-weather conditions. His fastball may lose a few miles per hour in windy conditions.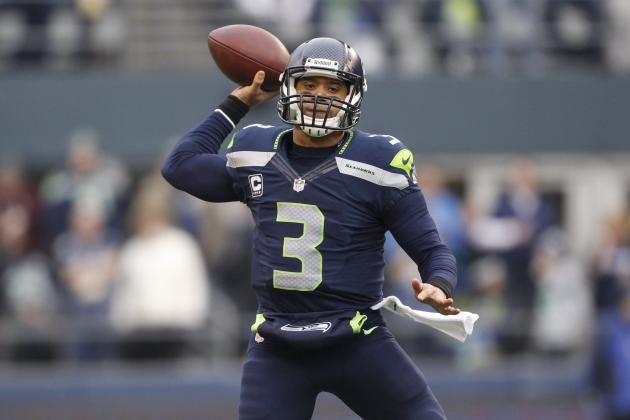 Joe Nicholson-USA TODAY Sports

Cold-weather games: Week 17 vs. St. Louis, 27-9 W (40 degrees); Week 16 vs. Arizona, 17-10 L (48 degrees); Week 15 at N.Y. Giants, 23-0 W (36 degrees); Week 13 vs. New Orleans, 34-7 W (41 degrees)
Winter warriors (1-10): 7 — The Seahawks were a bit shocked when they dropped a Week 16 home game to the Arizona Cardinals. While the weather was not a huge factor, it was surprising that the Seahawks slipped when they had a chance to clinch the NFC West and home-field advantage in the NFC.
Overview: The Seahawks have a brilliant leader in Russell Wilson, who had never lost at home prior to the Week 16 disappointment against Arizona. He played his college career at Wisconsin, and he is used to poor-weather conditions. Running back Marshawn Lynch has the toughness to make big plays on the ground, no matter what the conditions. The Seahawks had the top-ranked defense in the league this year, and they have already won a game at MetLife Stadium over the Giants in December.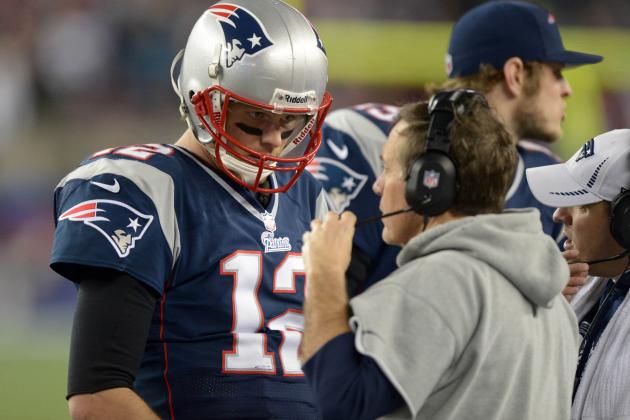 USA TODAY Sports

Cold-weather games: Week 17 vs. Buffalo, 34-20 W (39 degrees); Week 14 vs. Cleveland, 27-26 W (30 degrees); Week 12 vs. Denver, 34-31(OT) W (22 degrees)
Winter warriors (1-10): 8.5 — The Patriots regularly play and practice in poor-weather conditions. Bill Belichick is not about to let snow, wind or freezing rain become distractions that could prevent his team from winning.
Overview: Tom Brady is a single-minded leader who is not about to let poor weather keep him from getting the ball to his receivers. He puts on his all-weather gloves and finds a way. Even though their defense has struggled this year, the Patriots know how to come up with takeaways while avoiding turnovers themselves.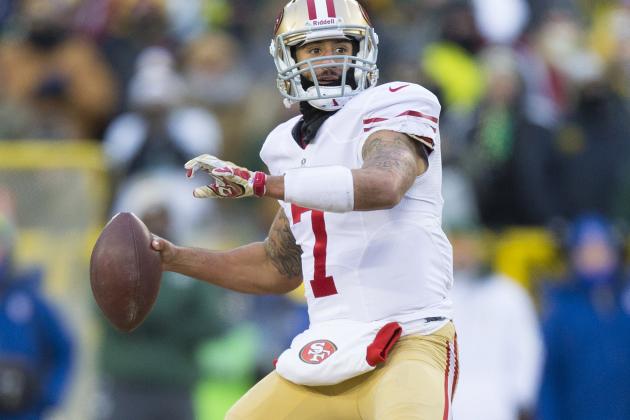 Jeff Hanisch-USA TODAY Sports

Cold-weather games: Wild-card at Green Bay, 23-20 W (5 degrees); Week 12 at Washington, 27-6 W (35 degrees).
Winter warriors (1-10): 10 — Remember the old quiche-eating 49ers from the Bill Walsh era? That was a long time ago. While many thought of the Joe Montana- and Steve Young-led teams as finesse-oriented, that was never the case. However, those teams would have a hard time matching the physicality and toughness of this 49er team. San Francisco went into the frozen Green Bay tundra and defeated the home team by ignoring the brutal weather and simply outplaying the Packers.
Overview: Colin Kaepernick is a brilliant athlete who is often at his best when he decides to take the ball and run. Running back Frank Gore is an overpowering runner who should be able to dominate in poor weather. The Niners defense is led by hard-hitting NaVorro Bowman and it has the capability of shutting down any opponent. After winning in Green Bay, the Niners know they can survive any type of weather conditions.