The divisional round of the 2014 NFL playoffs is rapidly approaching. While the top dogs in each conference are set to host games after a bye week, it is the teams with momentum fans will want to watch closely.
After all, the teams that were able to notch big wins in the Wild Card Round are dangerous. While the top teams got to rest, they also sat out of action and may come out sluggish against teams on a roll.
That has certainly been the case in recent years, as ESPN points out:
6 of 8 Super Bowl champs since 2005 have played in the Wild Card round, including 3 straight (2010 Packers, 2011 Giants, 2012 Ravens)

— NFL on ESPN (@ESPNNFL) January 2, 2014
Two teams used the Wild Card Round to build serious momentum. As fans saw last year, a team that gets hot in the opening round may not lose again. The following teams qualify as candidates to potentially replicate what the Baltimore Ravens did a year ago.
San Diego Chargers
The San Diego Chargers have the look of an unstoppable team.
After a playoff berth via help from others, the Chargers went to Paul Brown Stadium and beat down the Cincinnati Bengals 27-10. San Diego was a heavy underdog in the affair, especially considering Cincinnati had not lost at home all season.
The Chargers had their way on the ground with 196 rushing yards against a top-five run defense. Defensively, the Chargers were able to get consistent pressure all game thanks to the recent return of linebackers Jarret Johnson and Melvin Ingram.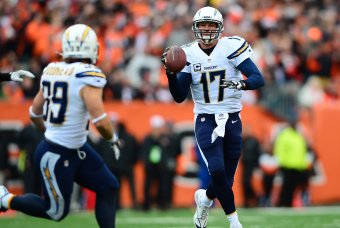 Andrew Weber-USA TODAY Sports
Quarterback Philip Rivers and his team should in no way be intimidated by a divisional-round bout with the Denver Broncos. They went to Sports Authority Field at Mile High in Week 15 and escaped with a 27-20 victory.
The Chargers a better team now, and Rivers owns Broncos quarterback Peyton Manning in the playoffs, as NFL AM illustrates:
Peyton Manning is 0-2 in the playoffs vs Rivers-led @chargers teams.

— NFL AM (@NFL_AM) January 6, 2014
Even better, the Chargers have an odd stat working in their favor:
The @chargers are trying to become the fifth consecutive team that faced the @Eagles in their home opener to win the Super Bowl.

— NFL AM (@NFL_AM) January 6, 2014
Above all else, the Chargers are playing loose and having fun. Linebacker Donald Butler put it best, via Michael Gehlken of U-T San Diego: "There is no pressure on us. That's what we love. We can just go out there (on Sundays) and play. That's the mentality it takes. … Everybody is fighting. No one is giving us a chance besides us and our fans. We've embraced that. … We're going to go out there and continue to play our style of football."
The Chargers have not lost since Week 14. There is no reason to doubt them now.
Indianapolis Colts
Andy Lyons/Getty Images
The AFC does not lack for underdogs this postseason. Quarterback Andrew Luck and the Indianapolis Colts are also worthy of attention after a thrilling comeback win over the Kansas City Chiefs in the Wild Card Round.
Luck and his offense outscored the Chiefs by a 34-13 margin in the second half to win 45-44. It was a close outcome, but the Colts are accustomed to winning games in big fashion as of late:
The @Colts have won their last 4 games by a combined score of 123-64. Indy will face the #2 seeded @Patriots in New England on Saturday.

— NFL AM (@NFL_AM) January 6, 2014
Perhaps a wake-up call was needed before the Colts make the trip to Gillette Stadium for a contest with the New England Patriots. Unlike the Chiefs, the Patriots are legitimate contenders, with wins in the regular season over strong teams such as the New Orleans Saints and Denver Broncos.
New England head coach Bill Belichick is aware of the challenges Indianapolis presents, especially those posed by Colts offensive coordinator Pep Hamilton, as captured by NFL Network's Albert Breer:
Belichick calls Colts OC Pep Hamilton a "gameplan-specific coach" who's tough to prep for. In my experience, Bill saying that = High praise.

— Albert Breer (@AlbertBreer) January 6, 2014
In tandem with Hamilton, Luck exploded for 443 passing yards and four scores against the Chiefs. His favorite target was, unsurprisingly, receiver T.Y. Hilton, who caught 13 passes for 224 yards and two touchdowns:
T.Y. Hilton: 224 Rec yds (3rd most ever in a playoff game) - Eric Moulds has record with 240 set in 1998

— ESPN Stats & Info (@ESPNStatsInfo) January 5, 2014
An offense like that is hard to bet against, especially if it has the respect of someone with as much clout as Belichick. It may be a long shot, but the Colts have the formula in place for an epic run.