Some cite the Divisional Round as the best weekend of the NFL playoff schedule, as it showcases the eight best teams in four games over two days. With just three games after this weekend, the Divisional Round is truly the last jam-packed session of the NFL season.
Unlike the Wild Card round, where three of the four games were deemed tossups, there are fairly clear favorites in at least three of the four games. And yet, that only seems to hold the promise of a stunning upset. Per Pro-Football-Reference, there have been 13 games in this round since 2000 in which a team won despite being at least four-point underdogs. Here is where you can catch the next upset:
Full NFL Divisional Round TV Info

| | | | |
| --- | --- | --- | --- |
| Game | Day | Time (ET) | Station |
| NO @ SEA | Sat, Jan. 11 | 4:35 p.m. | FOX |
| IND @ NE | Sat, Jan. 11 | 8:15 p.m. | CBS |
| SF @ CAR | Sun, Jan. 12 | 1:05 p.m. | FOX |
| SD @ DEN | Sun, Jan. 12 | 4:40 p.m. | CBS |
Via the Washington Post
But what will that upset be? Everyone speculates about potential Super Bowl darkhorses at the start of the postseason, and this is the round where legitimacy is crystallized. With that in mind, here are early predictions for all the Divisional Round games.
Saints vs. Seahawks
The Saints were humiliated in the same place just six weeks earlier, and public perception is leaning heavily against New Orleans:
Saints: 2-5 in last 7 games vs Seahawks (including playoffs)

— ESPN Stats & Info (@ESPNStatsInfo) January 6, 2014
#Saints should enjoy this while they can, because I don't see them beating the #Seahawks.

— Drew Carey (@DrewFromTV) January 5, 2014
But that Monday Night disaster was an outlier of a performance, particularly on defense. The Saints allowed over 400 yards, only one of two times the unit conceded that total all season. New Orleans was fantastic in seemingly hopeless circumstances against Philly, limiting the Eagles to just 290 total yards, including 80 on the ground.
The Saints are not the same secondary without standout rookie Kenny Vaccaro, but still have the capability to shut down Marshawn Lynch and make the Seahawks defense one-dimensional. Seattle has had problems protecting Russell Wilson all year, which is trouble if Cameron Jordan and Junior Galette receive the opportunity to pin their ears back.
Straight chalk never holds this round, so let's say the Saints kick off the weekend with an upset.
Colts vs. Patriots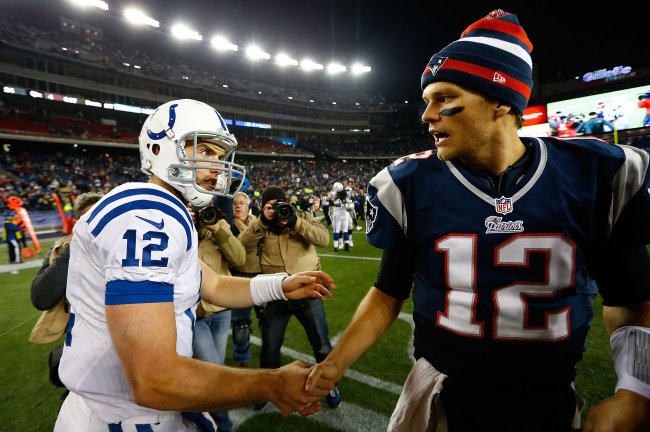 Jared Wickerham/Getty Images
The Indy-New England rivalry has seen some tremendous games over the past decade, but this is the first time Andrew Luck will face off against Tom Brady in the postseason. Luck's Colts lost at Gillette in a 59-24 whitewash last season, though that has little bearing on Saturday night's contest.
On paper, the Pats are a tough matchup for Indy. New England corner Aqib Talib has shadowed top receivers all year, and figures to receive the T.Y. Hilton assignment. The Pats have a weak run defense, but the Colts have Trent Richardson. And Indy's secondary has been decimated with injuries, which spells trouble against Brady.
And yet, Luck and Robert Mathis give Indianapolis two game-changing playmakers that can single-handedly tilt a game, as they did against Kansas City. As ESPNBoston.com's Mike Reiss notes, those two must give the Patriots pause:
When dissecting the three possible Patriots opponents—Bengals, Colts and Chiefs—the feeling was that New England should beat them all if playing its best game. But the reason the Colts were listed as the least preferred matchup was because they had the difference-making quarterback in Andrew Luck. I don't think the Colts' team is as good as the Patriots' team, but with Luck and defensive end Robert Mathis they have two players who can control/disrupt a game. That makes this matchup potentially dangerous.
The Patriots have been prone to lapses in concentration this season, part of the reason why they play so many close games. But New England has the advantage at most positions, and while Luck and Mathis figure to make their share of plays, expect the Patriots to advance to their third straight AFC championship.
49ers vs. Panthers
The second rematch of the weekend pits the Niners against a Carolina team that snuffed out the San Fran offense at Candlestick in a 10-9 Week 10 win.
But the 49ers offense has not been the same since Michael Crabtree's reinsertion into the lineup. Including Sunday's win over the Packers, Colin Kaepernick has averaged 6.3 net yards per attempt since Crabtree's return, the ninth-best mark in the league, according to Pro-Football-Reference. Crabtree is starting to get up to speed, and after an eight-catch, 125-yard performance against Green Bay, Jim Harbaugh effusively praised his top receiver, per ESPN.com:
"People talked about cold weather, and it would be a tough to catch tha ball, but the greatest catcher of all time, Michael Crabtree, catches everything," Harbaugh told reporters.

"It's unbelievable. In the northern snowlands down to the tropics and sunny scenes, he's catching the football. Wherever they throw a football, he'll be catching it."

"If my life depended on it and someone had to catch a ball, I'd enlist Michael Crabtree to do it," he told reporters.
The Niners defense had no trouble containing Cam Newton and Co. in the first meeting, holding Carolina to 250 total yards. With a peaking offense, expect the Niners to win on the road for the second straight week.
Chargers vs. Broncos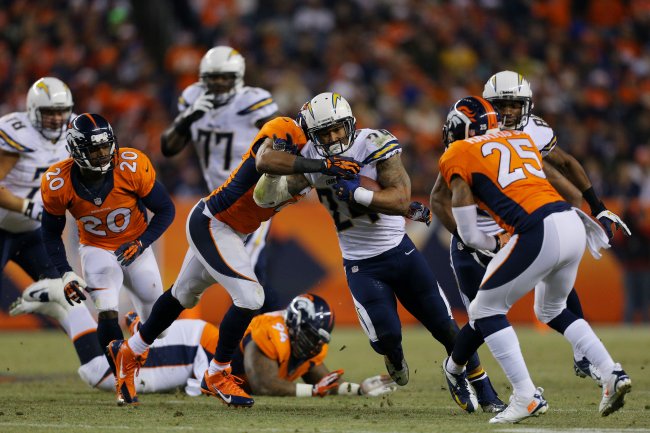 Justin Edmonds/Getty Images
The biggest mismatch of the weekend on paper is in Denver, where the Broncos will be double-digit favorites over the Chargers. And yet, San Diego won in the same stadium just a month ago, and has kept games close all year:
Broncos opens as a 9.5 point favorite over Chargers. San Diego didn't lose a game by more than 10 points all year.

— Lindsay Jones (@bylindsayhjones) January 6, 2014
If San Diego is to pull another upset, it must win the third-down battle. Denver was second in the league in third-down conversion rate at 46.3 percent but converted just 2-of-9 third downs in their loss. Incidentally, the Chargers were the one team to finish ahead of the Broncos and went 6-of-12 in the win.
Consequently, the Chargers owned a 38:49 time of possession, a crucial ingredient to their upset. Look for San Diego to try and replicate that formula by running the ball. The Chargers had 44 rushing attempts in the second meeting with Denver, and ran on every first down in their Wild Card win over Cincinnati.
The Chargers do not have much room for error, but with Von Miller out, it's not hard to envision San Diego having enough offensive success to keep things close. Nevertheless, much of the Chargers' recent defensive renaissance has been a byproduct of the opposition. During their five-game winning streak, the Chargers have received nine turnovers from Eli Manning, Matt McGloin and Andy Dalton.
Yes, that includes a tremendous all-around performance against the Broncos, but it will be enormously difficult to replicate the task. San Diego is on a tear, and although it may hang with Denver for much of this game, look for the Broncos to pull away late.