Following a first-round victory spurred by a massive comeback against the Kansas City Chiefs, the Indianapolis Colts seek to vanquish playoff demons of old and beat the second-seeded Patriots in New England.
Saturday's victory in the Wild Card Round solidified Andrew Luck's status as one of the best young quarterbacks in the NFL.
Trailing by as many as 28 points, the former No. 1 overall pick was able to overcome two second-half interceptions, and three total, to outscore the Chiefs 35-13 in the game's final two quarters.
Following his third giveaway of the game late in the third quarter, Luck recovered nicely, accounting for three consecutive touchdowns on as many possessions—including a 64-yard touchdown strike to T.Y. Hilton that gave Indy its first and only lead of the game.
Colts won 6 games when they didn't score first this season, tied with Cardinals & Patriots for most in NFL #KCvsInd #NFLPlayoffs

— ESPN Stats & Info (@ESPNStatsInfo) January 4, 2014
Every one of Luck's career-high 443 passing yards were needed to complete the comeback.
Defensively, the Colts rallied around Luck's performance. After allowing points on six of the Chiefs' first seven possessions, the defense stiffened in the final 27 minutes of play, forcing two punts, securing a fumble, holding Kansas City once on downs and allowing just six points in the process.
Indianapolis proved that football is a team effort. Andrew Luck is the X-factor in any game that the Colts play, and his play is contagious. Indy goes as Luck goes.
From the loss of star receiver Reggie Wayne to a 29-point loss to the NFC West's third-place Arizona Cardinals to a 28-point comeback on Wild Card Weekend, the Colts have shown that nothing gets them down—a mentality that will have to endure for 60 minutes in frosty Foxboro.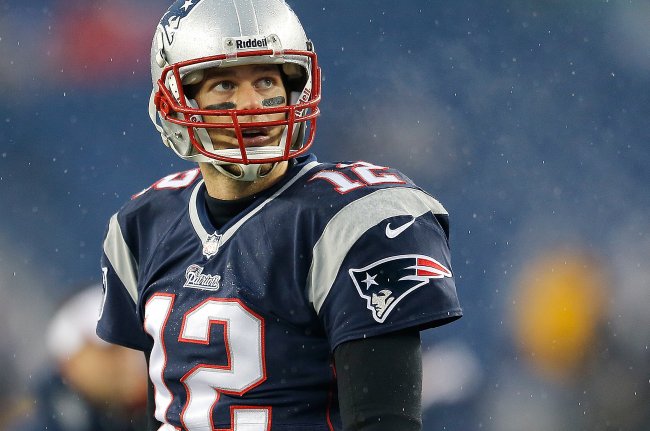 Jim Rogash/Getty Images
Since Tom Brady took the reins nearly 13 years ago, the New England quarterback has been, to say the least, a nuisance to the Colts. Brady has defeated Indianapolis in 11 out of 15 opportunities, including two consecutive playoff victories.
However, this will be the first time that the Luck-led Colts have traveled to New England in January.
Where the Colts have a huge advantage in this game is their pass rush. A combination of mediocre offensive line play and an aging quarterback in New England has resulted in 40 sacks, one short of Brady's career high.
Robert Mathis plans to take full advantage of this. The 11th-year Colts pass-rusher has recorded a league-high, and career-high, 19.5 sacks to go with a career-high eight forced fumbles this season.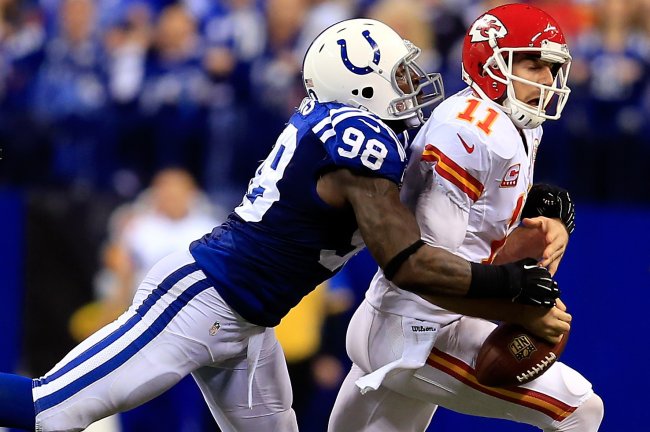 Rob Carr/Getty Images
The 2013 All-Pro will be taking on inexperience in tackles Marcus Cannon and Nate Solder—a recipe for success for the Colts.
Where Indianapolis will need to step up is in its pass defense. The Patriots are 10th in the NFL in passing offense. The Colts went 1-2 in the 2013 regular season against top-10 passing offenses, with a narrow win over the Denver Broncos and losses to the Cincinnati Bengals and San Diego Chargers—all AFC playoff teams.
That being said, nagging injuries to Vontae Davis and LaRon Landry in the secondary and defensive tackle Ricky Jean-Francois throughout the season have seemed to diminish.
The Colts defense is healthier now than it's been all season, and that's trouble for the Patriots offense.
What the Colts also have going for them is an efficient 5-3 road record and a quarterback that actually has performed better on the road this season than at home.
Luck registered a road quarterback rating of 87.0 on the road, resulting from 1,816 passing yards to go with 11 touchdowns and just three interceptions.
Despite the daunting task, Luck and the Colts are up to the challenge.
Unless otherwise mentioned, all stats were gathered via Pro-Football-Reference.com