10 Biggest UFC and MMA Upsets of 2013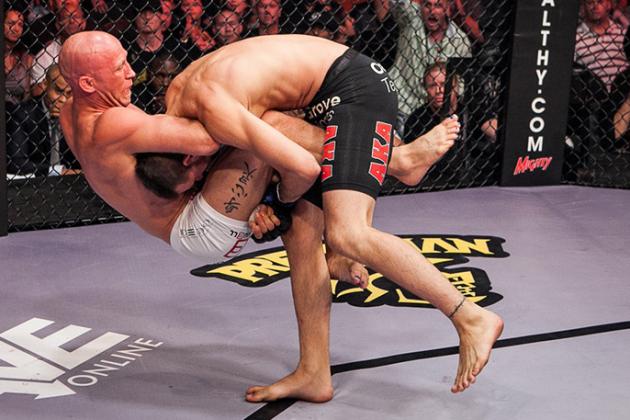 WSOF.com
Burkman secures a guillotine choke on Fitch at World Series of Fighting 3.
Like most sports, MMA is full of unpredictability.
In 2013, many big upsets shook up the UFC and MMA landscapes.
Whether it was Emanuel Newton shocking Muhammed Lawal under the Bellator MMA banner or Josh Burkman putting Jon Fitch to sleep with World Series of Fighting, nearly every matchup over the past 12 months kept fans on the edge of their seats.
Based strictly on betting odds, here were the 10 biggest upsets in major MMA promotions during 2013.
Begin Slideshow

»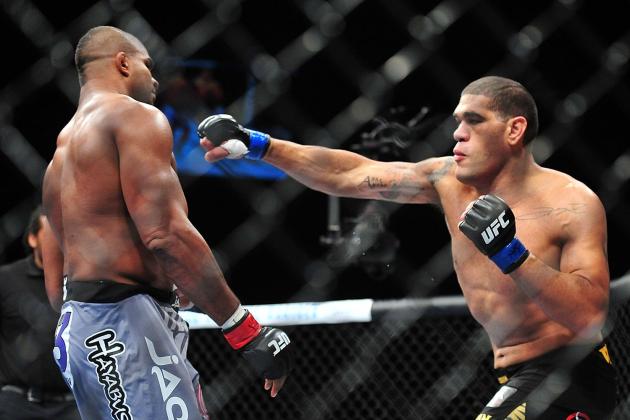 Gary A. Vasquez-USA TODAY Sports
Silva handed Overeem his first UFC loss at UFC 156.
Betting Odds: +325
Over the past 12 months, several fighters returned $3.25 on a $1.00 bet by picking up unforeseen wins.
Perhaps most notably, Antonio Silva welcomed Alistair Overeem back from suspension in February by knocking the former Strikeforce champion out in the third round. The win earned "Bigfoot" a title shot and rematch with Cain Velasquez, who again made quick work of the Brazilian in May.
Similarly, Robbie Lawler recently slowed the rise of Canadian welterweight Rory McDonald. With his decision win over the Tristar Gym fighter Lawler earned himself a fight with Johny Hendricks for the now-vacant 170-pound championship.
Additionally, outside the Octagon, Daniel Straus and Steve Carl picked up respective upset wins over Pat Curran and Josh Burkman to earn their Bellator MMA and World Series of Fighting belts.
Here is the full list of fights tied for the 10th biggest upset of 2013:
Antonio Silva vs. Alistair Overeem
Bobby Green vs. Jacob Volkmann
Daniel Straus vs. Pat Curran
Doug Marshall vs. Andreas Spang
Robbie Lawler vs. Rory MacDonald
Siala-Mou Siliga vs. Dan Charles
Steve Carl vs. Josh Burkman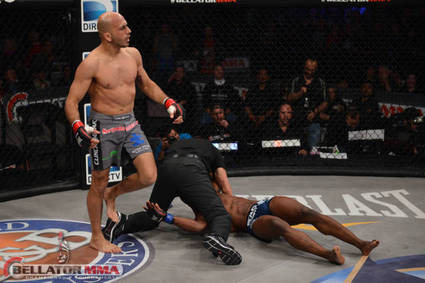 Bellator.com
Awad walks away after stopping Brooks at Bellator MMA 91.
Betting Odds: +350
Heading into the semifinals of the Bellator MMA: Season Eight lightweight tournament 27-year-old Will Brooks owned a perfect 9-0 record and looked to be a potential star for the growing promotion. Although opponent Saad Awad scored a knockout in his first-round matchup, Brooks was considered a heavy favorite to earn a spot in the 155-pound tournament final.
However, Awad needed less than one minute to hand Brooks his first MMA loss. Following the surprising knockout win, Awad would go on to lose against David Rickels in the lightweight final.
During Season Nine, Awad again ran into Brooks during the semifinals in an October rematch. Brooks exacted revenge with a decision win and ultimately earned a title shot by beating Alexander Sarnavskiy in the Season Nine 155-pound final.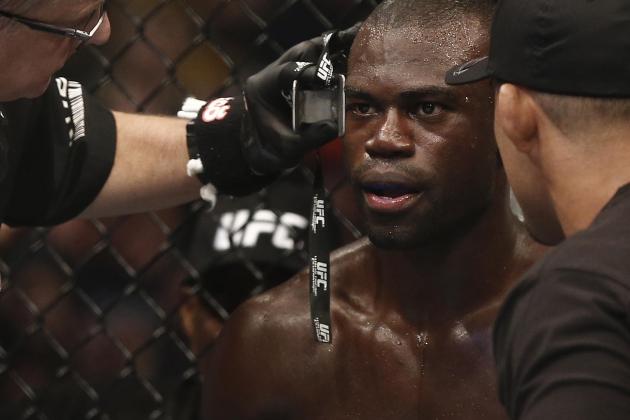 Winslow Townson-USA TODAY Sports
Hall stares across the Octagon between rounds during his bout with Howard.
Betting Odds: +350
A massive favorite to win The Ultimate Fighter 17, Uriah Hall was disappointed by Kelvin Gastelum in the finals. As it turned out, though, that wasn't even Hall's biggest upset loss during 2013.
Four months later, Hall looked to pick up his first official UFC win opposite John Howard. In a close one, Howard was also able to gain an edge over Hall on the scorecards, putting the TUF runner-up in jeopardy of being released.
In December, Hall finally returned to the win column, stopping a fading Chris Leben at UFC 168. The win has ensured Hall a few more chances to prove himself in the world's top MMA promotion.
Meanwhile, Howard continued his ascent in the middleweight class with a victory over Siyar Bahadurzada.
Betting Odds: +375
Coming off of a win over Jewels titleholder Naho Sugiyama that earned her the Invicta FC atomweight championship, Jessica Penne was a large favorite over Michelle Waterson. Riding four straight wins, Waterson was a worthy challenger, but many believed she'd have trouble hanging with Penne on the ground.
Instead, Waterson shocked everybody at Invicta FC 5, submitting Penne in the fourth stanza to claim the 105-pound strap.
Waterson has not defended her belt since that April win, while Penne has begun her climb back toward the top by submitting Nicdali Rivera-Calanoc at Invicta FC 6.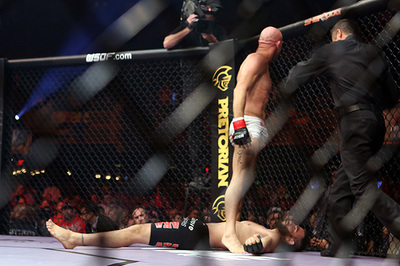 Dave Mandel/Sherdog.com
Burkman stands over an unconscious Fitch.
Betting Odds: +375
Surprisingly released from the UFC roster following a decision loss to Demian Maia, Jon Fitch was expected to dominate non-UFC welterweights. Even though he defeated UFC veterans in three straight bouts heading into World Series of Fighting 3, Burkman was given little chance to spoil the promotional debut of Fitch.
Less than one minute into their matchup, however, Burkman choked Fitch to sleep. Given Fitch's years of fending off submissions from the top position, Burkman's successful guillotine choke was nothing short of jaw-dropping.
Fitch has since bounced back with a lackluster win over Marcelo Alfaya, while Burkman suffered an upset loss of his own in a championship bout with Steve Carl.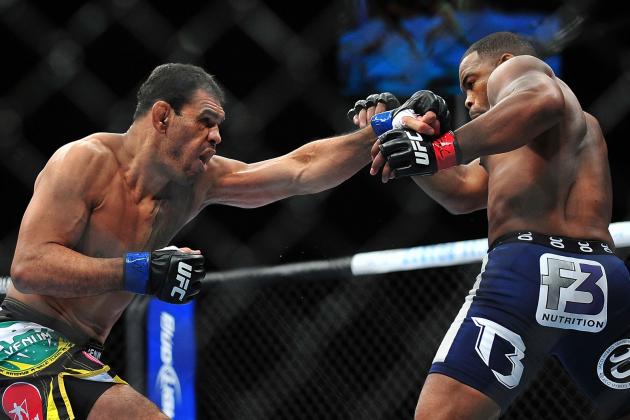 Gary A. Vasquez-USA TODAY Sports
Nogueira edged Evans with only 40 significant strikes landed.
Betting Odds: +375
Antonio Rogerio Nogueira probably did less than anyone to earn his spot on this list, but he found a way to take advantage of a poor showing from Rashad Evans at UFC 156.
In one of the most forgettable fights of 2013, Nogueira pawed his way to a rather boring decision victory over the former light heavyweight champion, who appeared unmotivated coming off of a loss to former teammate and rival Jon Jones.
Battling injuries over the past several months, Nogueira hasn't fought since scoring the upset win. Evans, on the other hand, has stormed back into title contention with wins over Dan Henderson and Chael Sonnen to close 2013.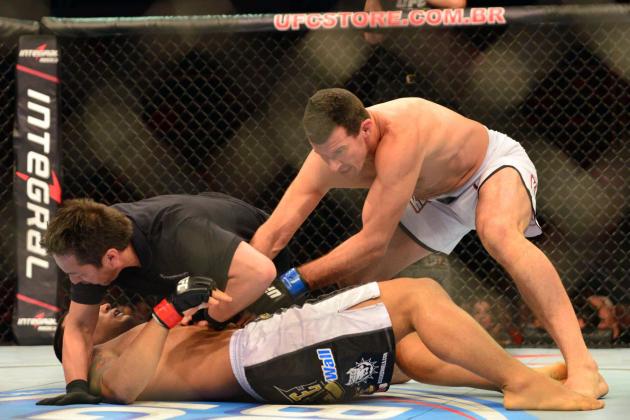 Jason da Silva-USA TODAY Sports
Referee Mario Yamasaki calls a halt to Perosh's fight with Magalhaes.
Betting Odds: +375
Primarily considered a grappler, Anthony Perosh was a massive underdog against world-class jiu-jitsu practitioner Vinny Magalhaes.
Before Magalhaes had an opportunity to test Perosh on the ground, though, he was rocked and finished in only 14 seconds. The quick knockout win came on the heels of a record seven-second loss Perosh suffered against Ryan Jimmo 12 months earlier.
The win earned Perosh a meeting with Ryan Bader, but the Australian was unable to mount another upset and was brutalized by the American.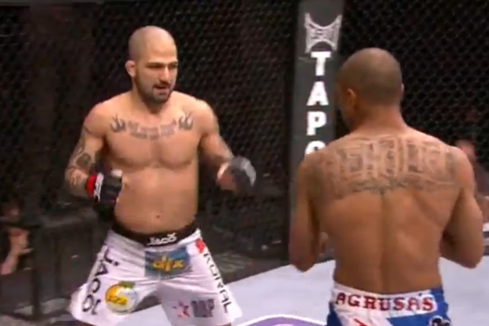 UFC.com
Corassani measures up Peralta in the first round.
Betting Odds: +375
In his first fight following an appearance on The Ultimate Fighter, Akira Corassani squeaked by Andy Ogle in a split decision. Then, it appeared, Corassani had simply prolonged his inevitable release from a strong UFC featherweight roster.
A bout with Robert Peralta, who was undefeated in two official UFC bouts, was supposed to knock Corassani down a peg. Instead, Corassani scored a couple important takedowns in the final round of a close fight to hand Peralta his first UFC loss.
Corassani fought one more time in 2013, recording a disqualification victory after being illegally kneed by Maximo Blanco. Peralta also won his final fight of 2013, stopping Estevan Payan with strikes.
Betting Odds: +700
If factoring in the notoriety of all upsets, Emanuel Newton's knockout of Muhammed Lawal could easily be considered the biggest upset in 2013.
"King Mo" was expected to breeze through Bellator MMA's light heavyweight division and become the face of the promotion's 205-pound class. Things started well for Lawal, who scored a knockout in the quarterfinals of the Season Eight light heavyweight tournament.
However, Newton spoiled Lawal's plans in the semifinals with a wild spinning backfist that knocked the Strikeforce veteran out cold.
Lawal battled back to rematch Newton for an interim championship by winning a four-man tournament over summer months. However, he turned in another lackluster performance against Newton and was beaten in a decision the second time around.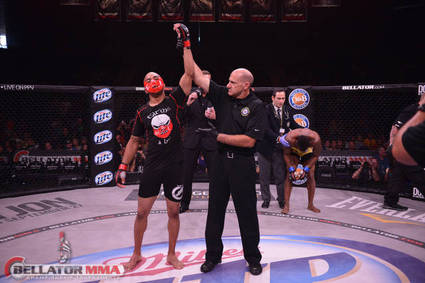 Bellator.com
Burley has his hand raised as Jenkins recovers.
Betting Odds: +800
A former NCAA champion wrestler who went undefeated in his first four MMA fights, Bubba Jenkins was supposed to be a super prospect for Bellator MMA.
Larue Burley, although also undefeated, was expected to be a stepping-stone for Jenkins at Bellator MMA 100. Instead, Jenkins had conditioning problems and Burley took advantage of his fading opponent to score a knockout win in the third round.
Jenkins bounced back with a November win, but his stock took a massive hit with his loss to Burley.