Arsenal are on the hunt for a striker. Arsene Wenger is scouring the global game, searching for a player who can come in and alleviate the Gunners' growing need for a forward. The transfer window is open, the chase is on and the game is very much afoot.
It won't have escaped Wenger's attention that Bayern Munich have made the first major move of the transfer period, securing a pre-contract agreement with Borussia Dortmund's Polish striker Robert Lewandowski.
Wenger admitted to James Dickenson of The Express that he had investigated the possibility of tempting Lewandowski to London but discovered that Bayern had already closed the case:
Yes we looked into Lewandowski but honestly he signed for Bayern one-and-a-half years ago, everyone knows that.

They can only make it official now because he is in the last six months of his contract.
While Arsenal never had any real chance of signing Lewandowski, his engagement with Bayern Munich does raise another intriguing prospect. The addition of Lewandowski to Pep Guardiola's squad could limit the opportunities for current striker Mario Mandzukic.
Were Mandzukic to leave Munich, there would be plenty of other clubs more than happy to welcome him with open arms.
Mandzukic has been something of a revelation at Bayern. After finishing as joint top scorer at Euro 2012, he earned himself a move from Wolfsburg to Germany's dominant club. The Croatian has flourished on the bigger stage and has 10 Bundesliga goals from 12 starts in 2013/14.
He also fits the mould of the kind of striker Arsenal need. Like Olivier Giroud, Mandzukic has the combination of stature and skill required to be an effective target man, holding the ball up and bringing the surrounding midfielders in to play.
In many respects, Mandzukic would be the perfect January signing, providing competition for Giroud and increasing Wenger's attacking options.
However: he is not available.
Wenger has admitted as much himself. Lewandowski does not arrive at Munich until the summer, so Wenger is right when he tells The Express "they [Bayern] will not sell Mandzukic now."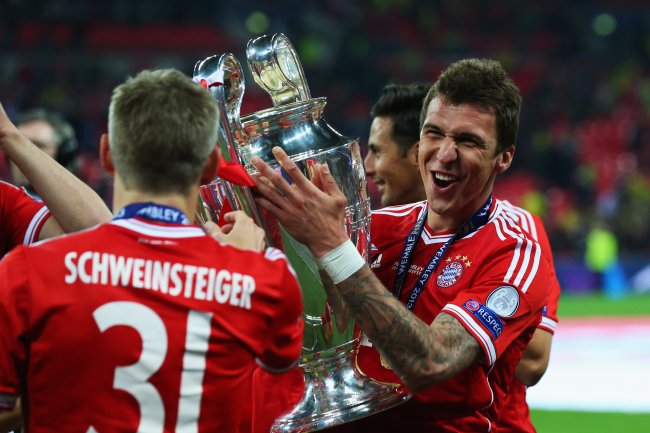 Alex Livesey/Getty Images
Wenger added that the Croatia international could become an option in the summer, but even that seems something of a long shot. Bayern chairman Karl-Heinz Rummenigge told The Mirror:
We're very happy with Mario. He made a major contribution to us winning so many titles last year.

He's a fantastic player who has come on leaps and bounds with Bayern.

We have absolutely no intention of selling Mario. His contract runs until 2016 and I told his advisor that we would we be willing to talk about an extension.
Even if Mandzukic were to become available this summer, it would do nothing to strengthen Arsenal's current title push.
There's no question that Mandzukic is a talented player. However, pursuing him in the January transfer window would be a waste of Arsenal's precious time. The transfer window is brief and frenetic, and Arsenal must concentrate their energies on their more immediate requirements.
With Theo Walcott and Nicklas Bendtner now set to be sidelined for the best part of a month, Wenger needs to act fast to recruit cover. Long-term targets such as Mandzukic may have to be set to one side. A short-term deal may be the best option to ensure that Arsenal have the depth required to navigate some difficult spring fixtures.
James McNicholas is Bleacher Report's lead Arsenal correspondent and will be following the club from a London base throughout the 2013-14 season. Follow him on Twitter here.