A weekend of FA Cup action has left Premier League audiences without their fix since New Year's Day, but the English top flight returns to the spotlight this weekend.
A bounty of top-flight outfits saw their run in the famous cup competition come to an end, with Manchester United, West Brom, Newcastle United, Tottenham, West Ham and Aston Villa all bowing out of the competition.
Those exits only leave all the more resources to be committed to the league cause, but they owe their fans a response in Week 21 of the Premier League campaign.
Read on for all the viewing information for this weekend's matchups, not to mention predictions of exactly who will fare best at the next hurdle in the Premier League calendar.
Premier League Week 21 Viewing Information

| | | | | | |
| --- | --- | --- | --- | --- | --- |
| Fixture | Date | Time | Predictions | Viewing Info | Stream |
| Hull City vs. Chelsea | Jan. 11 | 12:45 p.m. GMT/7:45 a.m. ET | 1-1 | BT Sport | BT Sport App |
| Cardiff City vs. West Ham | Jan. 11 | 3 p.m. GMT/10 a.m. ET | 2-0 | | |
| Everton vs. Norwich City | Jan. 11 | 3 p.m. GMT/10 a.m. ET | 3-1 | | |
| Fulham vs. Sunderland | Jan. 11 | 3 p.m. GMT/10 a.m. ET | 2-2 | | |
| Southampton vs. West Brom | Jan. 11 | 3 p.m. GMT/10 a.m. ET | 2-1 | | |
| Tottenham vs. Crystal Palace | Jan. 11 | 3 p.m. GMT/10 a.m. ET | 1-1 | | |
| Manchester United vs. Swansea City | Jan. 11 | 5:30 p.m. GMT/12:30 p.m. ET | 2-2 | Sky Sports 1 | SkyGo App |
| Newcastle United vs. Manchester City | Jan. 12 | 2:05 p.m. GMT/9:05 a.m. ET | 2-3 | Sky Sports 1 | SkyGo App |
| Stoke City vs. Liverpool | Jan. 12 | 4:10 p.m. GMT/11:10 a.m. ET | 1-3 | Sky Sports 1 | SkyGo App |
| Aston Villa vs. Arsenal | Jan. 13 | 8 p.m. GMT/3 p.m. ET | 0-2 | Sky Sports 1 | SkyGo App |
PremierLeague.com
Viewers in the United States can watch a host of Premier League matches using the NBC Sports Live Extra app, but this service is unavailable in the UK.
Southampton vs. West Brom
Southampton are a far different outfit from the side that lost 3-0 at home to West Brom last April, making for a dramatic change of form heading into this weekend's meeting between the two.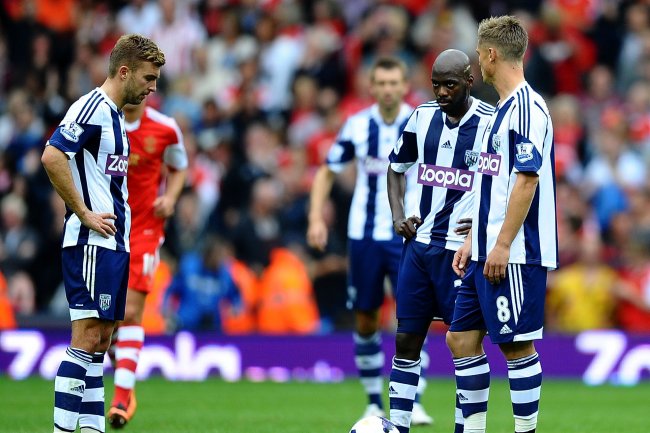 Laurence Griffiths/Getty Images
The Baggies are still yet to appoint a manager, and caretaker boss Keith Downing will need a very different response from the side that lost 2-0 to Crystal Palace in the FA Cup on Saturday.
The Saints have dropped in form of late, winning just one of their last nine league matches, but it's really of little surprise when one considers that seven of those fixtures came against top-half opposition.
This Saturday, Mauricio Pochettino's side will get back to winning ways.
Prediction: Southampton 2-1 West Brom
Manchester United vs. Swansea City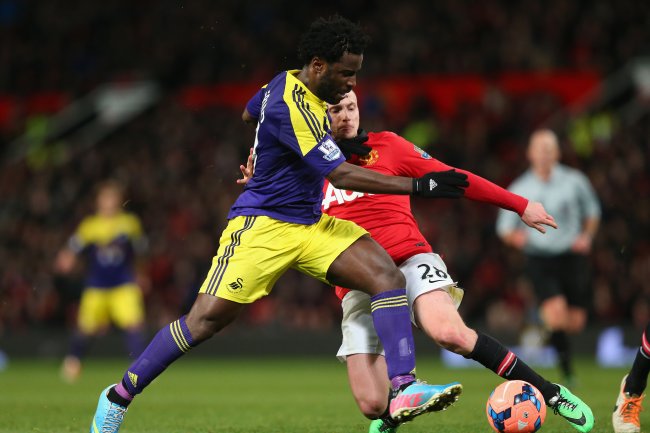 Alex Livesey/Getty Images
A case of deja vu hits Old Trafford this weekend as David Moyes' side go in search of revenge against the side responsible for knocking them out of the FA Cup.
Manchester United haven't lost three home games in a row since 1962, but defeats against Tottenham and Swansea City over the last week leave the Red Devils in a precarious position with the Welsh club heading back to the Theatre of Dreams.
A Sky Sports graphic (h/t 101GreatGoals) shows exactly how the times may be changing for United:
Man United's home defeats in 13/14 have been historic for West Brom, Everton, Newcastle & Swansea [Graphic] http://t.co/OZhyhO676q

— 101 Great Goals (@101greatgoals) January 6, 2014
Michael Laudrup's side have one of the finest away defences in the English top flight, conceding an average of just 1.10 goals per game, and they showed on Sunday that they can cope with what Moyes' squad has to offer.
Wilfried Bony will again look to star in Michu's absence, and while the three points won't be attained, a result is still on the cards for the visiting Swans.
Prediction: Manchester United 2-2 Swansea City
Who will come out on top at St James'?
Newcastle United vs. Manchester City
Alan Pardew's side will seek to reverse the 4-0 scoreline that got their 2013-14 season off to such a miserable start back in August, with Manchester City this time travelling to St James' Park seeking a sixth consecutive league win.
And while the Magpies have come on leaps and bounds since then, Newcastle's defence will still have no choice but to give way to Sunday's oppressors.
The northeast outfit have conceded a disappointing 11 goals in their last three league encounters with the Citizens, giving Manuel Pellegrini reasonable cause to be hopeful about this weekend's trip.
Prediction: Newcastle United 2-3 Manchester City
You can follow me on Twitter: