The Wild Card Round of the 2014 NFL Playoffs is complete, and what a round it was.
The first day saw the Indianapolis Colts pull off one of the biggest comebacks in NFL history to beat the Kansas City Chiefs. Then, the New Orleans Saints grounded Chip Kelly's high-flying offense that the Philadelphia Eagles had used to terrorize the league all season.
The second day was just as good, with the Cincinnati Bengals laying another classic postseason egg against the San Diego Chargers, while the San Francisco 49ers pulled off an epic late drive to down the Green Bay Packers at Lambeau Field.
The victors of the weekend must now deal with the top seeds in their respective conference in the divisional round. With any luck, the matchups will live up to the greatness that was the Wild Card Round.
NFL Divisional Schedule

| | | | |
| --- | --- | --- | --- |
| AFC Divisional Round | Date | Time (ET) | TV |
| Indianapolis Colts at New England Patriots | Sat., Jan. 11 | 8:15 p.m. | CBS |
| San Diego Chargers at Denver Broncos | Sun., Jan. 12 | 4:40 p.m. | CBS |
| NFC Divisional Round | | | |
| New Orleans Saints at Seattle Seahawks | Sat., Jan. 11 | 4:35 p.m. | FOX |
| San Francisco 49ers at Carolina Panthers | Sun., Jan. 12 | 1:05 p.m. | FOX |
ESPN.com
New Orleans Saints vs. Seattle Seahawks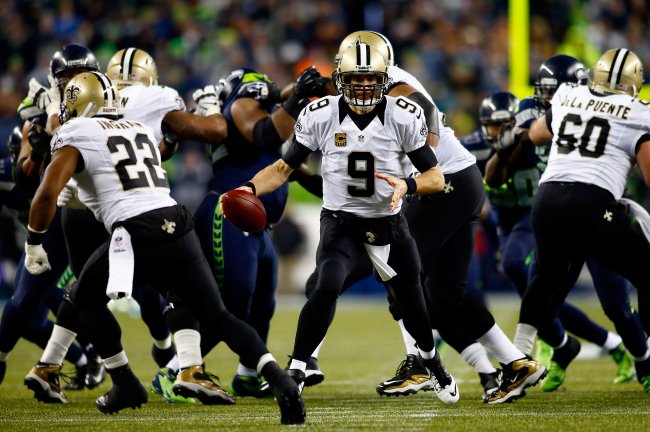 Jonathan Ferrey/Getty Images
Here we go again.
The Saints visited CenturyLink field in Week 13 on Monday Night Football and were promptly laughed out of the building by the Seattle Seahawks, 34-7.
Saints quarterback Drew Brees put it best concerning the rematch, per the Seahawks' Twitter account:
"We're going to need our best game, that's for sure." Drew Brees on #NOvsSEA http://t.co/8SPatbbOjD #LOUDER #NFLPlayoffs

— Seattle Seahawks (@Seahawks) January 6, 2014
In the first bout, Seattle quarterback Russell Wilson threw for 310 yards and three scores.
But this is a rejuvenated New Orleans team that finally notched a major win on the road against Philadelphia. It also features a defense led by coordinator Rob Ryan that ranks No. 2 against the pass.
A bye week is not always a good thing, especially against a team like the Saints that are suddenly on a roll. Expect the Saints to keep that momentum as the Seahawks come out sluggish early and cannot recover.
Prediction: Saints 24, Seahawks 20
Indianapolis Colts vs. New England Patriots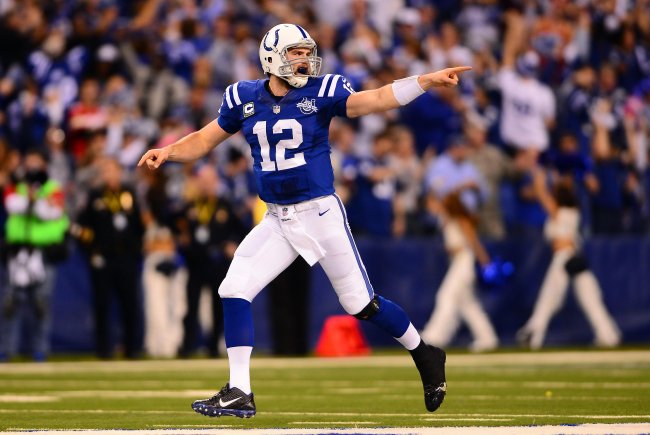 Andrew Weber-USA TODAY Sports
The Colts pulled off a comeback for the ages against Chiefs on Saturday, outscoring the opposition 35-13 in the second half to win, 45-44. Even New England Patriots coach Bill Belichick was impressed, per Shalise Manza Young of The Boston Globe:

Yesterday's game was about as good as it gets. To be that far behind in the third quarter, it didn't look too good for them, and all of a sudden in a hurry you could feel them coming back, or at least I could…I think they're a very explosive and dangerous team.
But will the win translate into an unstoppable wave of momentum, or will it make the Colts come out flat?
It may not matter. The Colts defense allowed Kansas City quarterback Alex Smith to throw for 378 yards and four touchdowns at home. Now, the Colts must hit the road and deal with Tom Brady.
There is no reason to bet against the Patriots at this juncture. The Colts defense is simply not trustworthy in such a scenario, and the hangover of an emotional win will loom large.
Prediction: Patriots 28, Colts 20
San Francisco 49ers vs. Carolina Panthers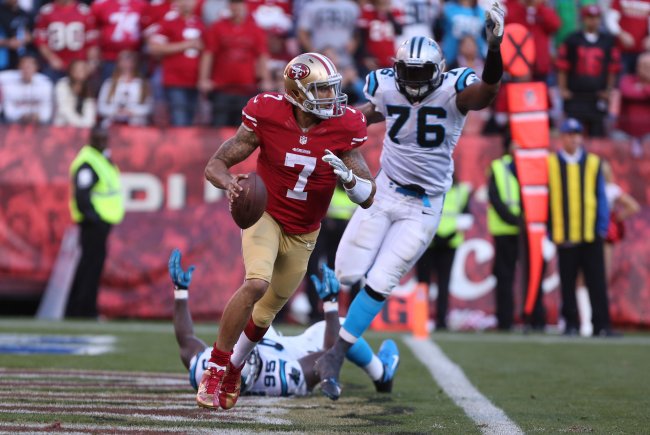 Kelley L Cox-USA TODAY Sports
As Bleacher Report's Russell Baxter points out, the NFC is known for its defense this year, and the big dogs in that regard have made it through to this point:
Remaining 2013 NFC playoff teams: #NFL YPG allowed rank. #Seahawks (1st), #Panthers (2nd), #Saints (4th), #49ers (5th)

— Russell S. Baxter (@BaxFootballGuru) January 6, 2014
Carolina is led by linebackers Luke Kuechly and Thomas Davis, while the 49ers are led by Patrick Willis and NaVorro Bowman. Sports Illustrated's Tom Mantzouranis puts it best:
Re Panthers/49ers: Can we just watch Bowman/Willis play Kuechly/Davis 2 on 2? I'm cool with that.

— Tom Mantzouranis (@themantz) January 6, 2014
The Panthers already beat the 49ers once this year, 10-9. That contest took place in San Francisco, and while the 49ers were without wideout Michael Crabtree, it is hard to fathom the 49ers making the trip to Carolina and exacting a measure of revenge.
San Francisco quarterback Colin Kaepernick threw for 227 yards with a touchdown and interception against Green Bay. He also added 98 yards on the ground, but Kuechly and Carolina's defense will be able to contain the dual-threat quarterback in another gritty defensive battle.
Prediction: Panthers 13, 49ers 10
San Diego Chargers vs. Denver Broncos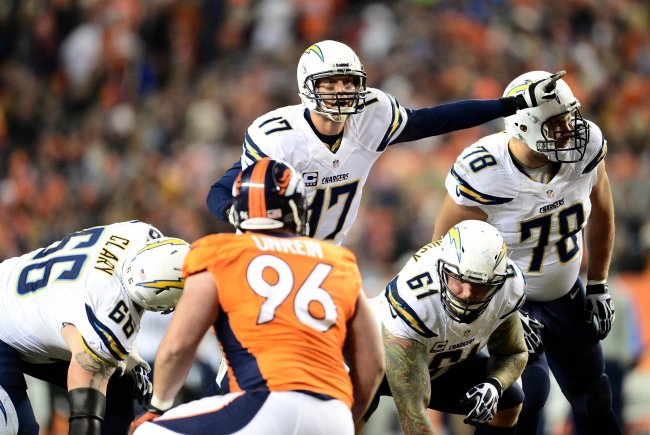 Ron Chenoy-USA TODAY Sports
San Diego traveled to Cincinnati and picked up a big win after backing into the playoffs. Meanwhile, Peyton Manning and the Denver Broncos kicked back on a bye.
But break time is over for the Broncos, a team that lost to the Chargers in Week 15 when they were asked to play host to their AFC West rival.
San Diego is the NFL's hottest team at the moment. The Chargers have now won five in a row and just survived at Paul Brown Stadium, where the Bengals were previously 8-0.
In that contest, the returns of linebacker Jarrett Johnson and Melvin Ingram loomed large. Both will find success in frustrating Manning, who does not have a good track record against the Chargers in the playoffs, as ESPN points out:
The @chargers will now face Peyton Manning and the Denver Broncos. Peyton Manning's career playoff record against San Diego? 0-2.

— Numbers Never Lie (@ESPN_Numbers) January 5, 2014
San Diego also has some strange history working in its favor:
The last 4 teams to face the Eagles in Philly's home opener have gone on to win the Super Bowl. That team this year? - The @Chargers.

— NFL on ESPN (@ESPNNFL) January 5, 2014
Weird stats or not, the Chargers are the perfect team to pull off the upset over the Broncos. Philip Rivers is playing at a high level, and the defense has turned it up a notch now that the postseason is underway.
Prediction: Chargers 30, Broncos 28