Not even the famed aura of Phog Allen Fieldhouse could save the latest edition of the Kansas Jayhawks from falling to San Diego State on Sunday night.
In the 61-57 loss to the Aztecs that saw their 68-game winning streak at home in nonconference play end, the Jayhawks were exposed in more ways than one in a game that was supposed to catapult them into Big 12 play.
Instead, the Jayhawks will now face more questions as they enter a conference race that will end up being between themselves, Oklahoma State, Baylor and still-unbeaten Iowa State.
Luckily for Bill Self's team, some of their mistakes are correctable by coaching. But the more concerning questions about the Jayhawks have to do with some traits that must be learned on an individual basis despite having one of the best coaches in the nation on the sidelines.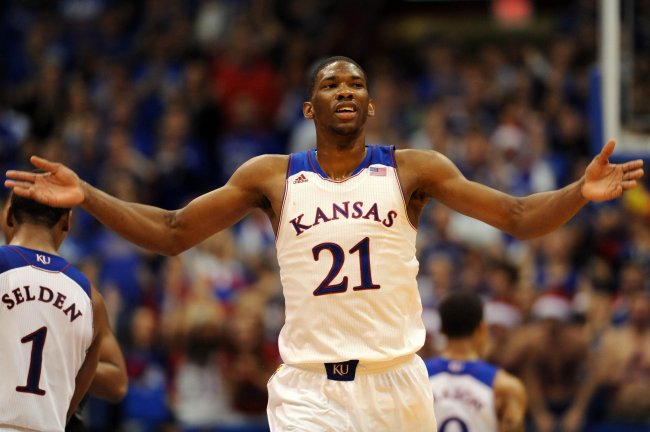 Denny Medley-USA TODAY Sports
The main takeaway from Sunday's loss was how well the San Diego State big men contained Joel Embiid, who keeps receiving praise from NBA scouts about how highly he will be drafted come June.
But June is still six months away, and a player like Embiid, who has played just three years of organized basketball, still has plenty to learn at the collegiate level.
When he was double-teamed in the paint, Embiid looked a bit rattled and could not calmly deliver a pass to the perimeter for his team to reset their half-court set.
The one flaw with that plan is that Kansas is a terrible shooting team from beyond the arc. Even though they were given open looks, the Jayhawks shot a miserable 25 percent from three-point range.
San Diego State is playing immense defense, and Kansas is a stagnant wreck on offense. They both share the credit.

— Eamonn Brennan (@eamonnbrennan) January 5, 2014
The shooting part of that problem can be fixed by having the players take more shots in practice, but what you can't coach is basketball instincts, which Embiid is still learning as he plays his first year of college hoops.
Then there is Andrew Wiggins, the preseason hype machine who has fallen behind his fellow freshmen greatly in the national conversation.
Once again on Sunday, the Canadian guard had a chance to prove the critics wrong on a national stage. But by scoring 14 points and shooting 4-of-14 from the field, Wiggins opened himself up for more criticism in the days and weeks to come.
The trait that Wiggins needs to develop more is his aggressiveness, which would have been helpful in attacking the Aztecs defense in the Jayhawks' fourth loss of the season.
If he had sliced and diced into the paint more, Wiggins would have forced one of the defenders on Embiid to take away the potential penetration, but he seldom did that, and the visitors were able to contain the star freshman center.
Great lesson for KU freshmen: Double-pumping at rim vs. shot blockers not good strategy. Take ball at the defense. It's body-to-body a game!

— Fran Fraschilla (@franfraschilla) January 5, 2014
Embiid and Wiggins are not the only ones to blame for the loss, which marked the first time since 2009 that the Jayhawks lost their fourth game of the season this early.
Last time Kansas lost game No. 4 this early in the season was '08-09, on 1/10/09 (at Michigan State).

— Matt Norlander (@MattNorlander) January 5, 2014
No one else stepped up to make big plays on a consistent basis to propel a comeback and turn Allen Fieldhouse into an erupting volcano of noise.
You could argue that Frank Mason provided a spark with his 14 points, but he missed a crucial free throw late in the game that could have handed Kansas a glimmer of hope in the dwindling moments of the second half.
Is Kansas still the favorite to win the Big 12?
Due to his miss on the first of his two free throws with five seconds left, Mason was unable to keep the Jayhawks within one possession after Xavier Thames drained a pair of free throws just three seconds later.
Based off of what we saw on Sunday night in Lawrence, the Big 12 conference title is nowhere close to belonging to the Jayhawks unless they decide to suddenly wake up and live up to the insurmountable amount of hype they received in the preseason.
Despite having a few roster issues recently, Oklahoma State will scrap for every loose ball with the Jayhawks. There is no doubt Marcus Smart will come through in the clutch on January 18 when the two teams square off in Lawrence.
The Jayhawks also have to deal with Baylor and Iowa State, who will be no pushovers in conference play.
With that being said, Kansas has a lot to work on. And the Jayhawks have a minimal amount of time to get it right before they travel to Hilton Coliseum on January 13.
Self's Jayhawks have two games to fix their wrongs from the San Diego State loss, but the young team's steep learning curve will haunt it until it gets a big-time win under its belts.
Follow me on Twitter, @JTansey90.