49ers vs. Packers: Score, Grades and Analysis from 2014 Wild Card Game
January 6, 2014

USA Today
Wisconsin native Colin Kaepernick clearly doesn't mind the cold. 
In icy conditions on Sunday, the third-year quarterback threw for 227 yards and a touchdown, ran for another 98 and orchestrated the game-winning drive to give the San Francisco 49ers a thrilling 23-20 win over the Green Bay Packers at Lambeau Field.   
Bleacher Report gave the final report:
Aaron Rodgers completed the brilliant quarterback battle with 177 yards through the air, a touchdown and several unbelievable plays down the stretch, but it wasn't enough.
Phil Dawson drilled a 33-yard field goal as time expired to push San Francisco through to the Divisional Round. 
The 49ers owned the first quarter despite being on the road in four-degree weather. Green Bay's first three possessions tallied just six total yards, while San Francisco's two opening drives combined for 110. 
However, two field goals from inside the 10-yard line meant the 'Niners were only able to turn that domination into a 6-0 lead after 15 minutes. 
Then, just four plays into the second quarter, Tramon Williams made the play to get the Pack going, picking off Kaepernick and lowering his shoulder into the opposing signal-caller to put the finishing touches on a momentum-swinging play:

Benny Sieu-USA TODAY Sports
It was all the chilly crowd needed to get back into the game, and Green Bay responded with a 14-play, 70-yard drive that finished with a Jordy Nelson touchdown reception.
From there, it was a back-and-forth affair. 
Frank Gore scored from 10 yards out following a Kaepernick 42-yard run, only for Rodgers to drive right back down the field to set up a Mason Crosby 34-yard field goal as first-half time expired. 
After a scoreless third quarter, John Kuhn gave the Packers their first lead early in the fourth, only for Kaepernick to come right back less than two minutes later and deliver a 28-yard strike to Vernon Davis:
GIF courtesy of Bleacher Report
That gave San Francisco a 20-17 advantage, but Rodgers responded with another scoring drive, going 61 yards and setting up a game-tying field goal from Crosby. 
Rodgers escaping the pocket and throwing dimes to Randall Cobb, Kaepernick punching back with runs and throws of his own—it was one unbelievable play after the other from the quarterbacks, and NFL.com's Daniel Jeremiah summed it up:
It was the youngster that got the ball last, though, leading an absolutely methodical 65-yard drive that took up the final 5:06 and set up Dawson for the game-winner. 
Player Grades
Colin Kaepernick, 49ers: A-
Kaepernick was a bit up and down while throwing the ball. He managed a solid 7.6 yards per pass and delivered some really nice throws, but he completed just 53.3 percent of his attempts, tossed an interception on what was a pretty bad read and had some other throws that could have resulted in turnovers. 
Somewhat reminiscent of last year's playoff matchup with the Packers, though, he was electric on the ground, finishing with 98 yards on seven carries. Several of those runs were big gains, including a late third-down scramble to set up the game-winning field goal.
Head coach Jim Harbaugh praised Kaepernick's toughness after the game and commented on his playmaking ability:
As Fox Sports' NFL Twitter feed pointed out, it was a little deja vu for the Packers:
Kaep wasn't perfect, but in the end, he won this game for the 'Niners. 
Aaron Rodgers, Packers: A-
Rodgers' final numbers aren't anything to write home about. He finished with under 200 yards and just 6.8 yards per attempt.
Still, for as much pressure as he faced despite San Francisco typically only bringing four rushers, he played just about as well as anyone else could have. He threw the ball away or took a sack when necessary, didn't commit any turnovers, eluded pressure on countless occasions and was accurate with most of his throws. 
Then, there was arguably the play of the game on fourth down in the fourth quarter, when he escaped a seemingly inevitable sack and delivered a perfect throw to Randall Cobb on the run: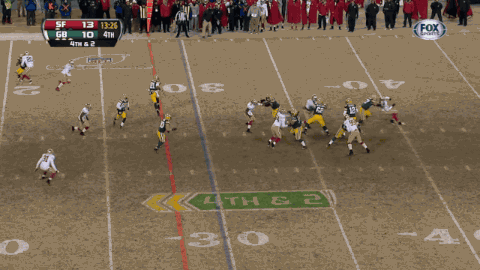 GIF courtesy of Bleacher Report
That play set up the go-ahead touchdown in the fourth quarter, but it wasn't quite enough. 
49ers Linebackers: A
Singling out one player here felt disrespectful, as the entire unit made a huge impact. 
In the middle, Patrick Willis and NaVorro Bowman were terrific in run support, combining for 18 tackles and one for loss. It was tough going for Eddie Lacy, who finished with just 81 yards on 21 carries (3.9 yards per carry), numbers that would have been much uglier for most running backs.
On the outside, Ahmad Brooks and Aldon Smith made life miserable for Rodgers, continually getting into the backfield and combining for 3.5 total sacks. Their ability to create pressure meant the 'Niners could comfortably rush four and drop everyone else in coverage. 
ESPN Stats & Info put a number on the performance:
Tramon Williams, Packers: B+
On the Packers' first three drives, the offense combined for a meager six points and was earning some boos from the home crowd. That obviously had nothing to do with Williams, but his interception and hit on Kaepernick injected a bit of life into the stadium.
Here's a look at the play:
GIF courtesy of Bleacher Report
The Packers' subsequent drive went 70 yards on 14 plays and ended with seven points. Yahoo! Sports' Shutdown Corner Twitter feed noted the importance of Williams' play:
It was more than just that tremendous play, too, as he tallied three pass deflections and was mostly solid in coverage. 
What's Next
San Francisco heads to the Divisional Round, where it will take on the Carolina Panthers at Bank of America Stadium on Sunday, Jan. 12, at 1:05 p.m. ET.
Green Bay is probably just going to go somewhere warm for a while.