Bengals' Andy Dalton Dives Headfirst, Loses Fumble After Not Being Touched
January 5, 2014

Bleacher Report
The Cincinnati Bengals are looking to win their first playoff game since 1991, but their chances took a big hit after quarterback Andy Dalton committed a costly turnover in the third quarter.
Cincinnati trailed the San Diego Chargers 14-10 and faced a critical 3rd-and-14 from its own 25-yard line. Dalton couldn't find anyone open, so he took off with the football.
He picked up 12 yards on the play but failed to maintain possession.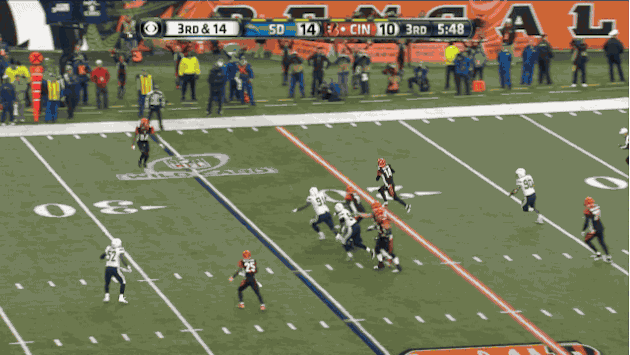 Bleacher Report
He decided to dive headfirst, which means he had to be touched in order for the play to be over. No Chargers player touched him, and the ball popped loose.
It was a big swing in field position, as the Chargers recovered the fumble at the Cincinnati 46-yard line instead of receiving a punt.
And the fumble proved to be costly, as San Diego tacked on a field goal on the ensuing drive to take a 17-10 lead.