Analysing Alexis Sanchez's Performance vs. Elche
January 5, 2014

David Ramos/Getty Images
In the absence of Lionel Messi and Neymar, there may have been some doubt surrounding Barcelona's attacking validity heading into this weekend's clash against Elche.
However, Alexis Sanchez came to the fore in the stead of his Catalan peers, netting his first La Liga hat-trick for the club to move his side past the Spanish strugglers 4-0.
What's more, as WhoScored's Ben McAleer pointed out, it took the frontman just 30 touches to do so, an average of 10 touches per goal:
Without his two most high-profile forwards, Gerardo Martino lined La Blaugrana up in a familiar 4-3-3 formation. Cesc Fabregas advanced into a more central attacking role, with Pedro and Sanchez to his left and right, respectively.
David Ramos/Getty Images
However, the beauty of this "false 10" approach is that the wider players are all the more encouraged to drift into the offensive focus themselves, providing Fabregas with the tentacles necessary for Barca to feel their way through the opponent's defence.
Needless to say it worked to good effect against Elche.
The hosts' opener came as a direct result of Sanchez edging into these more central channels, coming in off his wing to convert a superb Jordi Alba cross that, without being too scrutinising, would have been harder to miss than score.
Via @Football_GIF
Nevertheless, the thirst that the Chilean showed to get ahead of his markers was a throwback to the striking presence that fans were more used to seeing back in his Udinese days, but seemed to simmer slightly last season.
In that sense, Martino has been more willing to trust in his fellow South American's worth up front. Sanchez has now already equalled the 11-goal haul he netted in the 2011-12 season, his most prolific term thus far at Barca, per Infostrada Sports:
It was another 60 minutes or so before Sanchez doubled his tally. The same mechanism worked over from the left flank, with Barcelona's No. 9 again showing his old predatory instinct to turn Pedro's pass into an open net.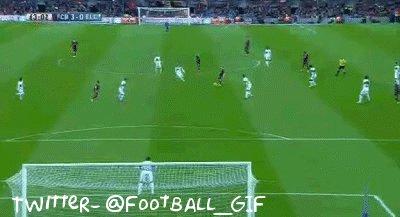 Via @Football_GIF
If the opening finish showed that the 25-year-old was getting back to his former ways as a top-class finisher, then his second displayed those traits in an even more visceral manner, the passing movement this time far from the wings and straight through the heart of Elche's defence.
What rang true with both goals, however, was the speedster's ability to evade his marker. Granted, Sanchez will come up against defenders of a higher quality in future, but difficulty that Edu Albacar and Lomban had in keeping up with their man throughout was almost embarrassing to watch.
Via @Football_GIF
And then came the icing on the cake. For all the grace that was showed from open play up until the 69th minute, the simplicity of Sanchez's 25-yard free-kick showcased another bag of tricks entirely.
All in all, Martino couldn't have asked more from his forward line coping without their stars, but will have been all the more grateful in the Chilean's ability to step up to the plate.
The man-of-the-match outing should by all means result in an increase in involvement for Sanchez, who's enjoying arguably his best season at the Camp Nou to date.