The overlong college football bowl season has almost reached its merciful end, just in time for us to parse every last result and see what it means for these young men and their potential to play on Sundays.
Isn't this all just swell?
This year, the NFL has done fans the service (or injustice) of making them wait a few more weeks for the actual draft process to start. The 2014 NFL draft will not begin until May 8 due to a scheduling conflict at Radio City Music Hall, and while the combine will stay in place for now, it will be moving to March starting in 2015.
All of this makes for an even more extended period of reactions, reaction to the reactions and backtracking to the original reactions. And you all said there was too much time between the end of the NFL season and the draft before.
Working in favor of these changes is the fact that bowl-game performances feel less important. A full five months exist between now and draft night. If a half-calendar isn't enough to eradicate recency bias and allow the best players to stand out on film, then perhaps nothing will. But even if individual game performances are going to mean less in this new system, that doesn't mean bowls suddenly lose all meaning.
Here's a look at a few stars who solidified their draft standing in recent bowl contests.
Johnny Manziel (QB, Texas A&M)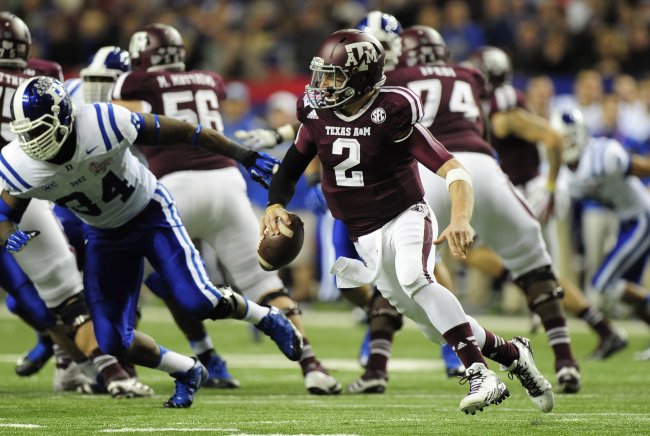 Kevin Liles-USA TODAY Sports
If scouts were looking for a game that encompasses everything Manziel brought to the table, the Chick-fil-A Bowl did that and then some. After an absolute disaster of a first half that saw Texas A&M go down 38-17 at the break to Duke—yes, in football—Manziel led the charge in one of the more thrilling finishes of the entire bowl season.
He accounted for three second-half scores (two passing, one rushing), and the Aggies came from behind for a 52-48 victory at the Georgia Dome on New Year's Eve.
While Manziel has not officially announced he'll be leaving school yet (but...duh), this felt like the perfect last hurrah. His final stat line showed off his progression as a passer (30-of-38 for 382 yards and four touchdowns) and his still-there proclivity for scampering when the play breaks down (11 carries for 73 yards and a touchdown).
Those numbers probably even undersell what Manziel did. Texas A&M finished with 541 total yards; Manziel had 455 (84.1 percent). Texas A&M scored six offensive touchdowns; five of those were a direct result of Manziel's play. And then there was this (courtesy of CJ Fogler):
Perhaps that play doesn't work at the next level. OK, it almost definitely doesn't work at the next level. But it's those unteachable moments that make some scouts ignore Manziel's diminutive size (his 6'1" listing is generous, to say the least), his enjoyment of the "celebrity" lifestyle (dude went straight to hang with Drake after the bowl game) and any number of other criticisms of his style of play (like, y'know, footwork).
"If you tell [Manziel] not to go drink, he's not going to listen. He's going to go drink," a scout told Jason Cole of the National Football Post. "If you can tell him not to chase (women). He's going to chase (women). That's just who he is and he's going to do what he wants. I think he's going to be great, but you're going to have to deal with him on his terms."
What does this all mean for Manziel's draft stock? Ultimately, I'm beginning to doubt he drops out of the first five picks. All it takes is one team to fall in love with his flair and the way teammates love playing with him—and they love going to battle for Manziel—to bet their jobs on this kid panning out.
Each of the first five teams needs a starting quarterback to some extent. Teddy Bridgewater remains the overwhelming favorite to go No. 1, and it seems unlikely that either Anthony Barr, Jake Matthews or Jadeveon Clowney will drop out of the top five. The order of how things might go will change, but Manziel looks to be the odds-on favorite for that proverbial fifth spot now.
And after the Chick-fil-A Bowl, it's getting harder and harder to doubt him.
Blake Bortles (QB, Central Florida)
Christian Petersen/Getty Images
Manziel and Clowney will be the two most-discussed prospects in the coming months, but there may be none more polarizing than Bortles. The Central Florida quarterback excelled in 2013 with his top-tier physical skills and improved understanding of the position, but his fast-rising draft prospects caused some to scoff.
Being a borderline pick for the first couple rounds is one thing. ESPN's Todd McShay having him going No. 3 overall in his first mock draft seemed nutty to some. I mean, we have to draw the line at one top-five American Athletic Conference quarterback, right?
Well, after Central Florida's surprising upset of Baylor in the Fiesta Bowl, one can't be too sure.
Bortles didn't have a perfect game by any stretch of the imagination. He threw interceptions on consecutive drives in the first half that allowed the Bears to get back into the game after a slow start, and there were a few instances where he tried forcing balls into nearly impossible windows. But for those looking for reasons to have faith in the junior quarterback, he showed plenty of promise.
Bortles can, frankly, make any throw on the field. George O'Leary had him run numerous designed rollouts, and he responded in kind by throwing strikes across his body on out routes. Bortles' arm strength was never really in question, and it's his physical gifts that will most excite scouts.
After rushing for only 179 yards in the first 12 games of the season, Bortles had 93 in the Fiesta Bowl. Teams aren't going to confuse him with Manziel in terms of quickness or playmaking on the run, but his athleticism reminds me a bit of Ryan Tannehill with a bit more bulk.
Bortles also threw for 301 yards and three touchdowns. Getting overly excited about the three scores would be a bit of a reach, though, considering two of them were catch-and-runs from Rannell Hall that amounted to 84 yards.
Overall, it was a game with some great and some ugly, but it was mostly a heaping of pretty good. Considering the national stage and nearly all eyeballs being transfixed on his performance, that should be good enough to solidify a first-round grade. We'll have to see whether Bortles declares, but after giving UCF its biggest win in history, I don't see why he wouldn't.
Sammy Watkins (WR, Clemson)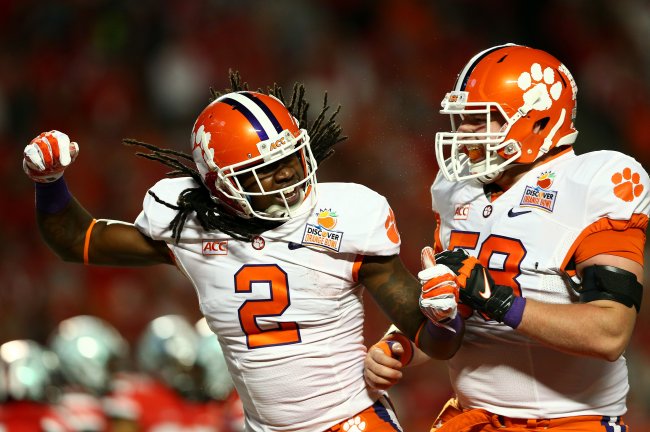 Streeter Lecka/Getty Images
Shh. That sound you hear is the air slowly being taken out of the Marqise Lee and Mike Evans No. 1 receiver bandwagons. (Do bandwagons have inflatable tires? Or are they wooden wagons with impenetrable tires? Someone who owns a bandwagon, please answer.)
Watkins deaded everyone in Clemson's 40-35 Orange Bowl victory over Ohio State. Playing despite being obviously hobbled by a knee injury, he caught 16 passes for a record 227 yards and two touchdowns. The junior receiver headed into Friday night's contest with some still wistfully remembering his breakout freshman season and wondering whether he still deserved the top-10 grade that's been at his lap for years now.
Whoops.
Watkins proved the misguided souls wrong against the Buckeyes, affecting the game in a number of ways. Dabo Swinney emphasized short, quick-hit screens that saw Watkins show off a burst of speed, getting through the initial blockers with ease before being brought down. He also flashed his route-running skills down the field, with Tajh Boyd flinging strikes that helped his stock soar a bit along the way as well.
Where Watkins ultimately goes on draft day remains fluid, of course. Manziel is a bad pro day, combine or off-the-field issue away from having doubts crop up in front offices again, so it's very possible that Watkins winds up in the top-five mix. The St. Louis Rams need another wide receiver to pair with last year's first-round pick, Tavon Austin, but it seems more likely the Rams wait until at least the No. 13 pick to pull the trigger there—where Evans' size could make an interesting contrast.
The Cleveland Browns also an unlikely fit with Josh Gordon in the mix. That leaves the Jacksonville Jaguars, who I couldn't see passing on Clowney if available, and Oakland Raiders, who seem like Watkins' best chance to land in the top five. The Raiders have a need at quarterback, but with Dennis Allen coming back (for now), they may wind up in short-term "save my job" mode.
Watkins is one of a select few instant-impact players on the offensive side of the ball. With receiver still a question mark in Oakland, this could be a good fit.
Follow Tyler Conway on Twitter: