Under Armour All-American Game: 6 Things We Learned from Contest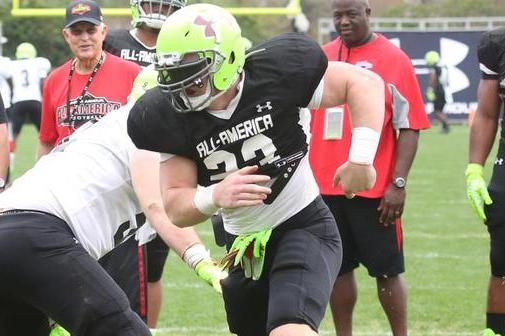 247sports.com
Notre Dame commit Andrew Trumbetti competes in a drill
It's never good to jump to football conclusions based on one game, but the Under Armour All-American Game offers a unique opportunity to see high school's best recruits all take the field at once.
Most of the BCS' major programs were represented at the game, with participants committed to teams ranging from Alabama to Arizona.
When the dust settled, we were left with a few takeaways from an interesting showcase.
Watch out for the following players, among others, over the next few years in the NCAA.
Begin Slideshow

»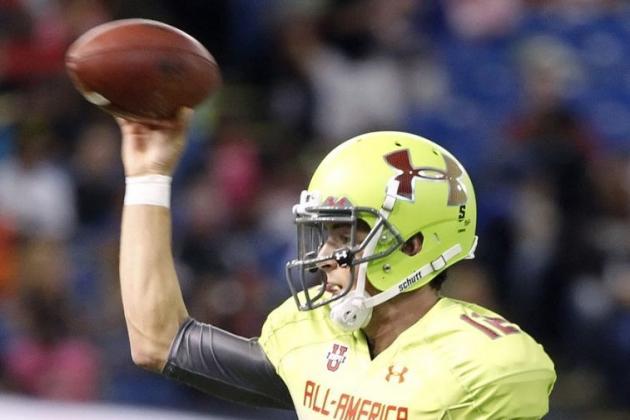 duckstopshere.com

I know he didn't start until his senior season in high school, I know he didn't generate as much buzz as the other quarterbacks in his class, and I know he's not even regarded as one of the top 10 quarterbacks in the high school class of 2014.

I don't care. Morgan Mahalak will be a star.

The Oregon commit has the size, arm talent, decision-making skills and athletic ability to be a dangerous quarterback at the next level. He's not Marcus Mariota, but the Ducks won't ask him to be. Mahalak is going to usher in an era of more passing concepts in a traditionally run-heavy offensive look at Oregon.

His performance in the Senior Bowl was nothing short of spectacular; he'll be the face of the Ducks in a few years time.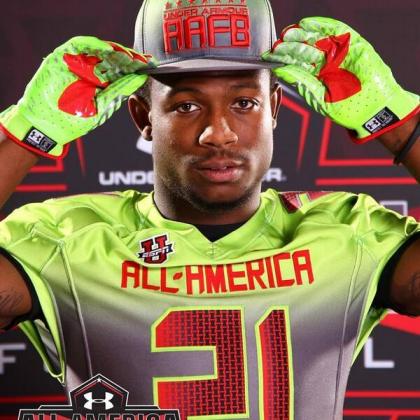 @TheGopherReport

It's not often that a running back can be as successful as Jeff Jones with a 4.7 40-yard dash, but the Minnesota commit makes it work.

During the game, Jones showcased some of the best hands in the class and his ability to break tackles and elude defenders makes him a very serious threat out of the backfield.

Arizona State's Marion Grice is a similarly successful all-purpose guy out of the backfield. The two have similar frames and their styles of play can be favorably compared.

Jones' commitment is a real coup for Jerry Kill and the Golden Gophers, as he's a ball-carrier who can step in and make plays immediately. If Kill can surround Jones with weapons, it wouldn't surprise me if the back carried Minnesota to a meaningful bowl game before his time there is done.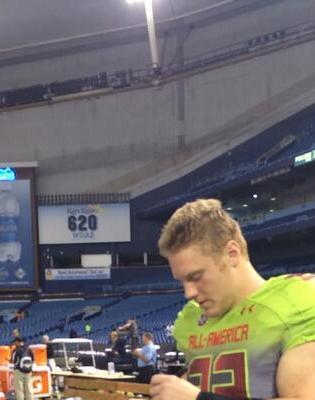 @AndrewTrumbetti

Texas A&M commit Myles Garrett is one of the most highly touted players in this year's recruiting class, while Notre Dame commit Andrew Trumbetti is comparatively flying under the radar.

That said, the two figure to make waves at the next level.

Garrett is a high-motor, high-intensity end who is solid against the run. He somehow seems to always track down ball-carriers and make the big play, no matter where he lines up.

Trumbetti, by contrast, has a tremendous arsenal of pass-rushing moves. His combination of size and speed will be a headache for collegiate offensive coordinators; the Fighting Irish got a good one here.

This could be a Jadeveon Clowney (Garrett)/Anthony Barr (Trumbetti) situation in a few years' time.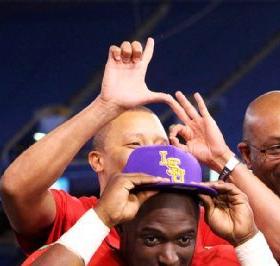 espn.com

Don't get me wrong: Leonard Fournette is a great running back who figures to put up some solid numbers as an LSU Tiger.

That said, it's tough to say he was the best player in all of high school football this last season.

Fournette's game has a few holes, including his lack of both elusiveness and breakaway speed. He won't be the complete back that a player like Adrian Peterson was, but he's garnering a similar amount of hype.

If I were Les Miles, I'd rather have had Speedy Noil commit to my team. That said, I'm not Les Miles.
espn.com

Hats off to Kevin Sumlin: He's built a powerhouse in College Station.

After securing the aforementioned Myles Garrett, a terrorizing defensive lineman, Sumlin was able to get athlete Speedy Noil to spurn his hometown LSU Tigers and come to Texas A&M.

It seems like the Aggies' winning formula is to get a bona fide superstar playmaker on offense (Johnny Manziel, Speedy Noil) and a terrorizing defensive line (Damontre Moore, Myles Garrett).

Until it stops working, I'll buy into Sumlin's strategy.

Noil was nothing short of spectacular as a high school senior and could be a main contributor on the Aggie offense soon.
redandblack.com

Georgia commit Jeb Blazevich, a 6'5", 233-pound tight end/H-back, has the skill set to destroy defenses at the next level.

This could be Eric Ebron/Jace Amaro-level dominance. I'm excited to see Blazevich compete against the SEC. If he's to succeed in college football's best conference, he'll need to put on some weight.

That said, Blazevich has soft hands and isn't a bad run blocker, either. He's representative of the new brand of tight ends in today's game—for just a few years ago, he'd have simply been an oversized split end.

Georgia fans can get excited about this in-line threat.