Early Favorites to Win Every Major MLB Award in 2014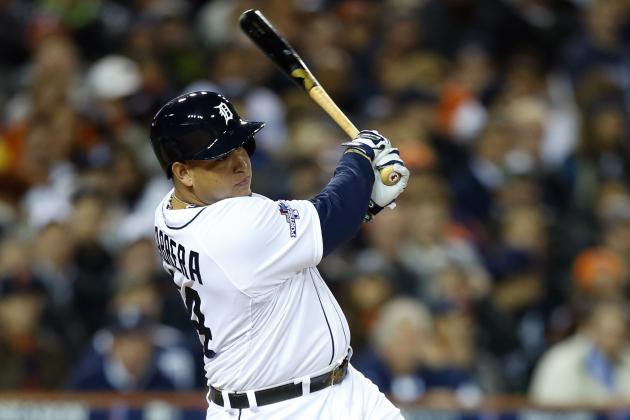 Rick Osentoski-USA TODAY Sports

The major MLB awards have seen something of a renaissance in recent years—or at least the debate around them has. Voters still cling to dubious criteria to determine how to cast their ballots, but the discussion surrounding the MVP, Cy Young and, to a lesser extent, Rookie of the Year awards is increasingly shaped by the growing influence of sabermetrics analysis.
In some ways, the competing interpretations of the awards are what makes them interesting in the first place. Sure, we could just award the Cy Young to the guy with the most wins every year, and, conversely, the MVP could go to whichever player Fangraphs says has the highest WAR. But both scenarios seem awfully boring to me.
Both schools of thought have scored notable victories in recent years. Felix Hernandez took home the AL Cy Young Award with a mere 13 wins in 2010 in what was a win for the saber set, while the old-school types got their revenge in 2012, when Triple Crown winner Miguel Cabrera was awarded the AL MVP even though Mike Trout outgained him in WAR by a healthy margin.
The upshot? We might have a wider pool of candidates to consider for each award. Here are the guys who look like the early favorites to take home some hardware in 2014, whether it be because of their homers and RBI or their FIPs and strikeouts per nine.
Begin Slideshow

»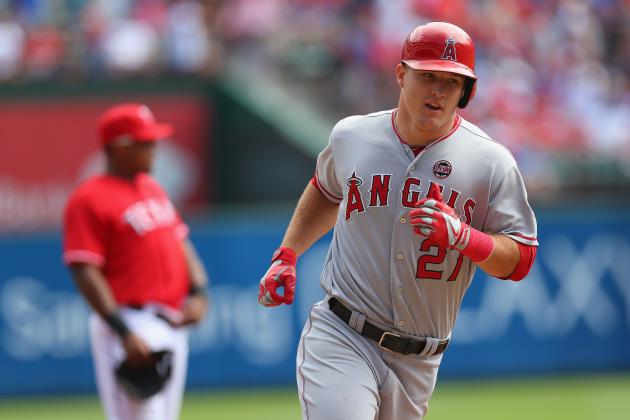 Ronald Martinez/Getty Images

Miguel Cabrera will be looking to three-peat as AL MVP, which has never happened in the history of the Junior Circuit (Barry Bonds won the NL MVP four times in a row from 2001-04). Cabrera, 31 in April, is an offensive virtuoso and has shown no signs of slowing down. If he keeps humming along on what figures to be another great Detroit Tigers team, voters will have a tough time turning their backs on him, despite his defensive limitations.
The list of candidates to overtake Cabrera begins with Mike Trout, the runner-up for AL MVP in each of the past two seasons. Voters haven't been impressed by Trout's WAR advantage over Cabrera, but maybe a return to relevance by the Los Angeles Angels will help Trout's case and push him over the top. If Albert Pujols and Josh Hamilton rebound and the newly rebuilt rotation is indeed improved, the Halos could be back in the postseason hunt, which would surely buoy Trout's candidacy.
Texas Rangers third baseman Adrian Beltre remains a terrific all-around player and was third in MVP voting as recently as 2012, though he is getting on in years (35 in April). Seattle Mariners second baseman Robinson Cano is an elite player, but playing on what looks to be a mediocre Seattle team will probably hurt his case.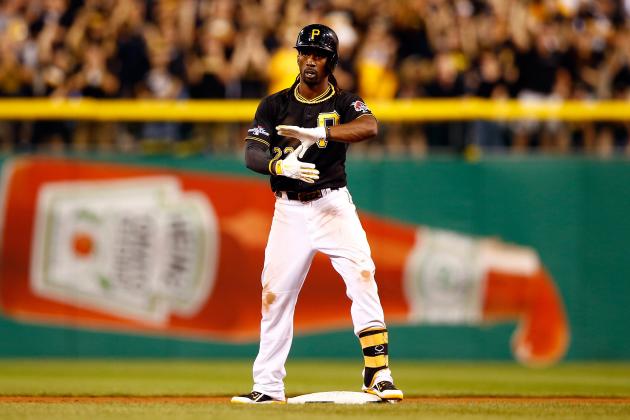 Jared Wickerham/Getty Images

Pittsburgh Pirates center fielder Andrew McCutchen emerged from a wide-open field to nab NL MVP honors last year. He was the best player in the NL by fWAR, and his traditional stats were very good across the board, so he had a sound case either way, but I'm sure being the best player amid the season's best story helped his case, too.
To that end, I wonder whether voters will move on from him if the Pirates take a step back in 2014.
San Francisco Giants catcher Buster Posey, the 2012 NL MVP, could challenge McCutchen's repeat bid if he rebounds from a season in which he was "merely" very good (15 homers). If Posey does indeed bounce back to otherworldly levels of production, it could go a long way toward pushing the Giants back into contention, which would also bolster his case.
Los Angeles Dodgers shortstop Hanley Ramirez rediscovered his early-career form in limited action last year, mashing to the tune of 20 homers and a line of .345/.402/.638 in 336 plate appearances. He could be a sleeper to watch out for if he can stay healthy.
Teammate Yasiel Puig will get a full season to unleash his freakish athleticism on the league and might also garner consideration.
Cincinnati Reds first baseman Joey Votto, NL MVP in 2010, is an incredible offensive player, although he'll need a rebound in the power department (24 homers in 2013). Arizona Diamondbacks first baseman Paul Goldschmidt, runner-up in 2013, will have to equal or best his impressive breakout season, which is no small task.
Colorado Rockies shortstop Troy Tulowitzki might be the best all-around player in the NL, but injuries are a problem for him, and the Rox don't look like a contender. Milwaukee Brewers slugger Ryan Braun will be back from a PED suspension, but it's hard to see Milwaukee contending, and some voters would probably pass on him because of the bust.
Once again, the NL MVP appears to be anyone's for the taking.
Ronald Martinez/Getty Images

The American League is flush with Cy Young-caliber pitchers, but the Tigers' rotation is a good place to start for any list of candidates. Detroit boasts two of the past three AL Cy Young winners in Max Scherzer (2013) and Justin Verlander (2011), as well as another starter, Anibal Sanchez, who was actually better than Verlander and almost as good as Scherzer last year in fWAR. The Tigers' redesigned infield should help them turn more balls in play into outs in 2014, which will only help their case.
Outside of Detroit, Yu Darvish of the Rangers followed up his impressive rookie campaign by leading the AL in strikeouts and finishing second in Cy balloting last season. Texas has retooled this offseason, which could help Darvish capture a few more of those flashy pitcher wins.
David Price's bid to repeat as Cy Young winner last season was derailed by early-season struggles and a DL stint, but he was his usual dominant self upon his return, eventually racking up 4.4 fWAR in just 27 starts. It wouldn't be surprising if he captured his second Cy Young in three years.
If you're looking for dark horses, the Mariners' Felix Hernandez and Chicago White Sox's Chris Sale are your guys. They're basically as good as any pitcher in the league, but they may have a steeper hill to climb thanks to pitching on teams that, as of now, don't look like contenders.
The competition for AL Cy Young looks to be the fiercest among the major awards. Throw in a couple guys on the next tier down—CC Sabathia of the New York Yankees and Jon Lester of the Boston Red Sox, for example—and things are that much tougher. It'll be fun to watch.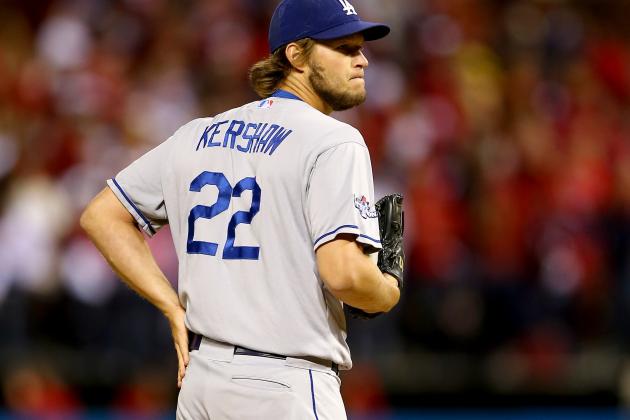 Elsa/Getty Images

Any discussion about the NL Cy Young Award should begin with Dodgers ace Clayton Kershaw, who won it in 2011 and 2013 and could have—perhaps should have—won in 2012. The hard-throwing lefty was beaten out by R.A. Dickey that year, and it might take an upset of equal proportions to prevent Kershaw from winning his third in four years in 2014.
That's not to say there aren't viable contenders elsewhere.
Adam Wainwright, runner-up last year, remains a formidable ace on a very good St. Louis Cardinals team. He's a good bet to have plenty of wins, a good ERA and high WAR total by year's end, assuming he stays healthy. If all those things are in place, there should be plenty of support for him. Zack Greinke, Kershaw's teammate on the Dodgers, has a Cy under his belt, though he hasn't been quite as good as he was when he won in 2009 with the Kansas City Royals.
Philadelphia Phillies lefties Cliff Lee and Cole Hamels can't be discounted, either. Lee finished sixth in voting last year, although Fangraphs pegged him as having the fourth-highest WAR in the league.
Miami Marlins phenom Jose Fernandez finished third in last year's Cy voting and won the NL Rookie of the Year Award. However, his candidacy in 2014 could be hurt by pitching for a bad team, and it stands to reason his innings might be limited given his age.
All told, it looks like the NL Cy Young is once again Kershaw's to lose.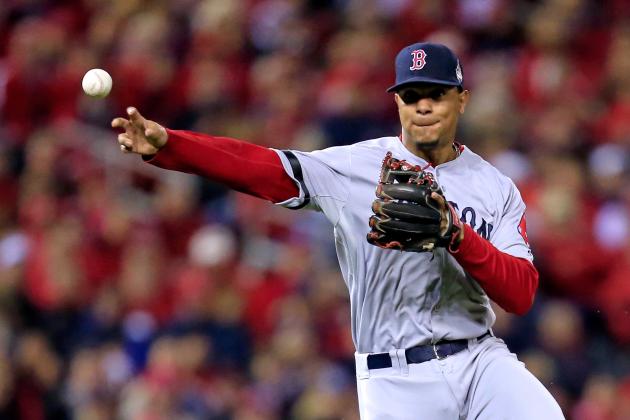 Dilip Vishwanat/Getty Images

Last year, the Tampa Bay Rays' Wil Myers ran away with the AL Rookie of the Year, owing to a relatively weak crop of rooks. This season's class looks much stronger, and that could rekindle an interesting debate.
Already, there will be at least one older rookie in Cuban slugger Jose Dariel Abreu of the White Sox, who will be 27 on Opening Day. There will probably be another in 25-year-old Japanese pitcher Masahiro Tanaka, who of course has not yet signed with an MLB team.
Should veteran players of foreign leagues win the Rookie of the Year in MLB? The question has been asked before, but apparently voters weren't concerned enough to deny Hideo Nomo and Ichiro Suzuki their ROYs.
Abreu and Tanaka (depending on which league he ends up in) will likely have plenty of younger competition to frame the debate. Red Sox infielder Xander Bogaerts, who turned 21 in October, mashed at every stop in the minors. If he can hold his own while playing shortstop or third base in Boston, he'll get plenty of hype as a burgeoning young star on a high-profile team.
In that same vein is Tigers third baseman Nick Castellanos, 22 in March, who will take over at the hot corner with Miguel Cabrera moving to first base. Castellanos hit an impressive .276/.343/.450 with 18 homers last season as a 21-year-old in Triple-A.
Mariners pitcher Taijuan Walker, over whom prospect watchers have been salivating for years, struck out more than a batter per inning between Double-A and Triple-A last year and was impressive in three starts after a late-season call-up. Pitching in spacious Safeco Field should only serve to make his numbers look better.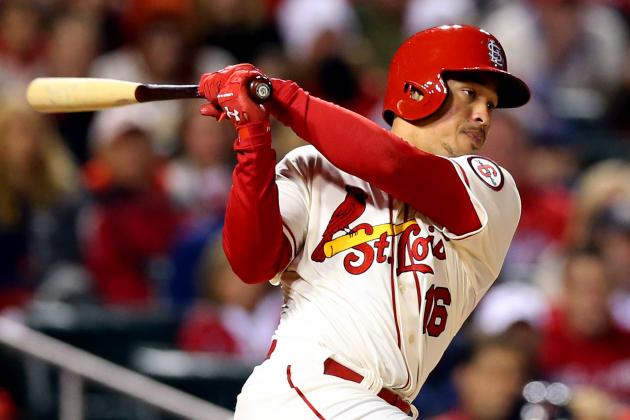 Ronald Martinez/Getty Images

The NL Rookie of the Year could come down to a pair of Cardinals, as if those of us who aren't Redbirds fans needed any more reason to be envious.
St. Louis boasts a pair of promising first-year players in super prospect Oscar Taveras, a 21-year-old outfielder, and second baseman Kolten Wong, who debuted in the majors late last season. Taveras was near the top of virtually every prospect list prior to last season. He was hampered by injuries in 2013, and thus might start the season in the minors, but a call-up seems inevitable if he hits near his impressive career line of .320/.377/.518.
Wong isn't projected as a game-changer, a la Taveras, but he posted good OBPs, stole bases and was regarded as a good defender in the minors. Even if he's not the most spectacular rookie ever to grace a diamond, it's not hard to imagine him winning the ROY with consistent play at the keystone on a World Series contender.
Reds center fielder Billy Hamilton's base-stealing prowess in the minors was legendary (and record-setting). His offensive game is one-dimensional, but he's likely to be a good center fielder with his absurd speed, and those two things, if they translate over a full season, will be hard for voters to ignore.
Finally, Tanaka could just as easily end up in the National League as the American, so we could actually see the veteran/rookie debate heat up in both leagues if he hits the ground running in MLB.