2009 AFC South Preview: Does the Division Now Belong to Tennessee?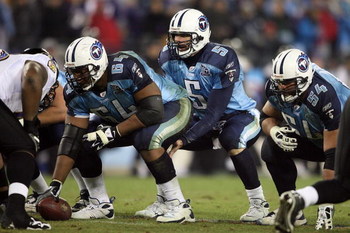 It didn't seem that long ago that this division once looked predictable.
Since the NFL realignment in 2002, it was always the Colts dominating this division. Then it was Jacksonville and Tennessee following suit with the Texans being left in the cellar.
However, in 2008, the Colts stumbled and settled for a wildcard.
The Texans got hot late and won their final five of six games to finish 8-8, and the Jaguars fell to 5-11 and sat at the bottom of the division.
That left the Titans to finally conquer the AFC South after falling behind the likes of Jacksonville and Indianapolis by starting 10-0, then finishing 13-3.
What will happen now?
Is Tennessee the new leader of the AFC South?
Will the Colts retake the division without some important coaches?
Is 2008 behind Jacksonville?
Is this the year the Texans reach the playoffs?
Here's a look at the AFC South:
Houston Texans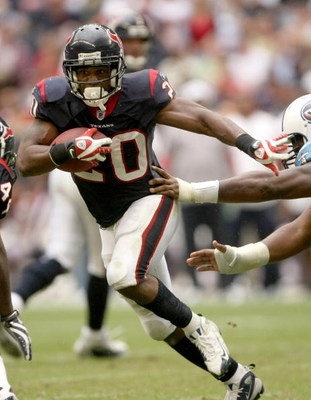 Last season: 8-8 and third AFC South
GOOD THING GOING: There is actually a lot of good coming out of Houston.
A pro bowl receiver, solid QB, stout defensive players, and an electrifying running back.
Steve Slaton (photo) proved that he's not too small for NFL standards after rushing for 1,282 yards and nine touchdowns. He was one of the steals of the 2008 NFL Draft after falling to the third round.
Matt Schaub played just 11 games but still threw for 3,043 yards—his first career 3,000 yard season.
Andre Johnson continues to show people he's one of the best receivers in the game after a monstrous 2008. Johnson caught 115 passes and 1,575 receiving yards along with eight touchdowns.
Maybe the Texans were right about getting Mario Williams over Vince Young, Reggie Bush, and Matt Leinert.
Williams has played all 16 games each season and has 30.5 sacks. He and leading tackler DeMeco Ryans lead this young defense.
PRESENTABLE PROBLEMS: Though Schaub hasn't really disappointed too many people at quarterback, he hasn't been healthy either.
Schaub has played no more than 11 games in his tenure with the Texans. Not having Sage Rosenfels to back him up will be crucial for the Texans to keep Schaub healthy.
He also needs to cut down on losing the ball. Schaub fumbled 10 times last season and lost four of them to the defense.
Another pass rusher opposite of Mario Williams might also help. Tim Bulman finished second on the team with just four sacks.
CRUCIAL GAME(S): After the bye week, the Texans host the AFC South champion Titans on Monday Night Football.
Then it's Indianapolis at home and a road trip to Jacksonville.
These games will determine if the Texans can make a run at the division.
WHAT TO BELIEVE IN 2009: The Texans are on their way up and improving each year under coach Gary Kubiak.
Unless something catastrophic happens, it's only a matter of time before Houston starts becoming a playoff contender.
THE PICK FOR '09: 9-7
Indianapolis Colts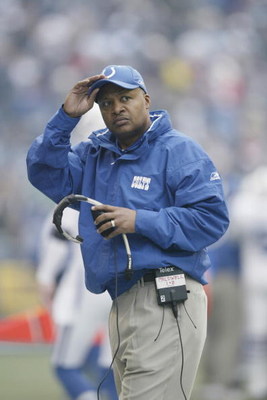 Last season: 12-4, second AFC South, and lost wildcard round to San Diego
GOOD THING GOING: Bob Sanders and Joseph Addai are healthy...for now.
The Colts' defense is clearly better when Sanders is in the lineup and healthy. His physical play sets the tone for the defense.
Joseph Addai was limited to 544 yards last season because he played in 12 games. He was a 1,000 rusher in his first two seasons in the NFL.
Peyton Manning now has first round pick Donald Brown to hand off to as well.
PRESENTABLE PROBLEMS: Recently, Manning became critical of the new coaching staff and has people wondering if the Colts can be on the same page without Tony Dungy.
Jim Caldwell (photo) was called on by Dungy to replace him.
But Caldwell isn't the only change.
Offensive Coordinator Tom Moore is gone.
So is defensive coordinator Ron Meeks.
Dungy, Moore, and Meeks were instrumental in the Colts' dominance of the division and Super Bowl run.
CRUCIAL GAME(S): The Colts started off slow last season. They have to get off to a fast start if they want to retake the division. The first three road games are against Miami, Arizona, and Tennessee.
Of course, there's the Nov. 15 showdown with New England that Colt fans have probably circled down.
WHAT TO BELIEVE IN 2009: It was hard to believe the struggles the Colts endured during the 2008 season.
We should be wondering if this team is getting old or if the injury bug finally caught up to them.
But as long as Peyton Manning, Dwight Freeney, and Bob Sanders are around this team should always be competitive.
THE PICK FOR '09: 12-4
Jacksonville Jaguars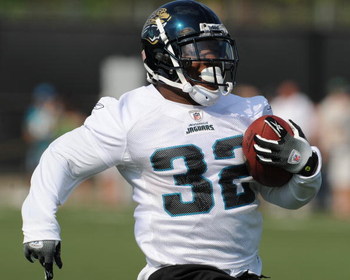 Last season: 5-11 and fourth AFC South
GOOD THING GOING: Maurice Jones-Drew is a touchdown machine with 38 total trips to the end zone in his four year career.
The better news for Jones and the Jags...the people blocking for him now.
Jacksonville struck big by snatching two premiere tackles in the NFL Draft. The Jags went with Eugene Monroe with the eighth overall pick and then got Eben Britton in the second round.
PRESENTABLE PROBLEMS: David Garrard took a step back from his amazing 2007 with 13 interceptions and three fumbles lost.
Garrard also has to keep his weight down to be more elusive. He reportedly weighed between 250-260 last season.
Garrard is now down to about 240 in offseason camps according to reports.
The Jags' offense also must put points on the board. Jacksonville averaged just 18.9 points per game last season.
CRUCIAL GAME(S): The first four games are a rugged stretch for the Jags.
It begins with a road trip to Indy, at home against NFC Champion Arizona, another road trip to the surging Texans, and then back home against the Titans.
The month of December is also crucial for Jacksonville's playoff chances.
Houston, Miami, and Indianapolis come to the Jaguars. Then they're on the road against New England.
WHAT TO BELIEVE IN 2009: Thanks to a very smart draft, 2008 should be behind the Jags.
But thanks to the rising Texans and defending champ Tennessee, it could be hard for the Jags to claim the AFC South.
THE PICK FOR '09: 8-8
Tennessee Titans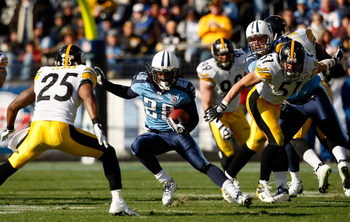 Last season: 13-3, first AFC South, and lost divisional round to Baltimore
GOOD THING GOING: Kerry Collins had arguably his best season as a pro and is back in Tennessee.
Collins was the starter during the Titans' 13-3 campaign and finished with an 80.2 passing rating.
The running game was a reason why the Titans took over the division.
Chris Johnson (photo) led the way with 1,228 yards and nine touchdowns while LenDale White scored 15 times.
The defense also amazed people by allowing just 234 points last year and surrendering an average of 93.9 rushing yards.
PRESENTABLE PROBLEMS: The Titans' D was mostly spearheaded by Albert Haynesworth up front. The "Grizzly" is now in Washington thanks to a rich new contract.
Collins' return will mean another quarterback competition between him and Vince Young.
The passing game finished last season with a 27th ranking. The Titans only scored 13 times through the air.
CRUCIAL GAME(S): It all begins at Pittsburgh to kick off 2009.
We have to wonder if LenDale White will have a target on his back after stomping on a terrible towel in last year's victory.
Two important late season games are a home game against the NFC Champion Cardinals on Nov. 29, and then a road trip to Indianapolis the following week.
That contest could decide the fate of the AFC South.
WHAT TO BELIEVE IN 2009: Tennessee wanted to get past the Colts and did just that last year.
Now the big question is how will they handle life at the top?
Can they also take the next step and get to the Super Bowl?
The schedule may make things tougher, but coach Jeff Fisher seems to always find ways to bail his team out.
THE PICK FOR '09: 10-6
Keep Reading