2014 NFL Draft: Updated Outside Linebacker Rankings and Analysis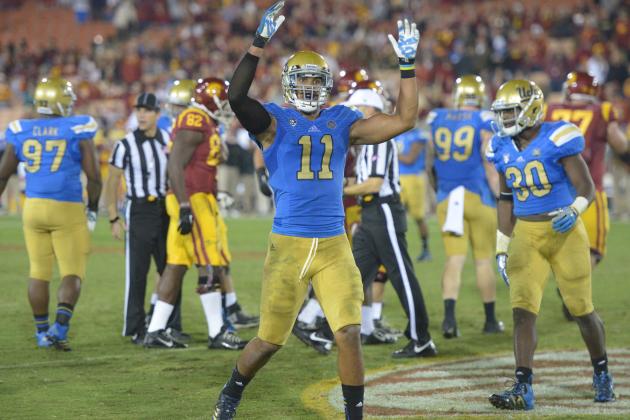 Kirby Lee-USA TODAY Sports

What it means to be an outside linebacker is not as easy to define as it once was. With the steady proliferation of the 3-4 defense, the NFL needs an increasing number of outside linebackers who serve a dual role.

Not only do they need to be able to defend the run in a traditional sense, they also have the added responsibility of rushing the passer as a hybrid defensive end. This entire dynamic really clouds the water on positional rankings.

Outside linebackers who can play in a 3-4 are typically coveted over your typical 4-3 outside linebacker and therefore their draft stock will reflect that.

The 2014 class is a very disparate group with specific strengths. This means that when a player is selected could depend as much on the fit in the scheme as an individual player's talent.

Let's take a closer look at some of the top outside linebackers in this 2014 class.
Begin Slideshow

»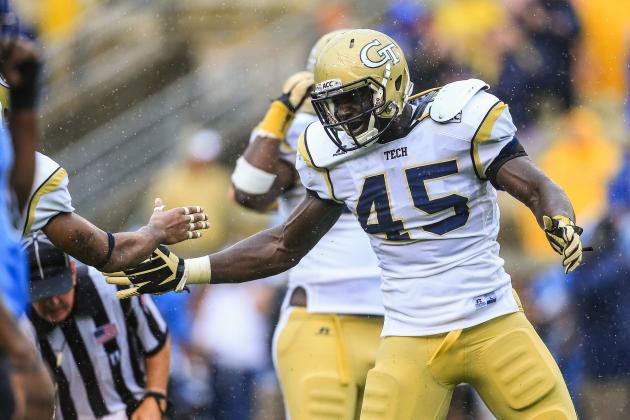 Daniel Shirey-USA TODAY Sports

Just looking over this list gives one a clear understanding of just how deep this group is. Arizona State's Carl Bradford and Georgia Tech's Jeremiah Attaochu are stark contrasts in their skills, but both carry a second-round grade and have the potential to be exceptional pros.

Even beyond those two, the next three linebackers all carry third-round grades, with Boise State linebacker Demarcus Lawrence a great candidate to move way up in the offseason.

Again, this list is a melting pot of scheme fits and skills. A player like Notre Dame's Prince Shembo comes from a 3-4 scheme, so certain teams will be drawn to him. On the other side, Florida State linebacker Telvin Smith is very undersized at only around 215 pounds, so a team may grade him based on his potential to move to strong safety.

6. Carl Bradford, Arizona State
7. Jeremiah Attaochu, Georgia Tech
8. Kyle Van Noy, BYU
9. Demarcus Lawrence, Boise State
10. Jackson Jeffcoat, Texas
11. Telvin Smith, FSU
12. Morgan Breslin, USC
13. Prince Shembo, Notre Dame
14. Jordan Zumwalt, UCLA
15. Dee Ford, Auburn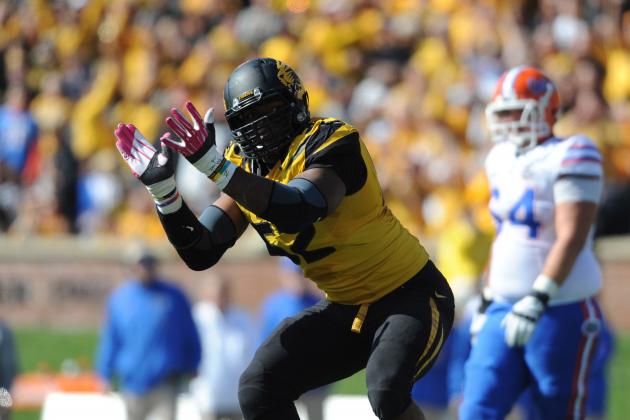 Denny Medley-USA TODAY Sports

Going into the season, not many knew who Missouri defensive end Michael Sam was. However, Sam built on a strong 2012 with an even bigger 2013. Sam's skill set reads like a rush linebacker, but his body type shows the potential of a defensive end. This is a good news/bad news situation for him.

Sam is a fabulous pass-rusher. Paired with fellow defensive end Kony Ealy, Sam was able to take advantage of very limited double-teams and hone his skill a great deal this year. Sam has a very good punch and can get up into the offensive lineman quickly. Once he does, he has that lean that permits him to bend the edge without losing any speed.

The downside is Sam doesn't do a great job setting the edge on run plays, struggles to disengage from blockers and tends to drop his head on run plays, missing the ball-carrier. What this means is that although he might grow into a defensive end from his 6'2", 255-pound frame, he would be well served to stay put.

Sam can operate well in space. So, keeping him upright in the NFL will be key to his success. He'll need to get into the weight room and do a better job on the power side of his game, but he has the potential to rack up sacks.

Grade: Second Round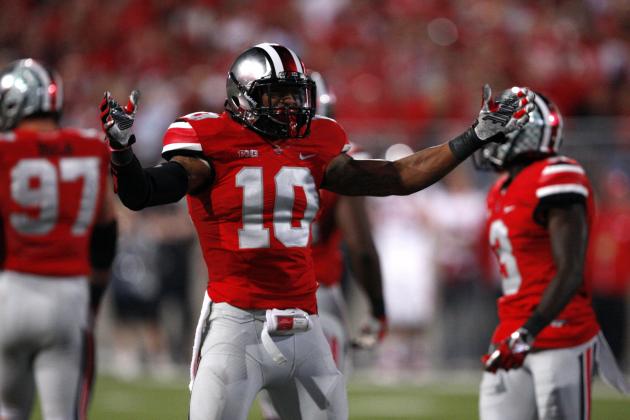 Raj Mehta-USA TODAY Sports

As we get to Ohio State linebacker Ryan Shazier, we see our first entry of the more traditional outside linebacker. Shazier is in what is essentially a weak-side linebacker role at Ohio State, which allows him to use his exceptional speed and agility to flow to the play and make the tackle.

Shazier is a smart and dynamic athlete and is one of those players who always seems to find themselves around the football. Shazier is a solid tackler and is very good at keeping himself clean getting to the football.

On the downside, Shazier is more than a little slight at 6'2" and around 220 pounds. At the next level, he will need to add some beef to that frame to contend with NFL-caliber blockers. Shazier's future is likely on the weak side in a 4-3, but he could also get a look at playing inside in a 3-4, where his size would be less of a concern.

Similar to how the Pittsburgh Steelers used rookie Vince Williams this year, a team could pair Shazier up with a larger inside linebacker, and by placing him midfield, allowing him to cover much more ground in run support and pass coverage.

Grade: Second Round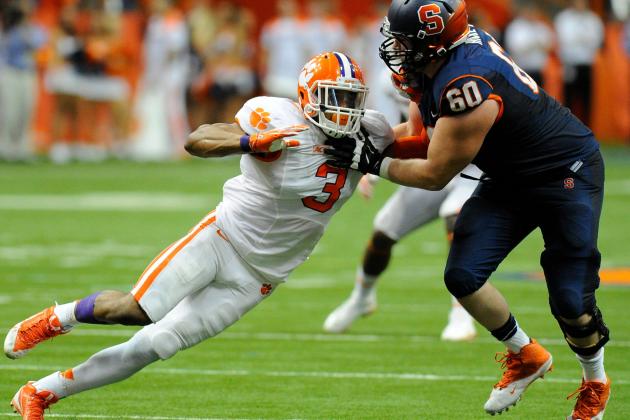 Rich Barnes-USA TODAY Sports

As we move down this list, we come to Clemson's Vic Beasley. Beasley is another of these hybrid-type players who will need to find the right fit in order to be successful.

When it comes to rushing the passer, what Beasley can do is on par with any other player on this list. His speed off the edge is elite, and he has an excellent understanding of leverage and how to use his hands. Even though he is a little undersized (6'2", 234 pounds), he still does an excellent job in working against much larger players.

What keeps Beasley firmly behind Mack and Carr is that his skill set is more limited. As a pass-rush specialist, the sky is the limit for Beasley. However, his ability to impact the game in other facets could be limited. If Beasley can't get 10-12 quality pounds on him, his ability to defend the run will limit him, and keep him off the field.

However, on the right team, Beasley can be devastating. A team like the Denver Broncos, who only ask their pass-rushers to rush, could take a raw player like Beasley and turn him into a star.

Grade: Top-25 pick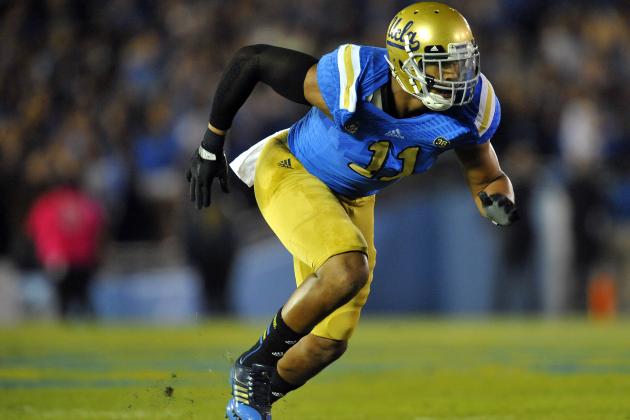 Gary A. Vasquez-USA TODAY Sports

The gap between Mack and UCLA's Anthony Barr is very narrow. Barr is very similar to Mack in many aspects. Physically they mirror each other, and both show tremendous athleticism. Barr is also a dynamic pass-rusher but is not restricted to that role.

Barr also has the frame to build onto his 248 pounds. If he can do without losing that elite explosion and speed, he would be even more useful to a 4-3 team. Barr is a very sudden player. He makes very quick decisions and gets to the football in a hurry. In Barr, you'll find very little wasted movement.

On the downside, Barr is still lacking some polish to his game, especially in his pass-rush moves. Along similar lines, while Barr's explosion and closing speed are impressive, his football acumen could improve, affording him fewer missed plays.

Grade: Top-10 Pick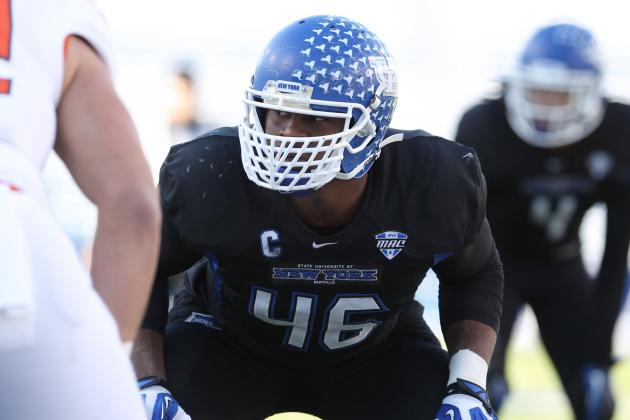 Timothy T. Ludwig-USA TODAY Spor

Being multitalented and scheme-versatile is part and parcel to an NFL player's success. For Buffalo's Khalil Mack, the fact that he's the most physically gifted linebacker in the country is second only to the fact that he is also the most versatile.

Buffalo understands what it has in the 6'1", 248-pound whirling dervish of a linebacker. In any given game, Mack can be asked to play multiple roles. As a pass-rusher, he's as good as any in the country, whether it's with his hand on the ground or standing. Mack understands leverage, has an explosive first step and makes very effective use of his hands.

Mack also does a great job in coverage. This is due in large part to his instincts. He is adept at reading the eyes of the quarterback and breaking on the football. This ability to key on the play quickly makes him a sound run defender as well. Mack is strong, and even when he's engaged with an offensive lineman, keeps his head up and is always looking to go after the football.
Draft Grade: Top-Five Pick