The final rendition of the BCS bowl system is winding down, with just four more days and five more games left. As bowl season reaches its climax with the final bowls and the BCS National Championship Game, here is all the TV info you need to catch the end of college football season, as well as predictions for the remaining games:
Remaining 2014 Bowl Schedule

| | | | | |
| --- | --- | --- | --- | --- |
| Game | Date | Time (ET) | TV Station | Prediction |
| Oklahoma St. vs. Missouri (Cotton) | Jan. 3 | 7:30 p.m. | FOX | MIZZ 33-30 |
| Clemson vs. Ohio St. (Orange) | Jan. 3 | 8:30 p.m. | ESPN | OSU 38-31 |
| Vanderbilt vs. Houston (BBVA Compass) | Jan. 4 | 1 p.m. | ESPN | VAN 28-27 |
| Arkansas St. vs. Ball St. (GoDaddy) | Jan. 5 | 9 p.m. | ESPN | BSU 24-17 |
| Florida St. vs. Auburn (National Championship) | Jan. 6 | 8:30 p.m. | ESPN | FSU 37-27 |
TV info via ESPN.com
The three big bowls obviously stand out and warrant further analysis. Below are reasons why the Orange Bowl, Cotton Bowl and BCS National Championship will unfold as predicted.
Cotton Bowl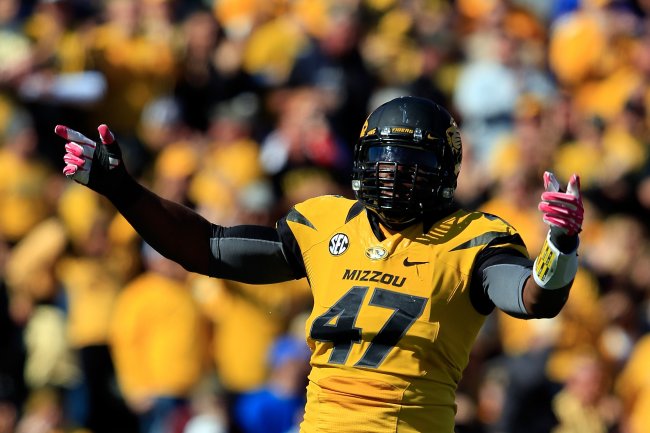 Jamie Squire/Getty Images
The Missouri vs. Oklahoma State game is probably the toughest to call. Both teams feature powerful offenses that are reeling from disappointing finishes to the regular season.
Who will win the Cotton Bowl?
The Tigers and Cowboys share a common regret at missing out on a BCS bowl and have similar keys to salvage a Cotton Bowl consolation. Both possess front sevens capable of disrupting the opposition's timing-based offense, as well as balanced attacks that can keep the other defense off balance.
However, Missouri has so many playmakers on the front seven that it is not hard to envision the Tigers generating a couple of game-changing sacks or turnovers. Besides unanimous All-American Michael Sam, the Tigers also have received huge contributions from Markus Golden, Shane Ray and Kony Ealy. The quartet has combined for 52.5 tackles for loss and 29 sacks.
Missouri DE Michael Sam on #OKState: "If they can hang with us, maybe they should come to the SEC." By @ahrens_tim http://t.co/fvugHXcnRH

— O'Colly Sports (@ocollysports) January 1, 2014
Oklahoma State is also a bit undersized up front, and while All-American cornerback Justin Gilbert leads a stifling Cowboys pass defense, Missouri should have enough success on the ground to pull out a victory in a closely contested game.
Orange Bowl
Ohio State was on the national championship radar for the entire season, and Buckeyes Nation is disappointed not to be in Pasadena. Meanwhile, Clemson had one of the least-visible seasons of any 10-2 team, partially because of an early-season beatdown at the hands of Florida State.
Both offenses possess big advantages over the other defense—Clemson through the air, Ohio State on the ground. The Buckeyes' third-ranked run game and the Tigers' 11th-ranked air raid should turn the Orange Bowl into a high-scoring affair.
Tajh Boyd has already set ACC records for career touchdown passes (102) and touchdowns responsible for (127). #OrangeBowl

— College GameDay (@CollegeGameDay) January 3, 2014
Ohio State RB Carlos Hyde: "The stat for the most yards in the Orange Bowl is 226 if I'm not wrong. I'm looking forward to that."

— Ben Axelrod (@BenAxelrod) December 31, 2013
Who will win the Orange Bowl?
But Ohio State's ability to dominate on the ground also allows it to control the clock and pace of the game. If the Buckeyes are burning off chunks of clock on each drive, not only will it rest their own defense, but it will also wear down the Tigers D. Moreover, running by its nature is inherently a lower-variance option, meaning that Ohio State is going to be less prone to debilitating mistakes.
Ultimately, expect Ohio State to get to Tajh Boyd at least a couple of times, as the Buckeyes finished with the fourth-most sacks in the country. That should create a few short fields for Braxton Miller and Carlos Hyde and provide Ohio State with some consolation for its near-miss at the national championship.
National Championship
The SEC has generally been the favorite during its remarkable run of seven consecutive championships, but the conference representative has never faced longer odds than it does right now. As ESPN's Brad Edwards notes in an Insider article (subscription required), the Seminoles offense should hit plenty of huge plays on Monday night:
It is rare to have a huge statistical mismatch between two major units in a national championship game, but there's no way to deny the gap between the Florida State offense and the Auburn defense. Big plays are a part of this. The Seminoles are tied for the national lead with 103 gains of 20 yards or more, while the Tigers entered the bowl season having allowed 70 such plays, which ranks 109th in the FBS.

And there's more to the story. One in every 8.5 offensive plays for FSU has gained at least 20 yards, the second-best ratio in the last 10 years (behind 2006 Hawaii). On the flip side, Auburn's 5.96 yards per play allowed is the worst by any of the 144 teams to have participated in a BCS game.
Who will win the National Championship?
Auburn does have a chance if it can control the clock with its running game. Florida State ranked fifth in the nation in conceding just 3.1 yards per carry, but apart from Boston College, the Seminoles did not face a team in the Top 40 in the country in yards per carry.
The Tigers possess the hottest ground game of any team, having compiled at least 200 yards rushing in every game since Week 3 and more than 300 yards in six of the past eight contests. If Auburn can establish a rhythm on the ground early and keep Jameis Winston off the field, it can overcome the odds.
Auburn's run game has been dominant all season, but will it be enough to beat Florida State? http://t.co/XlEaLarrg7

— ESPN Stats & Info (@ESPNStatsInfo) January 3, 2014
But Florida State is the more talented team, which is a rarity when facing an SEC opponent. The Tigers are not built to pass their way back from a deficit, so expect the Seminoles to pull away late.