After a grueling 17 weeks, the NFL Wild Card Round is set.
While three of the four contests are rematches from the regular season, that should not deter fans from tuning in to each one. Not only are these solid matchups, but the football will be in its purest, traditional form with inclement weather set to rock the locales that are hosting the events.
It also helps that in recent years the Wild Card Round has produced the team that went on to win it all, as ESPN details:
6 of 8 Super Bowl champs since 2005 have played in the Wild Card round, including 3 straight (2010 Packers, 2011 Giants, 2012 Ravens)

— NFL on ESPN (@ESPNNFL) January 2, 2014
How will these contests unfold? Which teams will advance and keep that streak alive? Read on to find out.
Kansas City Chiefs at Indianapolis Colts
The Indianapolis Colts play host to the Kansas City Chiefs in a rematch of a Week 16 matchup that saw the Colts go to Arrowhead Stadium and pull out an impressive 23-7 win—as expected.
As expected? That's right. As NFL Network's Scott Hanson illustrates, the Colts were dominant against the NFL's best in 2013:
The @Colts went 4-0 vs Broncos, Seahawks, 49ers & Chiefs. Those teams were a combined 49-11 against the rest of the NFL.

— Scott Hanson (@ScottHanson) January 2, 2014
The only issue for the Colts in this rematch outside of slightly tweaking what already worked a few weeks ago is the return of Chiefs linebacker Justin Houston. With Houston and linebacker Tampa Hali, the Chiefs led the NFL with 35 sacks through seven games—and then had the fewest in the NFL over the last nine games with 12 quarterback takedowns.
Unless the Chiefs can somehow return to their early-season form when it comes to rushing the passer, quarterback Andrew Luck will torch a Kansas City secondary that ranks No. 25 in the NFL.
Even the defense has turned it on as of late, surrendering a total of 20 points in the last three games.
Prediction: Colts 23, Chiefs 17
New Orleans Saints at Philadelphia Eagles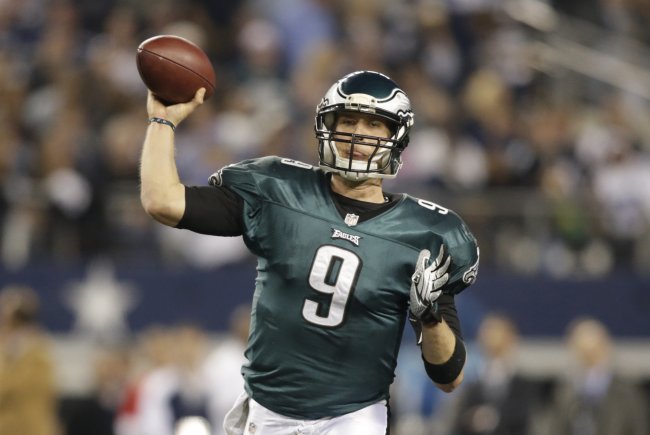 Tim Heitman-USA TODAY Sports
This is the only contest of the weekend that is not a Round 2, and fans of offense won't want to miss it when the New Orleans Saints visit the Philadelphia Eagles. ESPN explains the allure:
Expect a high scoring game Saturday: The @Eagles ranked 2nd in the NFL with 51 offensive TDs, while the @Saints were 3rd with 49.

— NFL on ESPN (@ESPNNFL) January 3, 2014
By now, fans are aware of Chip Kelly's offense in Philadelphia, which ranks No. 1 on the ground and No. 9 through the air. The Eagles and Nick Foles will have to duel with Drew Brees and New Orleans' elite offense, and both quarterbacks should be familiar with each other, as NBC's Sunday Night Football Twitter account illustrates:
RT @Eagles: QB Nick Foles is ready for a high school reunion: http://t.co/jyBtlmEjIK #FlyEaglesFly pic.twitter.com/gWK0lqmZzf

— SNF on NBC (@SNFonNBC) January 3, 2014
While much has been written about the Saints' struggles on the road this season, not much has been said about a defense that ranks No. 2 against the pass and allows an average of just 19 points per game. Only three other teams are better in that regard.
The Saints have the total package and are more than capable of matching the Eagles blow for blow in harsh conditions.
Prediction: Saints 38, Eagles 31
San Diego Chargers at Cincinnati Bengals
The San Diego Chargers and Cincinnati Bengals met in Week 13, when the Bengals escaped the West Coast with a 17-10 victory.
Cincinnati now returns to Paul Brown Stadium, where the team is 8-0 on the season to play host to the Chargers. Coach Marvin Lewis and the Bengals have plenty of reasons to win, but here's the biggest: They have made a first-round exit from the playoffs in each of the past two seasons.
The Chargers added to this motivation in Week 17 when Lewis dug up a video of San Diego's postgame celebration (available on on the Chargers' website). He told the media, via the team's website:
I showed them the video this morning of Mike's postgame, how they're even pointing to us. There was even some 'Who Dey' chants they had in there and everything. They 'owe Cincy' and all that. We know we've got to be ready. Our guys aren't overconfident ever. That is not the way we operate around here. ... What we did in San Diego doesn't matter now; we don't gain any extra points for that.
It is a bad time to light a fire under the Bengals. They have scored more than 40 points in four of their last five games at home. Led by quarterback Andy Dalton, that same offense will find it simple to move the ball in rainy conditions against a Chargers defense that ranks No. 29 against the pass.
San Diego is just 4-4 on the road this year. Traveling across the country to take on one of the NFL's best will be too much for the Chargers.
Prediction: Bengals 24, Chargers 20
San Francisco 49ers at Green Bay Packers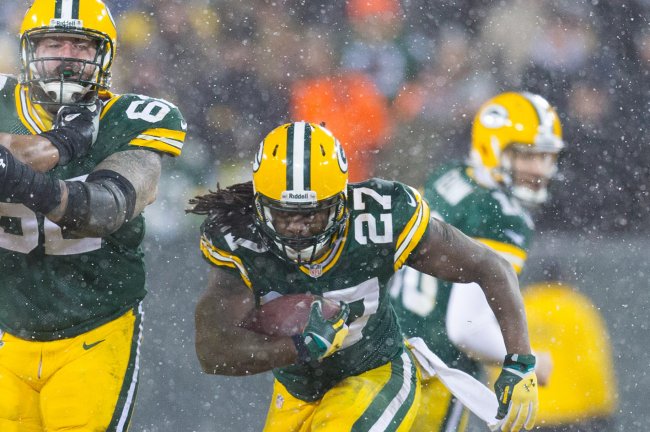 Jeff Hanisch-USA TODAY Sports
Both the San Francisco 49ers and Green Bay Packers started their seasons against each other. One will end its season in the same fashion.
Week 1 was a 34-28 victory in San Francisco for the 49ers, but now they must hit the road and take on the red-hot Aaron Rodgers, who is one game into his comeback bid. Not only that, but the 49ers must battle rare weather, as ESPN points out:
The weather forecast for the Packers/49ers game in Green Bay on Sunday is for a high of ZERO and a low of -18. #FROZENTUNDRA

— NFL on ESPN (@ESPNNFL) January 2, 2014
This equates to a heavy dose of the run game for both sides, which forces Green Bay out of its comfort zone—but only slightly.
The Packers have gotten their act together this season and transitioned away from the one-dimensional pass attack of recent years. The reason is stud rookie running back Eddie Lacy, who gashed defenses for 1,178 yards and 11 touchdowns this season.
He is a major asset to have in inclement weather, whereas the 49ers' Frank Gore ran for only 13 yards on 14 attempts a week ago in clear conditions against the Arizona Cardinals. Now, Green Bay's defense is nowhere near Arizona's, but when you consider that Rodgers has the ability to will his team to a victory at Lambeau Field, it is smart to roll with the Packers in this one.
Prediction: Packers 28, 49ers 24