When rumours surfaced in The Sun and The Mirror linking Dimitar Berbatov with a move to Arsenal, there was initially a sense of intrigue among the Arsenal fans.
There's no doubting the Bulgarian's talent. Few players in the Premier League share his extraordinary technical gifts.
However, he does not fit the profile of a typical Arsene Wenger signing—and not just because he's already played for both Manchester United and Tottenham. The suspicion that the story might be short-lived was seemingly confirmed when Wenger told the Daily Mail:
I won't go into any specific names. That would be disrespectful.

We are assessing our options which are restricted. Berbatov is not a name we have considered.


We are analysing the situation. Until we know about (Nicklas) Bendtner and (Yaya) Sanogo we will make a decision on that. The players who can strengthen our squad are under contract.
The fact that Berbatov has not yet been part of Wenger's strategic conversations suggests he is unlikely to make a move across London this January.
That shouldn't come as any great surprise.
Wenger has been asked about interest in Berbatov before. However, his response has always been the same.
He was not interested—not when the striker moved from Bayer Leverkusen to Tottenham, and not when he moved from Manchester United to Fulham.
Speaking to the official Arsenal website in April 2013, Wenger said:
No, because he went to Man United. I didn't even know that Man United wanted to sell him. He went to Tottenham from Bayer Leverkusen. At that time we didn't look for strikers. We had what was needed. I knew that he was a good player because I've seen him with Leverkusen but I was never on the case.
The inference is clear: Wenger has been aware of Berbatov for a long time, without ever considering him as a serious target. If Wenger had wanted to acquire Berbatov, surely he would have made steps in that direction before now.
Perhaps Wenger has concerns about Berbatov's work-rate. The playing style of Arsenal's current centre-forward, Olivier Giroud, is characterised by relentless running. He makes himself available for his team-mates, chasing into channels and holding off defenders. He is a muscular bouncer, protecting the ball and allowing Arsenal's array of attacking midfielders to flourish.
Giroud also makes a vital contribution defensively. At set pieces, he is charged with guarding the near post, and frequently is first to the ball to help Arsenal clear their lines. According to Squawka, 65 percent of Giroud's defensive actions are clearances.
Berbatov has more of a "laissez-faire" attitude to the less glamorous aspects of the game. He can often be seen strolling idly around the opposition half, waiting for the ball to arrive at his feet. As he urged his team-mates on a celebratory t-shirt, Berbatov's motto is "keep calm and pass me the ball." However, he might be a little too calm for Arsene Wenger's liking.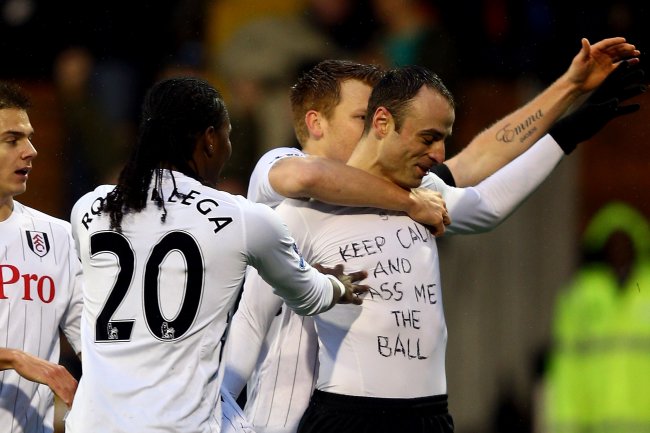 Clive Rose/Getty Images
Arsenal's system requires a striker who is more willing to work for the team. Arsenal need a strongman, not a showman.
There's also the question of Berbatov's age. This month, the Fulham forward turns 33. Although he has made exceptions to sign the likes of Mikael Silvestre and Sol Campbell, Wenger is famously reluctant to spend money on older players with no resale value.
Circumstances may change. As the window wears on, Wenger might decide that Berbatov is in fact the best option available.
However, it seems clear that he is far from his preferred choice.
James McNicholas is Bleacher Report's lead Arsenal correspondent and will be following the club from a London base throughout the 2013-14 season. Follow him on Twitter here.