Arsenal have been left with an offensive conundrum for this weekend's FA Cup third round tie against Tottenham after it was revealed Nicklas Bendtner would not recover in time for the North London derby.
The official Arsenal Twitter account confirmed the Dane would be absent through injury, while illness also means first-choice Olivier Giroud is a doubt for the clash:
TEAM NEWS: "We have lost @bendtnerb52, Giroud's ankle was quite positive but he is sick" http://t.co/pSeG96BU83 #AFCvTHFC

— Arsenal FC (@Arsenal) January 3, 2014
TEAM NEWS: "Giroud is 90 per cent out, @MesutOzil1088 has a test today, @KieranGibbs and @aaronramsey remain out" http://t.co/pSeG96BU83

— Arsenal FC (@Arsenal) January 3, 2014
Bendtner has recently laid some good groundwork in winning over his Premier League critics, and came on to strike an 88th-minute opener in the New Year's Day fixture against Cardiff City earlier this week.
However, the 25-year-old took a knock to his ankle in the process and was forced off the pitch moments after sending the Emirates Stadium into jubilation.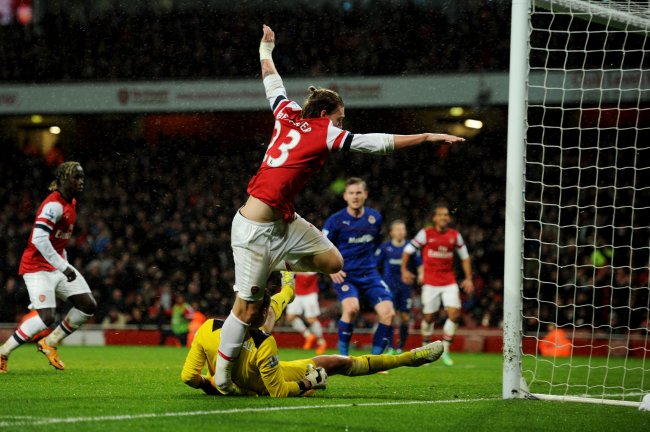 Shaun Botterill/Getty Images
It confirms the fears of those who might doubt the depth of Wenger's squad, particularly in attack, where Giroud has reigned as the sole striker for the vast majority of Arsenal's campaign.
Who should occupy the striking role in the absence of Giroud and Bendtner?
Although the Frenchman is ill, Giroud might be risked for the FA Cup collision against Arsenal's bitter rivals, but that would then put future appearances at risk, should the striker's condition worsen.
Instead, the Gunners' chief may opt to use either Lukas Podolski or Theo Walcott through the middle, both of whom have played as more centralised attackers in their careers.
Walcott was used as a striker during another Giroud absence last season, and it was during this time that the England international netted a hat-trick and recorded two assists in a 7-3 thumping of Newcastle United, per Transfermarkt.co.uk, leading to calls for Wenger to utilise the attacker there more often.
However, Walcott isn't bitter about playing out wide, and was recently reported by ESPN as saying he'd welcome attacking reinforcements in January:
Theo Walcott says he would welcome new signings at Arsenal, even if it costs him his chance of playing up front: http://t.co/Qu0yeMMqWz #AFC

— ESPN.co.uk (@ESPNUK) January 2, 2014
Another, less likely, route is that Wenger fields one of his less experienced assets up front. Yaya Sanogo continues to struggle with a back injury that has prevented him from making his first Premier League start, but the highly-rated Serge Gnabry may hope to get a look-in.
The unenviable situation Wenger now finds himself in is the realisation of fears that many an Arsenal fan will have been dreading in recent months, after the club became so dependent on the success of Giroud for the first half of the 2013-14 campaign.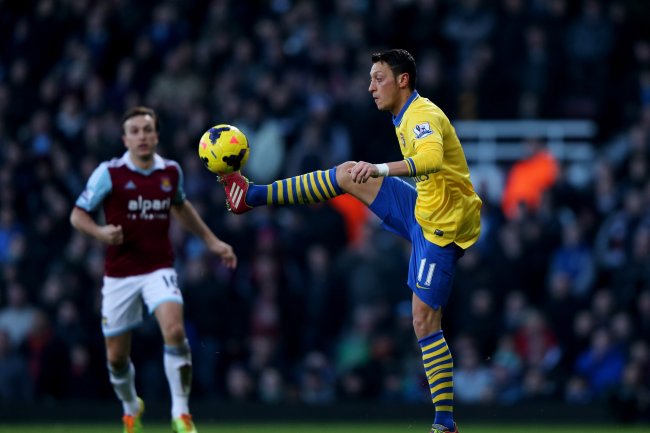 Ian Walton/Getty Images
News of Ozil's possible absence doesn't make for good reading from an Arsenal perspective, either, and with Aaron Ramsey out, the Gunners could suffer from a lack of creation this weekend.
Spurs, meanwhile, have recently discovered an extra resource after Tim Sherwood's decision to draft Emmanuel Adebayor back into the squad looks to have paid off.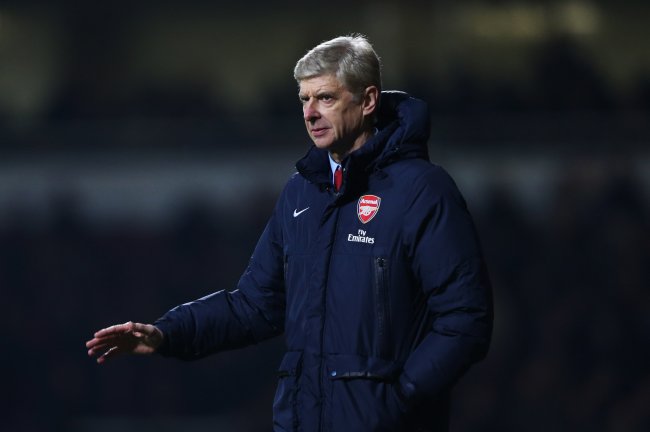 Ian Walton/Getty Images
The Togolese striker scored during Tottenham's 2-1 win over Manchester United earlier in the week, and will be on a high with the rest of his squad following that result at Old Trafford.
From one English giant to the next, Spurs will be hopeful of taking advantage of the Gunners' predicament, ensuring that their rivals' FA Cup run ends this weekend.