LeBron James doesn't hand out compliments too often, so Stephen Curry would be wise to accept his praise following the Golden State Warriors' 123-114 victory over the Miami Heat on Thursday night.
"One of the best shooters this NBA will see," James said in regards to Curry, via Jimmy Durkin of the San Jose Mercury News.
James' teammate, Dwyane Wade, also had high praise a year ago for Curry, as well as his fellow backcourt shooter, Klay Thompson.
"They have two of the best shooters this game has ever seen in Curry and Thompson," Wade said, via Marcus Thompson II of The San Jose Mercury News. "They're just playing with a lot of confidence."
The Warriors played a fantastic overall game on Thursday, but they nearly beat themselves despite their shooting dominance.
The Dubs burst out of the gate, hitting 15 of their 19 shots in the first quarter en route to scoring 38 points, the most allowed by the Heat in any quarter this year. They then carried that momentum into the second quarter, and by halftime led 65-61, also the most points Miami had allowed in a half this year.
But the Warriors committed 13 turnovers in the first half, which limited their lead at the time to only four points. Luckily, they settled down after that, committing only five second-half turnovers. On top of that, with Andre Iguodala guarding James for much of the game, the Miami superstar committed eight turnovers himself.
Warriors scored 65 Pts in 1st half despite 13 TO. They're 1st team to do that since Suns on March 22, 2010 - at Golden St

— ESPN Stats & Info (@ESPNStatsInfo) January 3, 2014
With his 36 points and 12 assists, Curry gets much of the credit for the win, but don't forget David Lee's dominant performance. The Warriors power forward hit each of his first five shots, finishing with 32 points and 14 rebounds.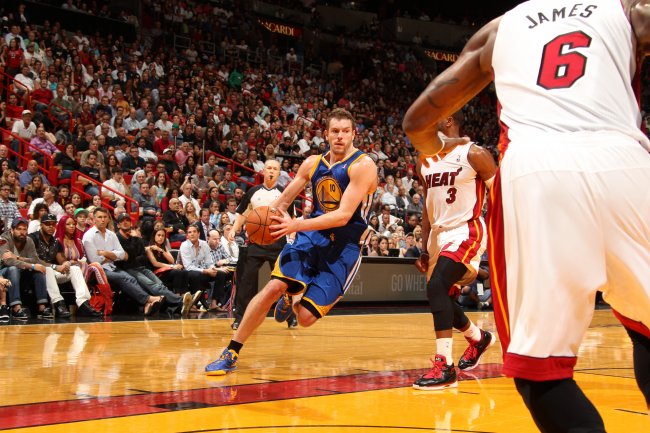 Issac Baldizon/Getty Images
Even the much-maligned Warriors bench had a solid performance. Harrison Barnes in particular played one of his better games this season, hitting four of his six shots. He was also 6-of-7 from the charity stripe, where he has struggled throughout the season.
But you could tell Curry was going to be the star of the show, as he was locked in from the get-go. He took three shots in the first quarter, each of which were threes, and he made all of them. Clearly, he didn't slow down either.
The win gives the Dubs their seventh straight victory, but more importantly, it solidifies their place as a legitimate title contender. It's well known that Golden State has the pieces in place to be one of the best teams in the NBA, but to actually accomplish that is another thing.
By beating the defending champs, the Warriors took a giant step forward in their quest for a run at the NBA title, and they're now on the map as a serious threat.
Performances like this is why the Warriors are so dangerous. Questions is whether they can play this way consistently. If they can...

— Marcus Thompson (@ThompsonScribe) January 3, 2014
Even better, the Warriors' next five games come against Eastern Conference teams. They'll face the Hawks, Wizards, Bucks, Nets and Celtics, whose combined record is 63-94. Not to get ahead of ourselves, but a 12-game winning streak isn't out of the question.
Currently, the Dubs sit sixth in the West, but they're only one game behind the fourth-seeded Los Angeles Clippers. The momentum of their current seven-game winning streak could propel them into an even better spot.
All statistics courtesy of ESPN.