Under Armour All-America Game 2014: Top 7 Outstanding Performers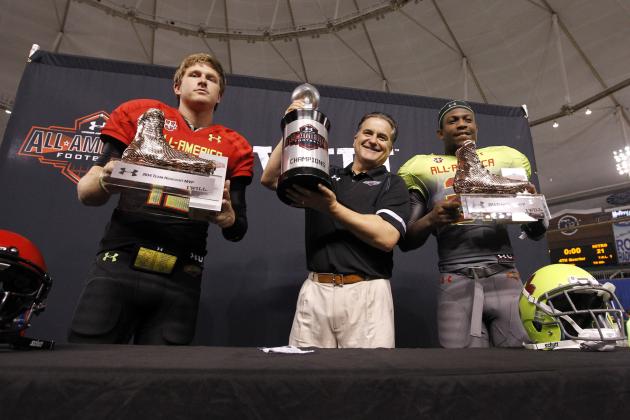 Kim Klement-USA TODAY Sports

So, there you have it folks. The 2014 Under Armour All-America Game is in the books, and it was another fantastic contest that featured a lot of future stars.
While every player invited to the game will have his chance to shine in college, a couple recruits stood out from the rest tonight. Also, keep in mind that all-star games do not spend a lot of attention focused on the offensive line and interior portion of the defensive line.
Yet, a pair of 5-star defensive ends were monsters during the game. Also, a pair of 5-star running backs shined bright, while an underrated quarterback played well on the big stage.
Player evaluations are based on review of tape at Scout.com, Rivals and 247Sports.
Begin Slideshow

»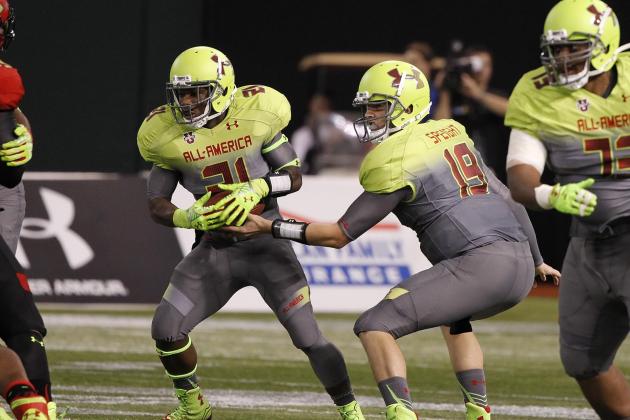 Kim Klement-USA TODAY Sports

Team Nitro was the benefit of the all-purpose play of 4-star running back Jeff Jones. The Minnesota commitment finished with six carries for 37 yards to go along with four catches for 35 yards and a touchdown, per the official Under Armour stats.
At 5'11" and 196 pounds, Jones displayed some speed and power as a runner. Yet, he also flashed good hands in the passing game, which should bring a smile to the face of Minnesota head coach Jerry Kill.
Jones was named Team MVP, according to Adam Gorney of Rivals.com.
Team Nitro also unleashed 5-star defensive end Lorenzo Carter tonight. Undeclared, the elite prospect lived up to his lofty status by registering six tackles, 1.5 tackles for loss, recovering a fumble and notching a half-sack, via the official Under Armour stats.
Carter, who is from Georgia, is 6'5" and 232 pounds. Georgia, LSU and Florida are his top schools, according to 247Sports.
Team Highlight had some highlights of its own, thanks to 5-star athlete and new Texas A&M pledge Speedy Noil. The 5'10.5", 176-pounder from New Orleans flashed glimpses of why he's one of the most exciting players to watch in the nation.
Noil caught three passes for 90 yards, including a sensational catch on a 64-yard touchdown reception. He also gained seven yards rushing, and even had a 19-yard kickoff return, according to the official Under Armour stats.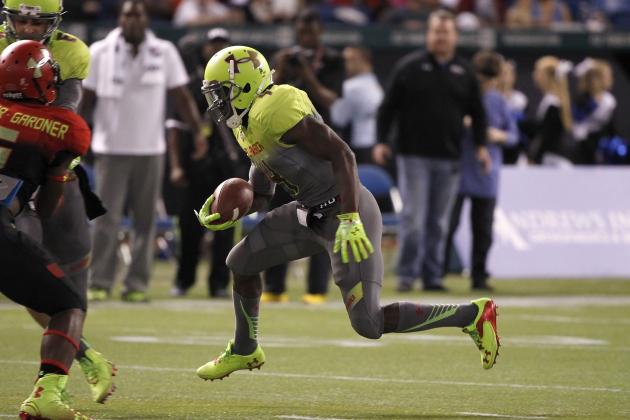 Kim Klement-USA TODAY Sports

Dalvin Cook recently flipped from Florida to Florida State, and the 5-star running back showed some flashes of what's to come in Tallahassee. Cook finished his night with eight carries for 82 yards and a touchdown for Team Nitro, according to the official Under Armour stats.
Florida State is getting one of the nation's best overall talents in Cook, who is 5'11" and 190 pounds. His speed, burst, explosiveness, quickness and deceptive power will make him a stud for the Seminoles.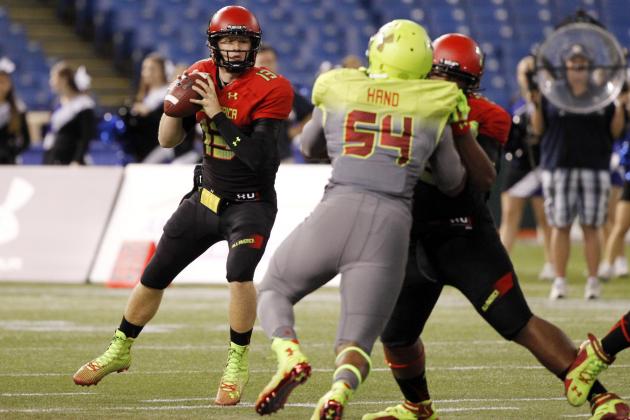 Kim Klement-USA TODAY Sports

Anyone who felt 3-star quarterback Sean White did not belong at this game was proven wrong tonight. The Auburn commit was impressive, as he completed 10 out of 12 passes for 156 yards and two touchdowns, per the official Under Armour stats.
White played with poise all night, while also throwing accurate strikes with good touch. He should flourish for the Tigers while working with head coach Gus Malzahn.
White took home Team Highlight MVP honors, according to Adam Gorney of Rivals.com
Coming into this game, all eyes were on 5-star running back Leonard Fournette, who is regarded by many as the nation's best player.
Well, he didn't disappoint, as he got going in the second half. The 6'1", 226-pound Louisiana native finished with nine carries for 44 yards, plus he caught two passes for 46 yards and a touchdown, per the official Under Armour stats.
Fournette also used the 4th quarter as a platform to announce he had committed to LSU.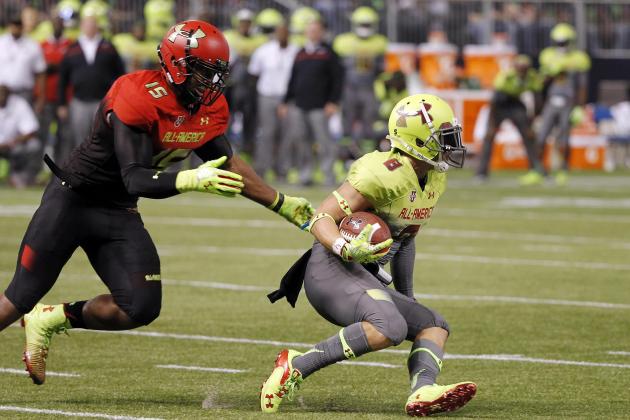 Kim Klement-USA TODAY Sports

Myles Garrett showed tonight why he could become one of Texas A&M's best defensive players during his freshman season. The 5-star stud had six tackles, one sack and four tackles for loss, according to the official Under Armour stats.
Garrett, who is 6'4" and 240 pounds, used his speed and range to make several plays. His athleticism and first-step quickness were also on display throughout the game.
The Aggies are getting a good one.
The top performers from the 2014 Under Armour All-America game are all featured on the 2014 Bleacher Report College Football Recruiting Heat Map!
Edwin Weathersby is the College Football Recruiting Analyst for Bleacher Report. He has worked in scouting/player personnel departments for three professional football teams, including the New York Giants and Cleveland Browns.