How Will Bundesliga Sides Fare in European Competition This Year?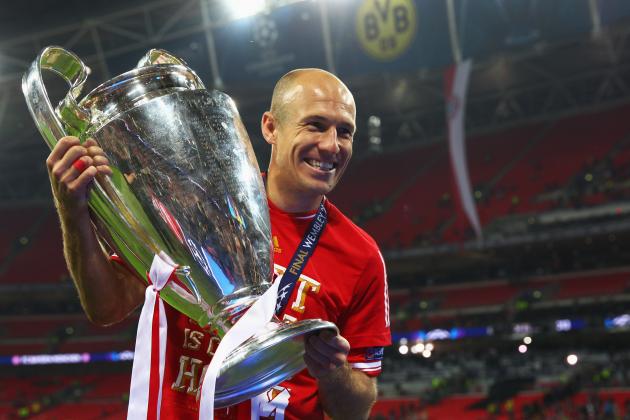 Alex Grimm/Getty Images

With the return of European football now just over a month away, I thought it would be a good idea to evaluate what stage the German sides that are still in their respective competitions have a chance of reaching.
With all four Bundesliga sides that entered into the group stages of the UEFA Champions League making it into the last 16 of the tournament and the final last season being contested by two German teams, it has already been a stellar year for German football on a continental scale.
In the Europa League, however, things haven't been as rosy, with Stuttgart failing to make it past Croatian minnows Rijeka in the third stage of qualifying and Freiburg being beaten out of the group stages by Czech side Slovan Liberec and Spanish stalwarts Sevilla.
Still, despite a poor showing in this tournament, Eintracht Frankfurt have managed to finish their group as winners. They will next compete in the round of 32.
But how far are these five teams expected to go in their competitions? Is it possible that we might see another all-German clash in the final—or perhaps a Champions League and Europa League sweep for the Bundesliga?
Let's take a little closer look, shall we?
Begin Slideshow

»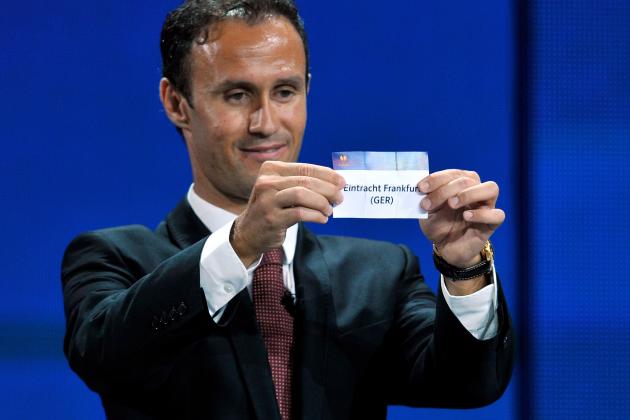 Harold Cunningham/Getty Images

Despite their poor league form this season, Frankfurt managed to make it out of a very tricky group (as winners) to secure their slot in the last 32 of the competition.
Winning five of their six group games—a solitary loss away at Cyprian side APOEL being their only blemish—the team who currently sit 15th in the Bundesliga table, just a point above the relegation play-off, have been flying in Europe this year.
However, just when things seemed to be looking up for Frankfurt, they were dealt a devilish draw that in no way rewarded their dominance in the group stages.
Having to face off against former Champions League winners Porto in the next round will be one of the toughest challenges of their season.
The Portuguese outfit finished third in their Champions League group this season and have to be considered one of the best teams in the tournament now.
Things don't get a whole lot better for Eintracht if they can pull off a giant-killing in the round of 32.
The way the draw works, we already know who their potential opponents will be in the last 16 if they should make it that far: Swansea City or Napoli.
The Italian side were amazingly unlucky not to make it out of the group of death in the Champions League this year, narrowly missing out to Arsenal and Borussia Dortmund.
Sadly for Frankfurt fans, it seems incredibly unlikely that they will be making an appearance in the quarter-finals or beyond.
Probable stage of exit: Round of 32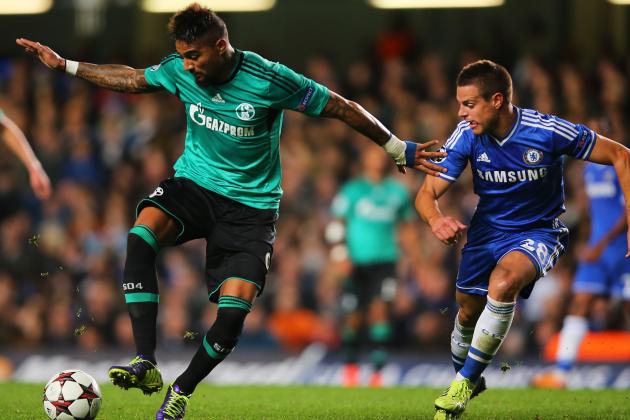 Clive Rose/Getty Images

Schalke were gifted a relatively easy group to qualify out of this year.
That sound's like a ludicrous thing to say when they had to compete with the likes of Chelsea—but as any seasoned pros of the competition would tell you: It's better to have one world-class opponent and two poor ones, than three solid teams to compete with.
Sure, it was always unlikely that Schalke would win the group with the 2013 Europa League and 2012 Champions League winners alongside them.
All the German outfit needed to do was make it past Basel and Steaua Bucuresti to ensure their place in the last 16, and they did that with relative ease.
Unfortunately for the Royal Blues, they now have to face off with Carlo Ancelotti's Real Madrid.
I won't mince my words: Real are a better team than Schalke.
This is a knockout tournament, and anything is possible; with the desire that the Galacticos have to win another European Cup (something they haven't done in over a decade) I cannot see them slipping up to a team with not a huge amount of recent European pedigree.
Keeping the likes of Cristiano Ronaldo and Gareth Bale quiet is a proverbial nightmare.
I expect Schalke to put up a good fight and not embarrass themselves, but ultimately I think this is just a step too far.
Probable round of exit: Last 16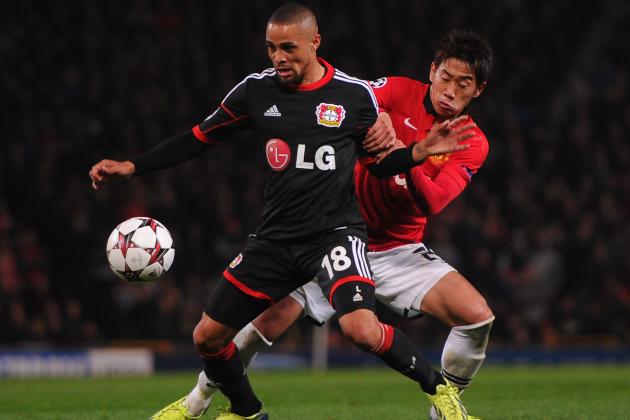 Michael Regan/Getty Images

Leverkusen were somewhat lucky to come out of the group stages after their poorest display of the season saw them ship five at home to a weak Manchester United side.
In fact, against United the German side's aggregate record reads 9-2 in favor of the English Champions following the groups.
This kind of goal-leaking will have to be rectified going into their match against French Champions PSG.
The French unit, led on-field by Zlatan Ibrahimovic, are genuine contenders for the title this year.
While this will be a closer game than the Schalke-Madrid clash, I cannot help but think that Leverkusen just haven't quite got the all-round firepower to go out and beat a team of Paris Saint-Germain's quality.
Bayer aren't a team who know how to park the bus and absorb attacks. Being German they are traditionally an attacking side, and they like to go out and try to outplay the opposition rather than hit them on the counter.
This won't work against a team like PSG.
Probable round of exit: Last 16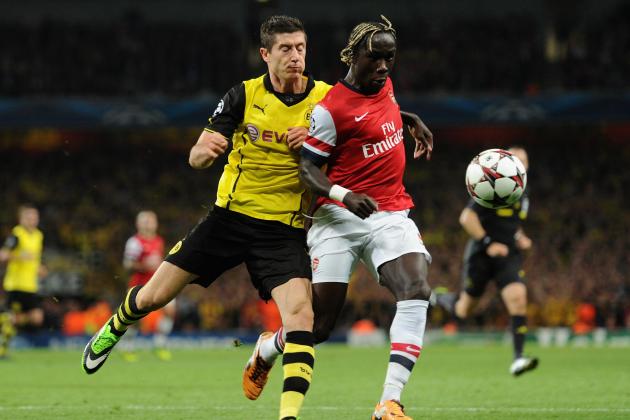 Shaun Botterill/Getty Images

Dortmund have had a really, really odd season domestically.
Taking 19 points out of a possible 21 in the league from their first seven fixtures, nobody could have expected that just 10 matchdays later they would find themselves 12 points behind Bayern—with the Bavarian side having a game in hand.
Their reward for winning the group of death in this year's first round is a pair of ties against Russian side Zenit Saint Petersburg.
Not to be underestimated, the Russian outfit are led by Brazilian superstar Hulk and have a bevy of top talent to take on BVB.
That being said, having come out of a group containing Arsenal, Napoli and Marseille, I would be surprised if Dortmund can't handle what Zenit have to throw at them.
This will be a close fixture, but ultimately I see the men in yellow coming through it by a couple of goals.
The real question is: How far can they go this year?
Last season Dortmund shocked the world when they ripped apart Real Madrid in a 4-1 first-leg victory in the semi-finals.
This display would ensure them a spot at Wembley to face Bayern Munich—where they lost only narrowly to a 90th-minute winner from Arjen Robben.
This year things seem a little different. The club's performances haven't been quite as sharp, and with the majority of elite European sides (Arsenal, Man City, Chelsea, PSG, Real Madrid, Atletico Madrid and even Bayern) all building and improving their first XI, I would be surprised to see BVB reach as the heights they did last year once again.
If they do make it past Zenit, their quarter-final draw will be crucial. If they come against a side like Manchester United or Chelsea, then there is a hope that they might be able to build some momentum and push toward the title.
If not, I can't see them making it much further than the last eight this time around.
Probable round of exit: Quarter-finals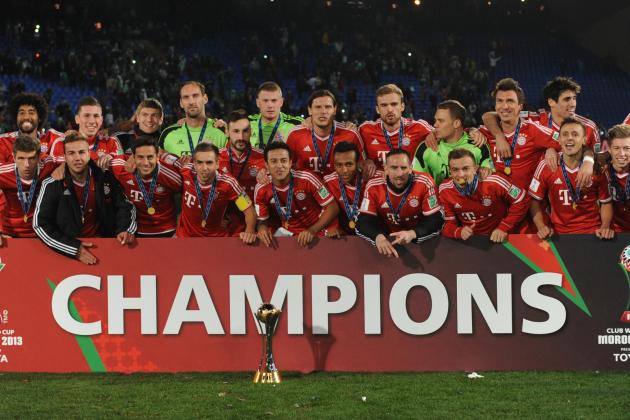 Steve Bardens/Getty Images

Bayern are running away with it again somewhat this year.
Sitting seven points clear of Leverkusen in the Bundesliga already (with a game in hand) and having picked up the FIFA Club World Cup in December, things are going swimmingly for Pep Guardiola's men.
The worst bit of news that the Bavarian giants have received all season is that their opponents in the round of 16 this year will be current English league leaders Arsenal.
Last year Bayern and Arsenal faced off at this same stage, and—despite a late goal at the Allianz Arena that deceptively made it appear as if it were a close tie—the German side swept the floor with the Gunners.
This year, things are very different. Arsenal have been one of the best teams in Europe this season, even beating BVB away from home in the group stage of this year's competition.
They are, for the first time in a very long while, genuine contenders.
Bayern are still the better side, but the margin has been drastically shortened. This narrowing of the gap means that the current holders have a tough set of games in store for themselves come February and March.
Can Arsenal dump the champions out in the last 16? My heart and head both tell me no. Bayern are just too good to go out at this stage to any team, and the improvements that Arsene Wenger's men have made this year just aren't quite enough to tip this one in their favor.
In reality, Bayern probably have one of the most realistic chances of retaining the Champions League title in a long time.
The tournament, in it's modern format, has never witnessed back-to-back winners. Could the 2014 edition be about to break that trend?
It's certainly a possibility. On paper there are no first XI's in the world right now better than Bayern Munich. Of course, though, this is football, and things don't always pan out how one might expect them to.
Still, my instincts tell me that this will be Bayern's year again. For the last three seasons my Champions League predictions have come to fruition. Admittedly with Barcelona in 2011 and Bayern last year, that was fairly obvious. Still, the shock Chelsea victory of 2012 was something that very few non-Chelsea fans saw coming, and this year I look to extend my record to four out of four.
Bayern are my team for this year's trophy. The first ever retention.