This NBA season has already featured some unique trade situations. Based on the latest buzz from around the league, that will only get stranger as the season continues.
For the most part, teams in all sports make trades to improve the roster either immediately or for the future. However, there are a few examples that go beyond that as teams look for flexibility either with the lineup or the payroll.
Although these trades might not all come to fruition, there is plenty of discussion in each instance. Here are the latest updates on the biggest possible deals around the NBA.
Andrew Bynum, C, Cleveland Cavaliers
Less than a week ago, the Cleveland Cavaliers decided to suspend Andrew Bynum for conduct detrimental to the team while reports were released that he simply did not want to play basketball anymore, according to Matt Moore of CBS Sports.
While one would think this would leave the Cavaliers out of options, the Los Angeles Lakers were actually interested in acquiring the player as a means to shed payroll. Dealing Pau Gasol for a non-guaranteed contract would help the Lakers get under the luxury-tax threshold.
However, talks on this matter have stalled, according to Brian Windhorst and Ramona Shelburne of ESPN:
The major issue, sources said, involves the Lakers' desire to get an additional asset from the Cavs beyond Bynum's team-friendly contract, which could save the Lakers more than $20 million in salary and luxury taxes. The Lakers are interested in also getting a young prospect or first-round draft pick as part of the deal. The Cavs have been reluctant to part with either.
The Cavaliers will have to add at least another player in a deal to satisfy NBA rules, but they do not want to part with anyone of value. They feel that taking on the extra payroll is enough to make it a fair trade.
David Aldridge of TNT believes this is enough to prevent an agreement from happening:
Hearing the Gasol-Bynum proposed deal not likely to happen.

— David Aldridge (@daldridgetnt) January 1, 2014
However, Marc Stein of ESPN reports that Cleveland will continue trying to find a trade partner before Jan. 7 when the contract becomes guaranteed:
Word is Cavs calling every team on the map to see if workable deal with team looking to save $ exists before they must cut Bynum on Jan. 7

— Marc Stein (@ESPNSteinLine) January 2, 2014
The squad wants to bring in someone that can help bring it to the playoffs, but simply releasing Bynum still seems like a likely end result.
Hedo Turkoglu, SF, Orlando Magic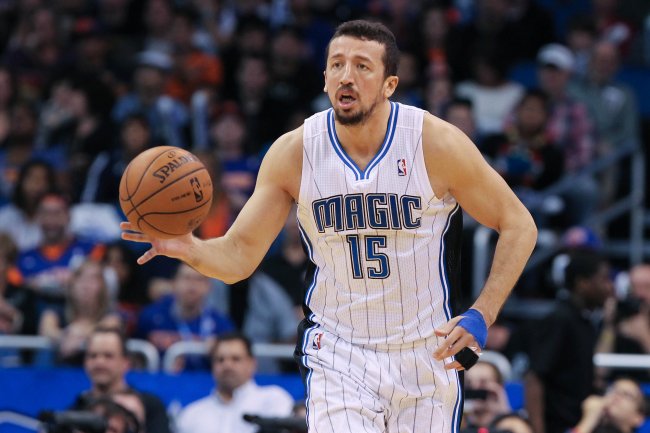 Kim Klement-USA TODAY Sports
In a similar situation to Bynum, the Orlando Magic will have to come up with a solution for Hedo Turkoglu before his contract becomes guaranteed on Jan. 7.
According to Josh Robbins of the Orlando Sentinel, the Magic decided before the start of the season that the veteran forward would not join the team. General manager Rob Hennigan had this to say in September:
Our organization has a great deal of respect for Hedo and the contributions he's made to the team over the years.

We've made an organizational decision to move in a different direction. During the pendency of our buyout negotiations, we've mutually agreed to have Hedo remain with his family while we work toward an agreement.
While he has not played a minute of an NBA game this year, Stein reports that Turkoglu wants to return to action:
I'm told Turkoglu, incidentally, remains determined to relaunch his NBA career later this month when he is finally waived by the Magic or any other team that happens to trade for him in the next five days.

One source close to Turkoglu told ESPN.com this week that he remains confident he can still make an NBA contribution and badly wants the chance to show it after the rebuilding Magic decided that the 13-year veteran didn't fit in with a rebuilding program.
He could end up getting that chance after he is waived by the Magic, but until then, he remains on the roster. If a team is willing to part with some young talent or a draft pick in order to bring in Turkoglu before he becomes available to the whole league, a trade might be worked out.
Still, it has been two years since the forward was part of a team's rotation, and it is unknown what type of contribution he would have if he were to return. This makes it unlikely Orlando gets any value for the 34-year-old player.
Kyle Lowry, PG, Toronto Raptors
The Toronto Raptors have surprised many with their strong play to start the year, but that does not mean they are unwilling to part with top talent to help for the future.
Zach Lowe of Grantland points out that the lack of market is really the only reason more trades have not happened since dealing Rudy Gay to Sacramento:
The market for Lowry, and whatever other veteran pieces the Raptors might wish to slough off, might not be as robust as the team had hoped.

[...]

The Lowry rumors have gone silent since James Dolan, the Knicks owner, quashed a deal that would have sent a first-round pick to Toronto in exchange for Lowry. That isn't an accident. How many teams are in a position in which it makes sense for them to give up a future asset, and specifically a first-round pick, for a league-average starting point guard?
However, Bleacher Report's Howard Beck points out that the front office is still looking at possibilities:
Every player on the Raptors' roster—including leading scorer guard DeMar DeRozan and possibly even Jonas Valanciunas, the highly promising young center—could be available in a trade, according to those same front-office sources.
The biggest problem is the lure of the 2014 draft class. With big names like Andrew Wiggins, Jabari Parker and more, there are plenty of teams who would not mind one bad season in order to secure a top talent in the lottery.
Unfortunately, the Raptors are not quite contenders; rather, they seem to be just good enough to avoid a high draft pick at the moment. This might end up being the worst-case scenario for the young squad.
This could lead to Toronto selling off players like Lowry for cheaper than they are worth, simply to expedite the rebuilding process.
Follow Rob Goldberg on Twitter for the latest breaking news and analysis.