Robert Griffin III Went Clubbing in Arizona on New Year's Eve
January 2, 2014

Twitter
It's been a long year for Robert Griffin III.
The Washington Redskins quarterback spent most of the 2013 season running for dear life and peeling himself off the turf. Suffice to say, even after being benched, he could probably use a vacation.
Judging by his New Year's Eve celebration, RGIII has been enjoying his offseason thoroughly.
According to Joe Kinsey of Busted Coverage, Griffin hit up the club scene in Scottsdale, Ariz., to ring in 2014. The former Baylor star was in town to watch his Bears take on UCF in the Fiesta Bowl, and he ended up dropping the bass at what appears to be Maya Day and Nightclub.
Griffin was spotted behind the DJ booth, dancing as club goers chanted "R-G-THREE!" He was wearing his sunglasses at night, because that's what you do in these kinds of situations.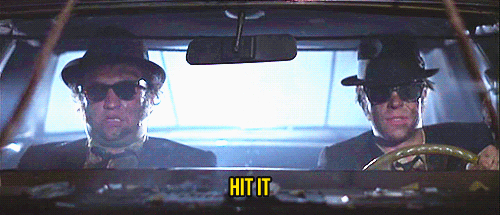 GIF via Tumblr
He also took pictures with fans.
Griffin's spouse, Rebecca Liddicoat, was also present at Maya—although she's doesn't seem much like the club-going type.
According to Samantha Hyde of Fox Sports, Liddicoat was at the Fiesta Bowl on New Year's Day, but she scooted out of the frame when cameras beset her husband.
GIF via FOX Sports
Griffin tried to wrangle her back into the shot, but nope—she didn't want anything to do with it.
Would you want to party with RGIII? Seems like a coin flip to me. On one hand, he's got that whole "responsible guy who doesn't drink" persona. On the other hand, he doesn't seem like he'd be a buzzkill.
Besides that, who wouldn't want RGIII to be their designated driver friend? There's nothing like partying until the wee hours and getting a ride home in the Griffin-Mobile—aka the Chrysler Pacifica. 
Straight maxing in the Pacifica.