With his New York Knicks in turmoil and the team's fans teetering on the precipice of sanity, head coach Mike Woodson is searching for something—anything—to get the troops back to even keel.
All the while, injuries pile up along with the Ls, the bench grows thinner, hopes of a playoff berth dimmer by the day.
But of the myriad things the Knicks must fix over the next few months—efficiency, consistency, chemistry, the list goes on—one benchmark above all would bolster their chances at redeeming a season from hell: starting unit stability.
If and when Woodson finally gets everyone back at something approximating full strength, he'll need to move fast to find a starting five with which he can feel comfortable rolling on the daily.
That lineup most certainly exists. Whether Woodson knows it or not is an entirely different question.
Point guard: Raymond Felton
Felton's early-season struggles have been well documented: His shot is off, his decision-making shoddy, his defense a total disaster.
If and when he returns from a groin injury (the second significant setback he's endured so far this year following a pulled hamstring, suffered last month), Felton will need to recapture last season's mini-renaissance.
Felton has never been—nor will he ever be—an upper-echelon point guard. Lucky for him, the Knicks don't need him to be. What they do need, however, is for Felton to make the most of his offensive opportunities, something he's failed to do in the early going.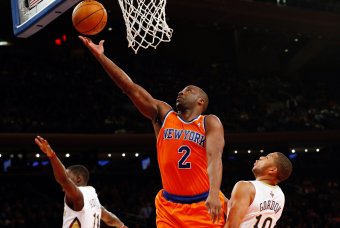 Anthony Gruppuso-USA TODAY Sport
To take just one example, last year, Felton connected on 44 percent of his shots between five and nine feet—the sweet spot that any great point guard must master if he is to effectively and efficiently break down the defense.
This season, Felton is hitting those shots at an 11 percent clip.
That is not a typo.
Of course, it doesn't help that Felton has failed to crack to a 30-percent mark from three-point range, either. But while that number might be half-expected to find its own happy equilibrium, the inability to drive and make the tough floater or leaning jumper—particularly late in the shot clock, when all other options are expended—is something that can cripple an offense in the long term.
The Knicks are hoping that such struggles can be attributed to simple wear and tear. Otherwise, they'll find themselves entering the offseason forced to deal with a question they didn't expect to be entertaining this early: Who is their point guard?
Point guard: Pablo Prigioni
I know what you're thinking: "Two point guards? Are you crazy?"
What's crazy is that we even need to be making the case at all.
Last season, of the dozens of two-man combinations that registered at least 200 minutes of court time, the backcourt duo of Felton and Prigioni tallied the team's third-highest net rating (16.3).
Over 298 minutes, that's no accident.
Through the season's first two months, Woodson has seemed mysteriously reluctant to rely on a configuration which—while quirky—was crucial to New York's elite offensive efficiency just one year ago.
Granted, the Felton-Prigioni combination has been something of a statistical wash (a 91.2 offensive efficiency and a 91.1 defensive efficiency). But the two have only played together for 76 minutes over six games—not nearly enough time to forge any kind of groove.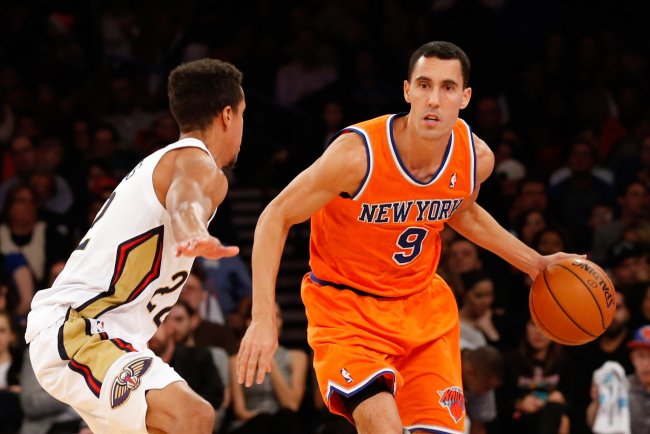 Anthony Gruppuso-USA TODAY Sport
Two things to consider here: First, the injuries. We already outlined Felton's maladies above, but Prigioni—who suffered a broken toe during a recent home loss to the Washington Wizards—hasn't been immune to the bug, either.
How are you supposed to play two guys together if one of them is hurt all the time?
Second: While net rating provides a helpful look into which combination of players works and which don't, how the other three players on the floor perform is just as important.
Given how poorly almost everyone on the Knicks has played, Felton and Prigioni—having been somewhat average in this regard—should be seen by Woodson as the silver lining rather than a guarantor of mean regression.
Whatever configurations Woodson decides to roll with, playing Prigioni—he of the team's second-highest plus-minus rating to date—won't merely be helpful to the Knicks' ever-dwindling postseason prospects; he'll be essential.
Guard-Forward: Iman Shumpert
Few Knicks have struggled more mightily through the season's first act than Iman Shumpert. Following a strong finish down the 2012-13 stretch, Shumpert—jumpshot broken, player-coach relationship bruised, future prospects bleak—has often looked lost both ends of the floor.
Don't tell that to the stats.
In what has become a sneaky and strange development, of the five-man units that have logged at least 25 minutes and boast a net-positive rating, all five feature Iman Shumpert—three of them with Shump at the small forward slot.
The Shump Effect

| | | | | |
| --- | --- | --- | --- | --- |
| Lineup | Minutes | O Rtg | D Rtg | Net Rtg |
| Anthony-Chandler-Shumpert-Felton-Prigioni | 31 | 96.4 | 68.6 | 27.8 |
| Anthony-Bargnani-Shumpert-Smith-Udrih | 27 | 136 | 114.7 | 21.3 |
| Anthony-Bargnani-Shumpert-Smith-Felton | 112 | 105.9 | 104.6 | 11.3 |
NBA.com
That's pretty remarkable, considering Shumpert's statistics have seen drops near across the board since last season.
Amidst debate over whether Carmelo Anthony is better suited to the small or power forward position, Shump—who was actually drafted as a kind of combo point guard back in 2011—may be answering that question by himself.
At 23 years old and with untold upside to his credit, Shumpert's early regression should reverse. Assuming, of course, that owner James Dolan and—to a slightly lesser extent—Woodson learn how to handle a player whose heart-on-sleeve approach to the game can sometimes be mistaken for oversensitivity.
The game of basketball is as much about people skills as it is performance or productivity. The Knicks—who have a tendency to operate with all the care and warmth of a Soviet prison camp—need to do a better job with the former if they even have a prayer of getting Shumpert back on the latter two's tracks.
Power forward: Carmelo Anthony
Hey, remember those five Knicks units with the net-positive ratings? The ones we just talked about? Well, guess what: The top three all feature Carmelo Anthony at power forward.
At this point, the argument is hardly even worth wasting time qualifying. Simply put, the numbers speak for themselves and have for the better part of a calendar year.
Why, then, is Woodson so reluctant to double-down on what was, just a season ago, an ingenious gamble?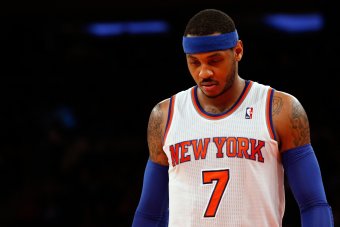 Anthony Gruppuso-USA TODAY Sport
In a word: stubbornness.
Woodson has intimated that last season's rotational creativity was borne more out of necessity than some philosophical flexibility. His response: to abandon it, or at least banish it to the fringes.
Clearly jarred by last season's second round playoff loss to the Indiana Pacers—a series in which Frank Vogel masterfully exploited some of the pitfalls of New York's small-ball approach—Woodson has suggested on more than one occasion that, to compete in the conference, "going big" would have to become the team's MO.
So far: not so good.
Of the five lineups featuring Anthony that have logged at least 25 minutes of floor time and have registered a negative net rating, three of them feature Melo at the small forward slot.
Given New York's curious, somewhat clumsy, makeup, it's impossible to expect Anthony to play exclusively at power forward. At the same time, if Woodson can't be bothered to heed the most basic evidence—or at least heed it to a greater degree—the Knicks might soon find themselves acting out the very definition of insanity: Doing the same, terrible thing over and over again, expecting different results.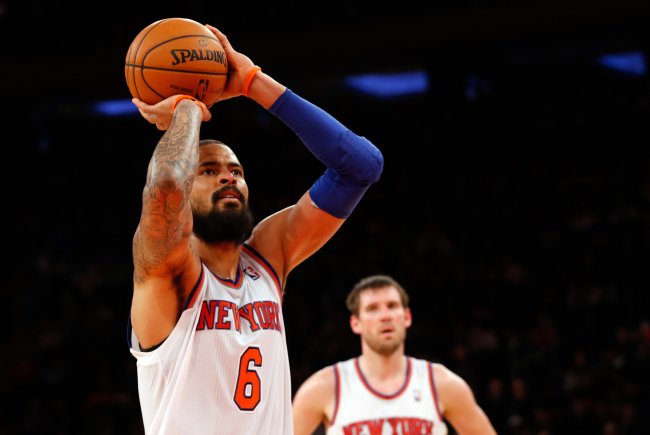 Anthony Gruppuso-USA TODAY Sport
Center: Tyson Chandler
You knew this one was coming.
Of all the roadblocks and potholes that have pocked the Knicks' path, losing Tyson Chandler for a full quarter of the season—a 20-game stretch in which the team went 6-14—might've been the most devastating.
First, the bad news: Since Chandler's return, the Knicks have gone 2-4, a stretch in which the spindly pivot himself has charted the team's second-worst plus-minus rating (minus-9.5), second only to J.R. Smith.
The good news: If ever there was an argument against small sample sizes, this is it.
Last season, Chandler finished with the team's third-highest plus-minus (plus-3.8), behind only Carmelo Anthony (4.6) and Raymond Felton (4.1).
At the same time, Chandler wasn't playing with—or competing for center's minutes with—Andrea Bargnani.
Indeed, in the 154 minutes the two have shared, Chandler and Bargnani's net rating has been the third worst of any two-man unit with at least 100 minutes (minus-21.7).
That's bad. And it's precisely why Bargnani—who has started 28 of New York's 30 games to date—needs to be brought off the bench.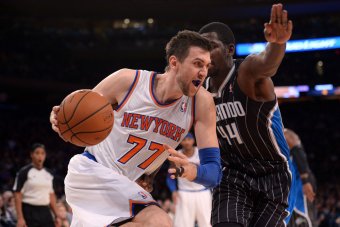 Joe Camporeale-USA TODAY Sports
That might not sit well with Bargnani, imbued as he is with Woodson's strange, steadfast commitment to going big, critics and fancy numbers be damned.
But if Woodson can find a way to give Bargnani his 25-30 minutes without too much Chandler overlap, the Knicks could begin forging a coherent rotational philosophy—Melo at the 4 with good spacing all around and Chandler anchoring the middle, with a Bargnani-featured offense-first platoon when needed.
Having Bargnani come off the bench wouldn't just help buttress the bench's offensive production; it could spare Chandler some of the withering wear and tear of seasons past—an absolute must if the Knicks have designs on doing any real damage come the postseason.
With Prigioni and Felton both expected to rejoin the fray by month's end, the Knicks will soon—knock on the sturdiest oaken table in the room—be at something resembling full strength.
At that point, the onus will be on Woodson to put past beliefs aside, swallow his pride and place his team in the best position to succeed.
Whether or not he actually does might well mean the difference between an offense on fire and a fireable offense.
(All stats courtesy of NBA.com and current as of January 2, 2014.)