Arsenal manager Arsene Wenger is famously reluctant to part with the club's wealth.
It's not that he's miserly. He's merely particular. As the summer splash which brought Mesut Ozil to London demonstrates, he is happy to spend money if he's convinced of the quality of the player.
Finding a player of that calibre in January can be difficult. Speaking to Amy Lawrence of The Guardian, Wenger addressed the difficulties of the January market:
Look I am not against it. I don't say I never make a mistake – I certainly made some. It is always difficult in the middle of the season. If somebody is doing well somewhere the clubs do not necessarily want to sell him. They can wait until the end of the season. Most of the time it is because we didn't find the right player.
Should Arsene Wenger buy in the January transfer window?
However, Wenger must overcome his concerns. Arsenal can not afford to let this opportunity to strengthen the squad pass them by. There is simply too much at stake.
Arsenal have begun the new year as Premier League leaders. This is undoubtedly their best chance of winning the title since the ill-fated 2007-08 season.
However, competition is stiff. Manchester City and Chelsea both have bloated squads bursting with internationals. An injury crisis would hit Arsenal far harder than either of their title rivals.
The attacking department is of particular concern. Olivier Giroud is currently sidelined with a cut foot. In the match against Cardiff, Lukas Podolski was handed the opportunity to stake a claim for a centre-forward spot, but his stuttering audition was abruptly ended by his substitution on the hour mark. The other alternative replacement for Giroud, Nicklas Bendtner, fared better but exited with an ankle problem. Arsenal are currently without a specialist centre-forward.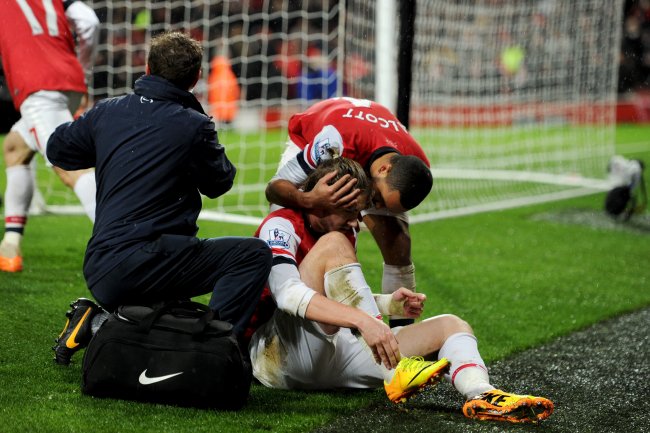 Shaun Botterill/Getty Images
Speaking to Arsenal.com after the game, Wenger suggested Bendtner's injury didn't drastically alter his transfer plans: "I don't know, it doesn't mean we go straight from Nicklas' ankle straight to the transfer market. It means that we have Giroud and Bendtner out."
Arsenal fans will hope that Wenger was merely bluffing. Two injuries have revealed Arsenal's vulnerability in the centre-forward position. With the transfer window open, Wenger has a chance to amend that situation.
Despite his stated worries about the January market, Wenger has a history of exploiting it to good effect. In 2006 he acquired the trio of Abou Diaby, Theo Walcott and Emmanuel Adebayor to augment Arsenal's quest for a top-four place. In 2009, he broke the club's transfer record to bring in Russian maverick Andrey Arshavin.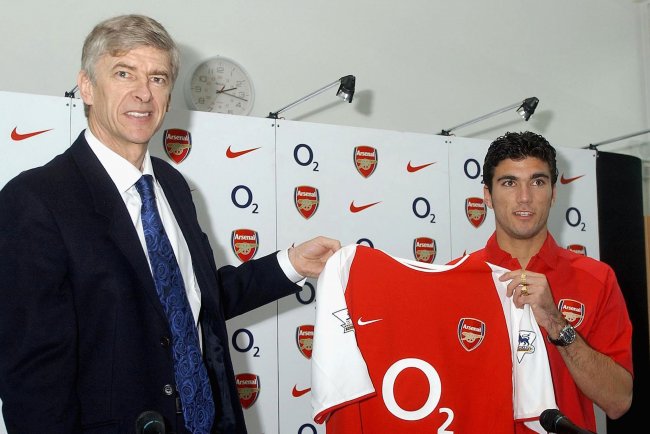 Getty Images/Getty Images
Tellingly, he also entered the market in the last season that Arsenal won the Premier League: 2003-04. At that time, Wenger had a stable of strikers including Thierry Henry, Dennis Bergkamp, Kanu, Sylvain Wiltord and Jeremie Aliadiere. Not satisfied with that, he went out and bought Jose Antonio Reyes from Sevilla. Reyes lifted the mood around the club, and Arsenal ended the season as champions.
Entering the transfer market comes with few guarantees. A signing would'nt bring absolute assurance of a title win. However, should they move to buy a striker, at least Wenger and Arsenal would know they did absolutely everything that they could.
James McNicholas is Bleacher Report's lead Arsenal correspondent and will be following the club from a London base throughout the 2013/14 season. Follow him on Twitter here.