By virtue of winning the soft NFC East, the Philadelphia Eagles (10-6) will host the New Orleans Saints (11-5) in the Wild Card Round of the NFL playoffs. That is a huge boost to the Eagles' chances of winning this game.
The Saints are not the same team on the road.
Led by quarterback Drew Brees, New Orleans' offense is virtually unstoppable at home. The Saints, who didn't suffer a loss at home this season, won just three games on the road.
On top of that, they haven't scored more than 20 points on the road since their Week 6 loss to the New England Patriots.
The Saints are going to need an X-factor to spark their offense to life on the road in this game. Of course, the Eagles could always neutralize that with a strong performance from an X-factor or two of their own.
Here are three guys who could drastically affect the outcome of this game.
Mychal Kendricks, Linebacker, Philadelphia Eagles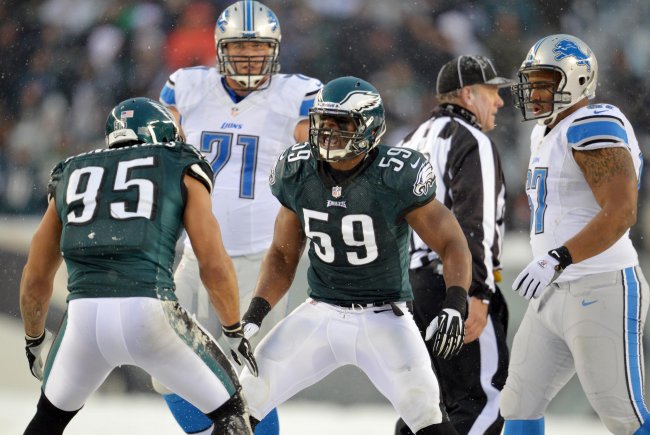 Jeffrey G. Pittenger-USA TODAY S
It is going to be a lot harder for the Saints to get into that elusive offensive rhythm on the road if Mychal Kendricks has a stellar afternoon.
Kendricks has had a good season, but his liability in pass coverage makes his presence on the field especially problematic against the Saints.
Not only will Kendricks be asked to try and cover tight end Jimmy Graham at times in this game, but he will also have plays where the dangerous Darren Sproles or Pierre Thomas are his responsibility in pass coverage as they come out of the backfield.
In fact, the Saints will undoubtedly try to make these matchups happen often.
According to Pro Football Focus (subscription required), Kendricks is second to last of all linebackers in the PFF pass-coverage rankings.
Terron Armstead, Offensive Tackle, New Orleans Saints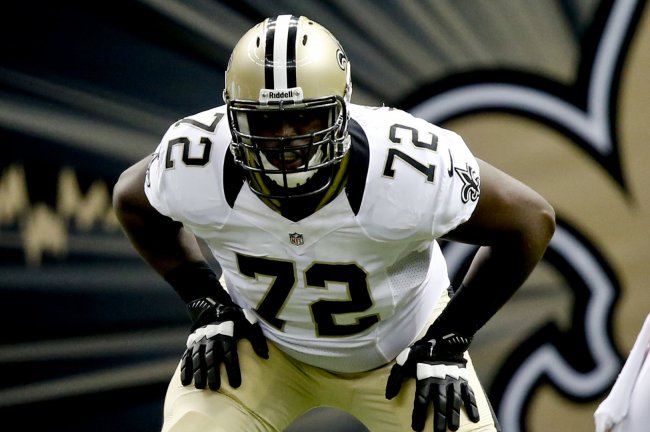 Derick E. Hingle-USA TODAY Sport
Left tackle Charles Brown's ineffective play had him losing his starting spot to rookie Terron Armstead. Armstead has struggled as he's adjusted to life on the NFL line.
The Eagles will hope he still has lots of adjusting to do:
#Eagles are 4-1 when Trent Cole has a sack, 6-5 when he doesn't. He'll be going up versus 3rd round rookie Terron Armstead.

— Fly Eagles(10-6) (@FlyEaglesNation) December 31, 2013
This is not an all-gloom-and-doom situation for the Saints, though. Armstead struggled early in his first game. That came in Week 16 against the Carolina Panthers, and Greg Hardy ate his lunch. He did, however, make strides as the game wore on. Here is a quote from Saints coach Sean Payton following that Week 16 contest:
#Saints Payton said Terron Armstead will "absolutely" remain starter at left tackle. Said after reviewing tape he was "extremely encouraged"

— Mike Triplett (@MikeTriplett) December 23, 2013
Armstead then carried that momentum into last week's game against the Buccaneers:
Terron Armstead quietly had a solid game against TB this weekend. #Patience

— Josh Norris (@JoshNorris) December 31, 2013
The Saints will have a hard time solving any kind of road woes if Brees does not have time to throw the ball, and Armstead is at the most vital position in terms of pass protection. If he plays lights out, the Saints offense will be difficult to handle at any venue.
Pierre Thomas, Running Back, New Orleans Saints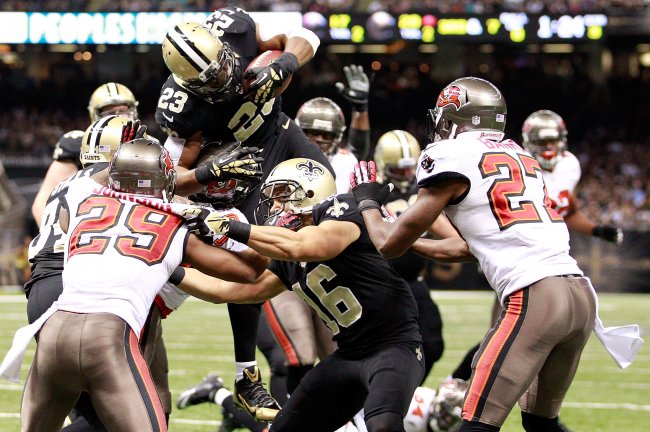 Sean Gardner/Getty Images
If the Saints can find consistent success on the ground in this game, they will be in excellent shape. The Eagles ranked fourth in the NFL for the season in yards allowed per rush and 20th in yards allowed per pass.
Pierre Thomas led the Saints in rushing this season with 549 rushing yards. He also adds a big dimension to the passing game as he had 77 receptions for 513 yards and five combined touchdowns.
He was, however, a surprise addition to the Wednesday injury report.
RB Pierre Thomas new to #Saints injury list http://t.co/zUT5X7ToGh

— Mike Triplett (@MikeTriplett) January 1, 2014
There isn't any information that I've found suggesting anyone knows when Thomas was hurt or how bad the injury is. He left the Week 17 game early, but most Saints starters did since it was a blowout.
So, this injury could be trivial, and he will be just fine for this weekend's game. Of course, it may also be a legitimate threat to keep him out of the game.
It will be a lot harder for the Saints to get their offense going on the road without the dual threat of Thomas in the backfield.