With the two set to meet in the Wild Card Round of the playoffs, we are reminded that it was just in Week 16 that the Indianapolis Colts beat the Kansas City Chiefs, 23-7. That game was in Kansas City. This one will be in Indianapolis. Obviously, none of this is the best news for the Chiefs.
If they are going to win this game, they are not only going to have to play better as a team, but they are going to need a big performance from at least one X-factor.
It is the X-factors that can alter the way a game is played with a few big plays which can lead to an opponent having to alter the entire way they are attacking a team.
Of course, the Colts have their own X-factors in this game, and if all the guys on the following list manage to have big days, we are headed for a far more exciting game than we had in Week 16.
Justin Houston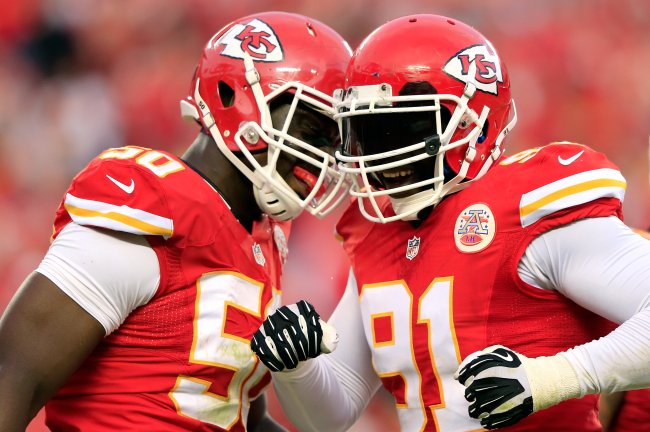 Jamie Squire/Getty Images
Had Justin Houston not gotten hurt in Week 12 and missed the remainder of the regular season, he would not be able to qualify as an X-factor. He collected 11 sacks in the first 10 games of the season, and was one of the main cogs in the Chiefs' resurgence.
#Chiefs OLB Justin Houston said he could have played last week, but Reid obviously sat him down with the rest of the starters.

— Terez A. Paylor (@TerezPaylor) January 1, 2014
Given his lengthy absence and the fact that he did not play when these two met in Week 16, he qualifies as an X-factor, however.
Houston certainly seems prepared to leave it all on the field:
"Win or go home. Everybody's mindset is we are not ready to go home." - Justin Houston | http://t.co/CjrKhFN8Fh

— Kansas City Chiefs (@KCChiefs) January 2, 2014
Without Houston on the field, the Chiefs have been forced to blitz more often and added attention being paid to fellow pass-rusher Tamba Hali has made him less effective.
In the #Chiefs 10 full games with Justin Houston (9-1) they gave up an average of 13.8 points per game. In 6 games without, 27.3 ppg (2-4)

— BJ Kissel (@bkissel7) December 30, 2013
If Houston can step in and play at the level he was prior to his injury, the Colts will face a much stiffer Chiefs defense this time around.
Dexter McCluster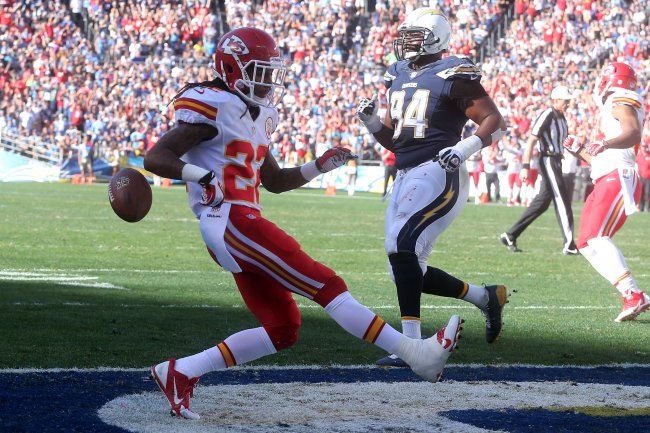 Stephen Dunn/Getty Images
Dexter McCluster has the explosiveness to change the course of any game. He wasn't able to change the Week 16 game, however. The Colts bottled up McCluster and the offensive weapon had just one catch on three targets for 11 yards.
That was his only game with less than two catches in his last nine of the season. This time around, it could be different.
With a lot of the Chiefs' starters resting last week against the San Diego Chargers, McCluster hauled in six catches for 62 yards. This helped him close the season with 511 receiving yards.
Still, McCluster is not going to be high on the list defensive of priorities for the Colts this coming week. The upper part of that list has to be reserved for running back Jamaal Charles.
If McCluster can get the ball in space and make a big play or two, it is going to be a lot harder for the Colts to focus on stopping Charles.
Darrius Heyward-Bey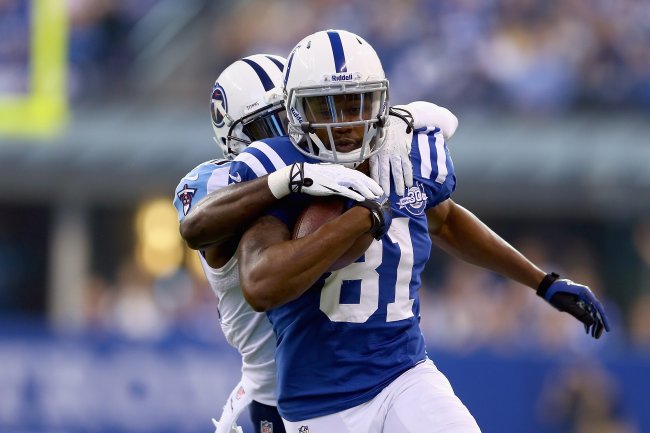 Andy Lyons/Getty Images
The Colts passing offense has not been the same since it lost star receiver Reggie Wayne to injury in Week 7.
In fact, it wasn't until the Colts' strong two-game performance to end the season that this team looked like it would be anything but a one-and-done postseason participant.
Darrius Heyward-Bey is never going to fill Reggie Wayne's shoes, but he can provide a big play or two to open things up for the rest of the offense the way that Wayne did.
Heyward-Bey has awful hands, can't track the ball in the air and catches the ball with his body too often. He is dangerous once he does catch the ball, however.
DHB can make a big play by getting open deep or breaking a tackle and taking a short pass to the house. On the season, he had just 29 catches for 309 yards, but he will only need one catch for 50 yards or more to drastically change the way this game plays out.