The NFL postseason provides every player that steps on the field the chance to author his career's defining moment.
Success in the regular season can certainly be a foundation for a lasting legacy, but it is in the postseason where reputations can be truly carved.
Just look at last year. Baltimore Ravens quarterback Joe Flacco would have likely been staring at an average contract for a starting quarterback were it not for his remarkable postseason run. After leading the Ravens to the Lombardi Trophy last year, Flacco became the NFL's highest-paid player.
For this article, I'm projecting three stars to give their careers the opposite kind of impact. These three accomplished players will struggle this postseason, and their reputations will take a hit.
Russell Wilson, QB, Seattle Seahawks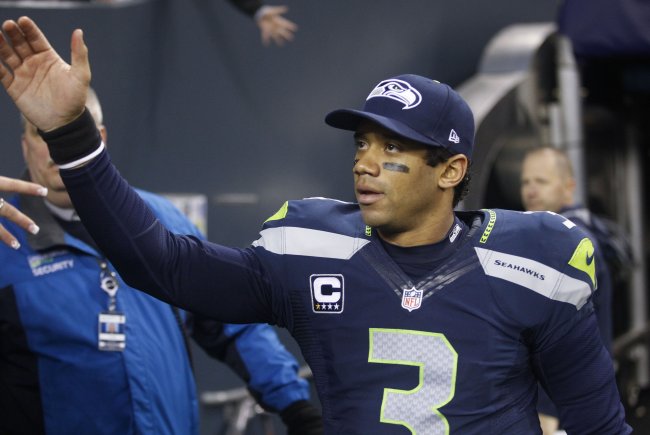 Joe Nicholson-USA TODAY Sports
The Seattle Seahawks and Russell Wilson have a lot going for them. They are excellent at home and have the home-field advantage in the NFC. They also have Percy Harvin returning to health:
Percy Harvin looked "amazing" in throwing session with @DangeRussWilson yesterday, convincing Pete Carroll to hold off on IR decision.

— Ed Werder (@Edwerderespn) December 31, 2013
Still, Harvin's insertion into the lineup will not solve all of the woes. The Seahawks offense has been struggling.
Marshawn Lynch hasn't cracked the century mark in rushing in seven games, and Wilson has turned in four of his seven lowest QBR rankings on the year in the last four games.
In that stretch, Wilson threw four touchdowns and three interceptions, and he didn't complete more than 18 passes in any of those contests.
This isn't all Wilson's fault. The offensive line has been getting overwhelmed, which makes Lynch less effective. That puts more pressure on Wilson and the passing game, and the Seahawks receivers can struggle to get open.
This is going to be heightened in the postseason. With the likes of the strong defenses of the San Francisco 49ers and Carolina Panthers looming in the NFC, the Seahawks offense is going to be overwhelmed. As a result, Wilson will underwhelm.
A.J. Green, WR, Cincinnati Bengals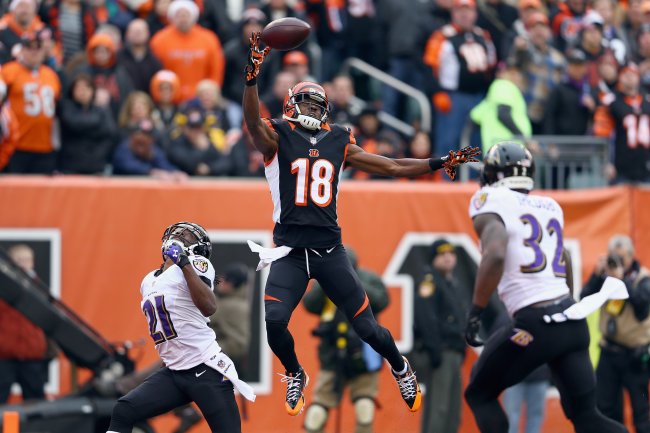 Andy Lyons/Getty Images
The problem with being a receiver is that results are tied to the quarterback, which is a big reason why A.J. Green is on this list. The reason Cincinnati Bengals quarterback Andy Dalton is not on this list is because I wouldn't qualify him as a star.
Green grabbed 98 balls for 1,426 yards and 11 touchdowns this season. Three of those touchdowns came in the final two games of the season as he helped the Bengals secure the AFC North title.
Looking a little deeper at those numbers, we see that in his last two games, Green had 11 catches off 23 targets. This is a terrible ratio and is a function of the amount of defensive attention he is receiving and Dalton's inaccuracy.
Green and Dalton will have a chance to get off on a strong foot as they start the postseason against the Chargers.
Should they win, however, they will hit the road to take on the New England Patriots, and the Patriots will make sure they limit Green. Playing in Cincinnati in Week 5, the Patriots held Green to five catches and 61 yards.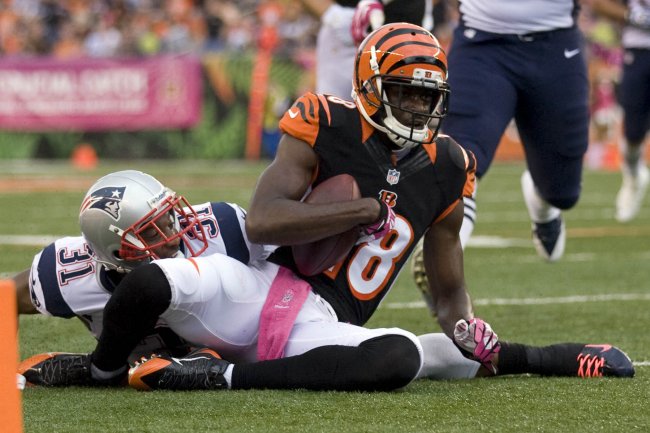 Mark Zerof-USA TODAY Sports
Should the Bengals advance to take on New England, he will find it even tougher to produce while on the road and in the playoffs.
Peyton Manning, QB, Denver Broncos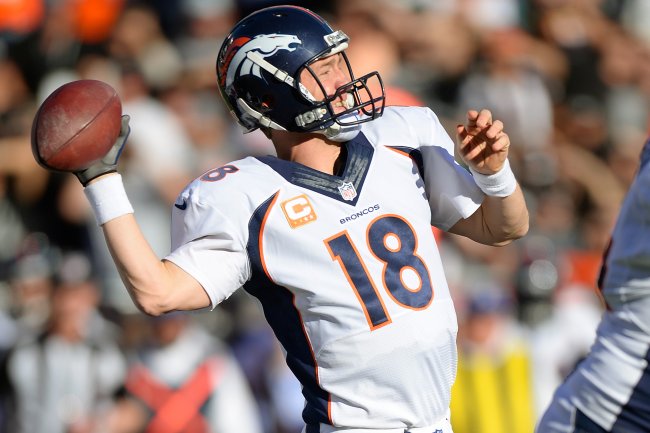 Thearon W. Henderson/Getty Images
I've never been one to jump on Peyton Manning's relative lack of success in the postseason as a sign of future doom. This season, however, I can't resist.
Will the Broncos reach the Super Bowl?
For all of his greatness in the regular season, Manning is just 9-11 in postseason games. In the postseason, he's hit 63.2 percent of his passes, for 32 touchdowns and 21 interceptions. For his regular-season career, he's hit 65.5 percent of his passes for 491 touchdowns and 219 interceptions.
Manning is going to have his share of success in this postseason, but in the end, he is going to come up short.
The Broncos were eliminated last season by the Baltimore Ravens after safety Rahim Moore forgot he was supposed to protect a late lead by not letting anyone get past him. That allowed the Ravens to tie the game. An interception by Peyton Manning allowed the Ravens to seal the deal.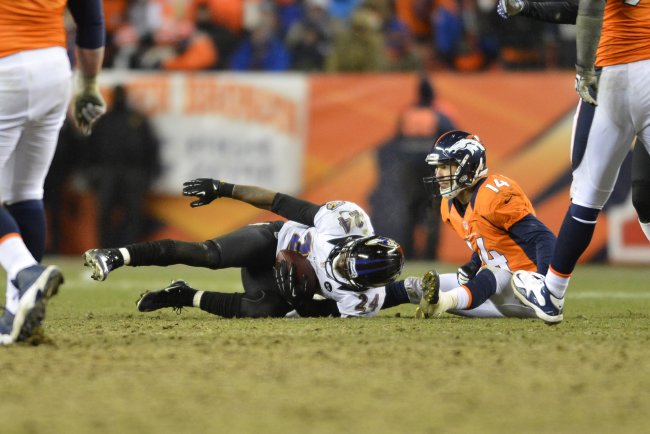 Ron Chenoy-USA TODAY Sports
The Broncos' terrible pass defense will again let Denver down this postseason, and Manning's propensity for postseason interceptions will end up being a highlighted blemish in a Broncos loss.