It's not often you see quarterbacks getting flipped, but Baylor's Bryce Petty did just that on his way into the end zone.
Petty took off with the football, and when he got close to the goal line, he decided to leave his feet. Central Florida defensive back Jacoby Glenn got underneath the quarterback and flipped him into the end zone for the touchdown.
Take another look look at this awesome play:
Petty's mom (wearing jersey) was in awe when watching the replay: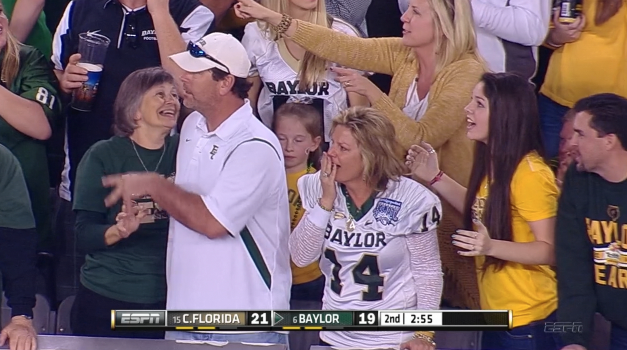 Bleacher Report
ESPN's Travis Haney now has something to add to Petty's scouting report:
Briles told me in spring that Petty's running ability would make offense even more dangerous. Didn't mention his flying ability.

— Travis Haney (@TravHaneyESPN) January 2, 2014
The 13-yard touchdown brought the Bears to within a point of the Knights late in the first half of the 2014 Fiesta Bowl.