With a vicious battle in the trenches dominating the 100th Rose Bowl, Michigan State proved to be physically superior. The Spartans wore down the Stanford Cardinal and emerged with a 24-20 victory.
The Michigan State Spartans take down Stanford 24-20 in the 100th meeting of the Rose Bowl! pic.twitter.com/MmXMXNX15G

— Bleacher Report (@BleacherReport) January 2, 2014
Stanford looked like it was going to run away with this game early. It took a 10-0 lead into the second quarter, and the powerful offensive line and running game were finding success against the strong Michigan State defense.
The Spartans, however, began to take this game over. It was an impressive showing, and one that taught us something about these two physical teams. Here are my three biggest takeaways from this game.
Mark Dantonio Knows His Team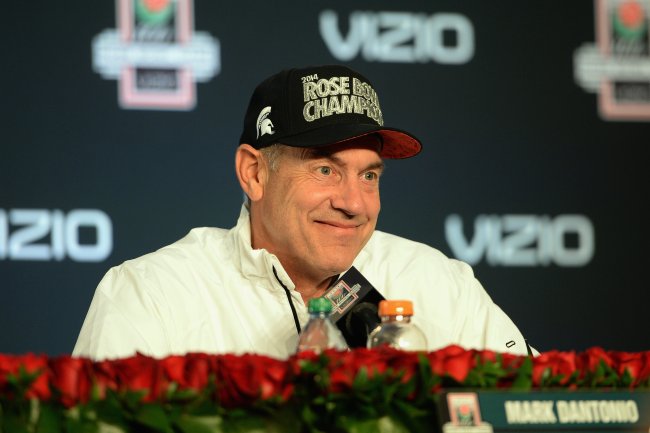 Harry How/Getty Images
Michigan State head coach Mark Dantonio has done a wonderful job with this team. He had the Spartans improving all season, and he got the offense to buy into a safe and conservative system that allowed his defense to win games.
The Spartans certainly seem pleased with Dantonio's coaching performance:
Mark Dantonio is set to receive a raise from Michigan St. that will make him 1 of the 3 best-paid coaches in B1G Ten http://t.co/ilmx2oR6dy

— Eye on College FBall (@EyeOnCFB) January 2, 2014
Dantonio saved his best for last this season:
Spartans LB Denicos Allen said Dantonio called team out at halftime, said they were flat. Got the response he wanted #STANvsMSU

— ESPN Big Ten (@ESPN_BigTen) January 2, 2014
Michigan State was physically dominant in the second half. It is clear that whatever Dantonio said at halftime resonated with his players.
His ability to inspire such an impressive performance on the huge stage of the Rose Bowl shows that Dantonio knows what makes his players tick.
David Shaw Does Not Trust Kevin Hogan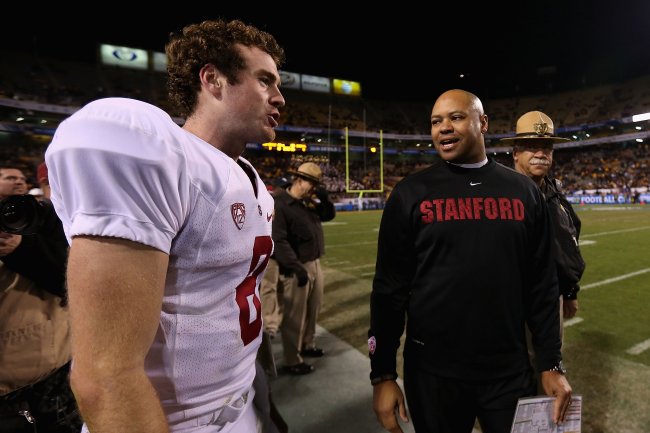 Christian Petersen/Getty Images
Junior quarterback Kevin Hogan was not terrible in the Rose Bowl. He went 10-of-18 passing for 143 yards with no touchdowns and an interception.
The interception was not pretty:
On that throw, Hogan flashed his potential. It was a beautiful pass that was right on the money. The problem was that it was a horrible decision and wound up going to a receiver in double coverage.
These kinds of decisions will drive a coach crazy, and Shaw's frustration was evident as he avoided calling pass plays at all costs.
In the late stages of this game, Stanford chose to run on third down even when there was more than five yards to go. They also opted to try to blast away up the middle on fourth down of their final possession against a Spartans defense that was not losing in the trenches.
Spartans Fans Should Be Excited by Connor Cook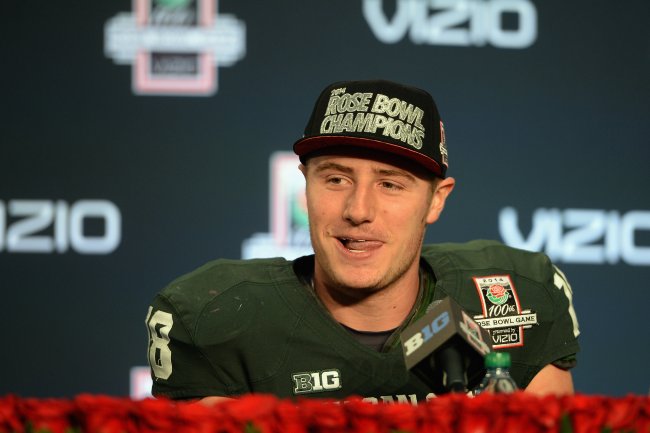 Harry How/Getty Images
Sophomore quarterback Connor Cook did not inspire a lot of confidence in fans this season. He struggled with his accuracy and decision making.
In crunch time, however, he was fantastic:
Connor Cook's first two career 300-yard passing performances: B1G title game, Rose Bowl. Not too shabby. #STANvsMSU #RoseBowl100

— ESPN Big Ten (@ESPN_BigTen) January 2, 2014
Connor Cook: Big Ten title game and Rose Bowl MVP. What would Vegas odds have been on that in September? 1 billion to 1?

— ESPN Big Ten (@ESPN_BigTen) January 2, 2014
Against Stanford, he went 22-of-36 passing with 332 yards, two touchdowns and one interception.
It was not a perfect performance. For instance, he threw an ill-advised pass in the first half that turned into a pick-six.
As he settled into this game, however, he began to find his rhythm and confidence:
So impressed with Connor Cook. I love his poise and confidence. No hesitation, just letting it rip.

— Daniel Jeremiah (@MoveTheSticks) January 2, 2014
Cook's decision making will improve with experience, and as his confidence grows, he has all the tools needed to be an excellent college quarterback.