When the Cincinnati Bengals went on the road to score a 17-10 victory over the San Diego Chargers in Week 13, the home team's playoff chances were as good as dead in the water.
At 5-7 and having lost four of their last five games, the Chargers' solid start was about to be undone by a terrible defense and inexcusable losses to teams like Washington, Houston and Tennessee. Philip Rivers was having his re-breakout, Danny Woodhead was thriving and Keenan Allen was surprising everyone. The possibility of a playoff berth was still flickering, but the team felt a year away.
Then everything broke the Chargers' way. And I mean e-v-e-r-y-t-h-i-n-g. San Diego watched on as Miami and Baltimore turned in professional choke jobs down the stretch, as the Chargers were winning four straight under some intense situations.
Even the biggest victory of their season required some luck—and one massive officiating mistake. The NFL admitted an illegal formation penalty should have been called against San Diego in its 27-24 victory over Kansas City last week when Chiefs kicker Ryan Succop missed a 41-yard field goal that would have won the game in regulation.
Succop should have received a second chance from 36 yards. Instead, the game went to overtime, and the Chargers took advantage.
Now, they'll get a rematch against the team who helped spark this run. Cincinnati went 11-5 during the regular season, en route to its first division title since 2009. Playing in their third straight postseason under Marvin Lewis, the Bengals hope to do something they couldn't in their other two chances—win a game.
With that in mind, let's check in on these two teams, specifically highlighting some storylines worth keeping an eye on.
Good Andy or Bad Andy? That Is the Question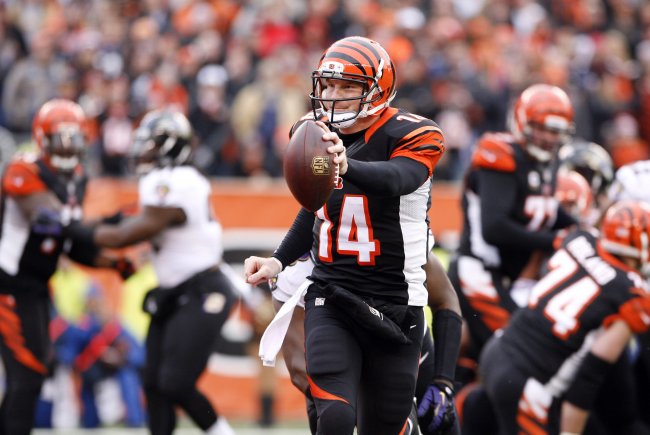 Mark Zerof-USA TODAY Sports
Being a Bengals season-ticket holder should come with a free bottle of aged scotch. Anyone willing to watch Andy Dalton play quarterbacks in person eight times per season deserves it.
Taken as a whole, Dalton had a perfectly fine season—the best of his career even. He broke the franchise records for passing touchdowns (33) and yards (4,296). Cincinnati has made the playoffs in each of the past three seasons for the first time in franchise history—all of which came under Dalton. In only three years, Dalton is already the fifth-leading passer in franchise history.
Dalton took down the mighty New England Patriots and had one three-game stretch where he threw 11 touchdowns and another where he had a 9-0 touchdown-to-interception ratio. Good Andy Dalton is a very solid quarterback, one who you could even build a franchise around.
Bad Andy Dalton has a habit of making Tim Tebowian mistakes. He set a career-high this season with 20 interceptions, finishing fifth in the NFL. Only five times all season did Dalton go without an interception, and three of those came in that aforementioned hot stretch. Last week he threw four picks and looked to be begging the Ravens to win the game, only to be bailed out by the defense.
Dalton's numbers in his two postseason games: 41-of-72 (56.9 percent), 384 yards, zero touchdowns, four interceptions. Both losses to the Houston Texans. In 2011, you could excuse his interceptions because he was a rookie. A year later, people were wondering whether Dalton was simply not good enough to lead a Super Bowl contender.
Even Dalton knows people have been focusing on his performance.
"People can keep saying whatever they want because we haven't won a playoff game," Dalton said, via Joe Kay of the Associated Press (via Charlotte Observer). "You've got to win. That's what it comes down to. And for us to get where we want to go, we need to win. That's the way it works."
Those whispers are only going to get louder if Dalton throws up a stinker against San Diego. The Chargers defense was a nuclear wasteland in the first half of the season, and while it got better down the stretch, the improvements have only been marginal.
Per Football Outsiders' premium database, San Diego was 20th against the pass in the second half of 2013 after being dead last in the first.
Considering Houston boasted very solid defenses in each of the last two seasons, this will be the worst playoff defense Dalton has ever faced by a long shot. Let's see what he has in him.
Can Philip Rivers' Comeback Season Overcome Elite Bengals Pass Defense?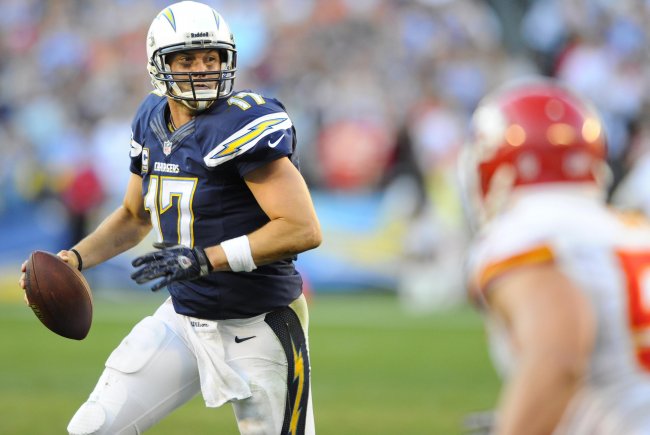 Christopher Hanewinckel-USA TODA
A year ago at this time, Rivers looked done. At least done as in having any faith that he could be anything but a slightly above replacement-level quarterback. The Chargers were terrible, and Rivers was mistake-prone and seemingly had his face permanently frozen in sourpuss mode.
Fast-forward a year, and Rivers may have been the best quarterback not named Peyton Manning in 2013. Swap out Norv Turner, swap in Mike McCoy and Rivers was almost instantaneously the same guy who had made four Pro Bowls before this year.
According to Pro Football Focus (subscription required), Rivers was the most accurate quarterback in football with a 78.8 accuracy percentage.
No one was better than Rivers under pressure either, which comes from experience by fire after being battered over the past couple years due to porous offensive lines.
He did this all while working with a receiving corps that was below-average to be kind. Keenan Allen is a stellar rookie receiver, and Antonio Gates just won't die, but those two just aren't the core of an elite passing offense in today's NFL. The fact that Rivers led this team to the playoffs should get him more MVP consideration than he'll actually receive.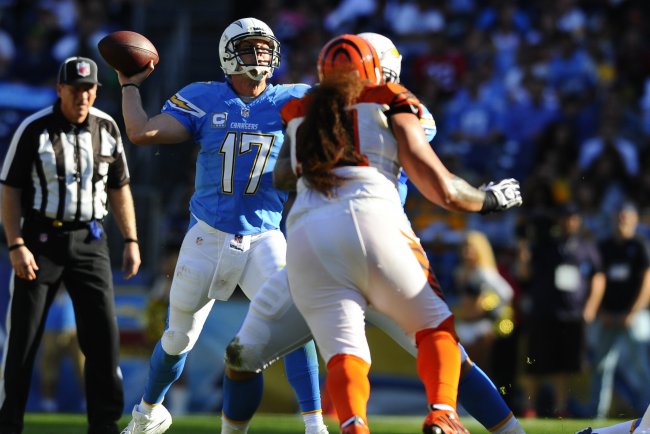 Christopher Hanewinckel-USA TODA
One of Rivers' worst games of this season, however, came against this Bengals defense. San Diego managed only 10 points, as Rivers threw for 252 yards and a touchdown against an interception. The problem was that Rivers' performance was filled with empty yards. Whenever the Bengals wanted to make a stop they did with near impunity.
Speaking of miracles, by the way, when Leon Hall and Geno Atkins both went down with season-ending injuries, the Bengals' stout unit seemed guaranteed to go through an adjustment period. It isn't too often an elite unit can lose its best two players and keep the ship afloat.
But that's just what Cincinnati did against the pass. While there were some noticeable struggles against the run without Atkins, the Bengals somehow got better in the second half against the pass. They ranked a very solid ninth against opposing quarterbacks in Weeks 1-9 but skyrocketed to third the rest of the campaign, per DVOA.
They've done excellent job at getting to the quarterback, and multiple players in the secondary have thrived in increased roles. Again, good offense bests good defense nowadays. The rules make it that way. With San Diego and Cincinnati both ranking among the league's best in their respective units, this rematch should be an interesting chess match.
Will Playoff Experience Play Any Factor?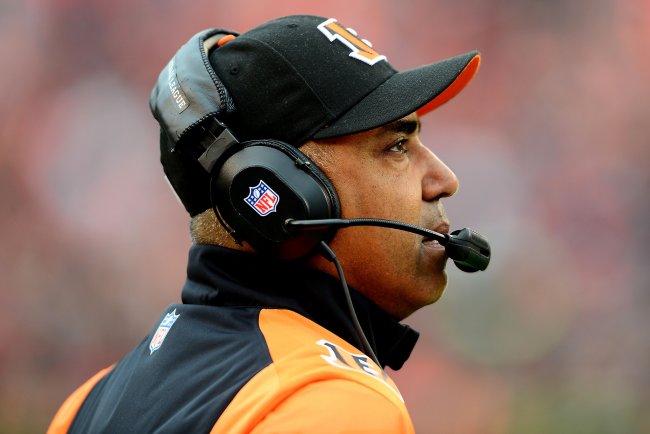 Andrew Weber-USA TODAY Sports
One of the biggest theories trotted out by our favorite talking heads is that regular-season football is different from playoff football. The intensity is different. Everyone is giving 100 percent effort at all times, as if putting your body through a human car crash every week doesn't take full participation to begin with.
You hear about quarterbacks, coaches and entire teams that aren't "clutch" enough to get it done. The biggest criticism of Manning is that he's a paper-stats champion, that when the weather gets cold and the bright lights come on he folds.
I've never been one to buy into those theories for the most part. NFL seasons as a rule are so variable, and the samples are so small that to take anything away from six or seven playoff appearances is patently unfair. But the NFL is a league of small samples, so the perception lives on—no matter how much scientific merit it actually has.
Christopher Hanewinckel-USA TODA
If the "playoff experience" gene actually means something, then the Bengals should be at a decided advantage in the sidelines. Marvin Lewis has made the playoffs four times in Cincinnati. Sure, he's lost all four of those opportunities, but he's been there. And he's due. Or something.
Mike McCoy, meanwhile, is a baby-faced playoff freshman. Even McCoy's playoff experience as an assistant is limited to five appearances with the Broncos and Panthers. Lewis cut his teeth with the Steelers and Bengals—perennial fixtures in January football.
Going down the roster is more difficult because of the NFL's turnover factor, but a majority of the core in Cincy are heading into their third straight postseason appearance. They know what to expect—or, again, so goes the theory.
I'm not sure I buy any of that. I'm more agnostic when it comes to things like momentum, clutch and other things that cannot be independently verified. But for those who ardently believe in that stuff, this should be at least a fun test study.
Follow Tyler Conway on Twitter: