Heisman trophy winner Jameis Winston might be the best player on the field for the BCS National Championship Game, but his standing as a redshirt freshman will push the exploits of some talented NFL prospects to the forefront.
Both Auburn and Florida State feature NFL talent with the potential to be taken in the early rounds of May's 2014 NFL draft. Winston will get his turn as a touted NFL prospect next season, but for now, that honor belongs to a few other competitors in the BCS title game.
This contest has the capability to be one of the better bowl games of the season, and expect the following NFL prospects to leave their marks on the outcome.
Greg Robinson, OL, Auburn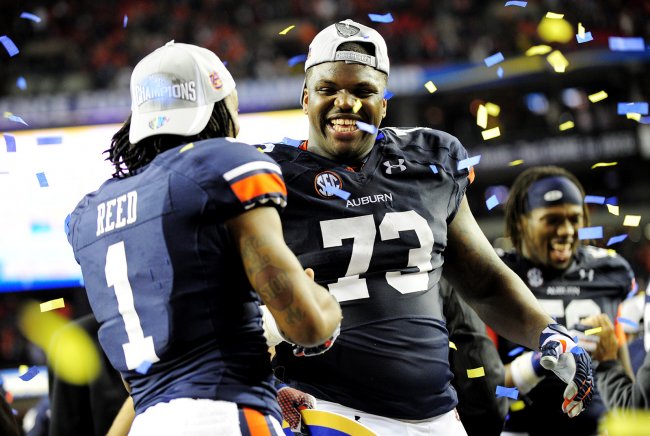 Kevin Liles-USA TODAY Sports
Greg Robinson often gets overlooked in an NFL draft that will likely see offensive lineman Jake Matthews taken within the top five. To be honest, Robinson's ceiling is nearly just as high as Matthews'. One NFL scout is particularly high on Robinson, telling Chase Goodbread of NFL.com:
He's a stud. Left tackle. You're talking about a ton of athleticism, size, strength. He's not getting a lot of attention because people don't realize he's a redshirt. Not quite sure why (Gene) Chizik redshirted him. I think that was a big mistake. He's in the top 10, 15 easy if he comes out.
Robinson can make a name for himself on Jan. 6 on college football's biggest stage. While offensive linemen aren't generally fun to watch, you'd be foolish not to respect the work they do in the trenches on a weekly basis.
The way he fights on every snap to create gaps for his running back or seal up holes for quarterback Nick Marshall is a sight to behold. He'll be showing that off against an aggressive front of the Florida Seminoles on Monday.
He figures to be an early first-round pick, and the New York Giants at No. 12 have an obvious need for a young lineman to protect Eli Manning. Pairing Robinson with 2013 rookie Justin Pugh would create a nice tandem for the Giants moving forward.
Kelvin Benjamin, WR, Florida State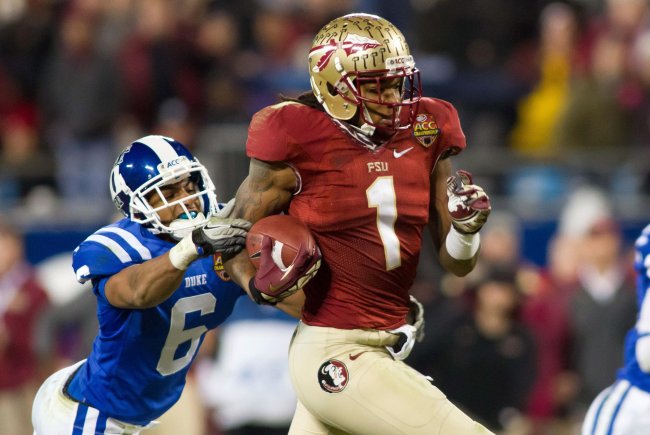 Jeremy Brevard-USA TODAY Sports
Kelvin Benjamin's athleticism and propensity to get open in the red zone make him a candidate to get selected outside of the top 20 on draft day.
Can Auburn contain Benjamin?
He had a breakout season in 2013, and not just because Winston was throwing him passes. He progressed from being just a possession receiver in 2012. In total, he brought in 50 receptions for 957 yards and 14 touchdowns.
He's a serious threat in the vertical passing game, which makes him the perfect fit for a team like the Kansas City Chiefs at No. 24. Alex Smith could use another weapon in the passing game alongside Dwayne Bowe.
Auburn will have difficulties matching up with Benjamin, and that makes him a candidate to perform well and improve his draft stock. Brendan Sonnone of the Orlando Sentinel broke down Benjamin's advantage:
Given his size and physicality, Benjamin creates headaches for smaller corner backs in jump-ball situations. Auburn's starting corners, Chris Davis and Jonathon Mincy, are 5-foot-11 and 5-foot-10, respectively, so they give up half a foot to Benjamin.
Look for him to shine against the Tigers in the BCS title game.
Tre Mason, RB, Auburn
Tre Mason, a Heisman finalist and dynamic rusher, likely won't hear his name called in the first round. In fact, it could be several rounds before he gets the call.
NFL teams will be tentative to select him. One NFC general manager told Chase Goodbread of NFL.com that Mason is a product of Auburn's system: "He's a solid runner, but my gut is the offense is really the engine that drives the production."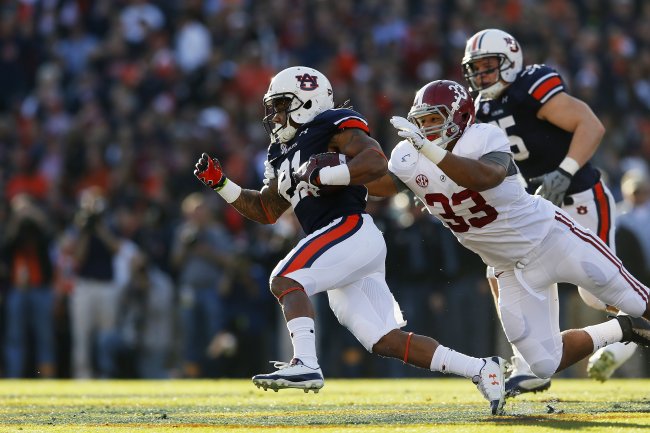 Kevin C. Cox/Getty Images
Regardless, Mason is explosive. He's exciting enough that a NFL team would be willing to take a chance on him in the fourth or fifth round.
Just take a look at his numbers this season. He totaled 1,621 yards on 283 carries and found the end zone 22 times. Yes, Auburn is a run-first team that possessed a strong offensive line to pave the way for big runs, but that doesn't stop the fact that he averaged 5.7 yards per rush.
Yards and touchdowns aside, it is hard to argue with that type of efficiency.
A team like the Cleveland Browns or Giants could take a flier on him late. He's a high-upside pick with good potential because of his speed and quickness.