Russian Olympic Hockey Team 2014: Key Players for Gold Medal Run at Sochi
Use your ← → (arrow) keys to browse more stories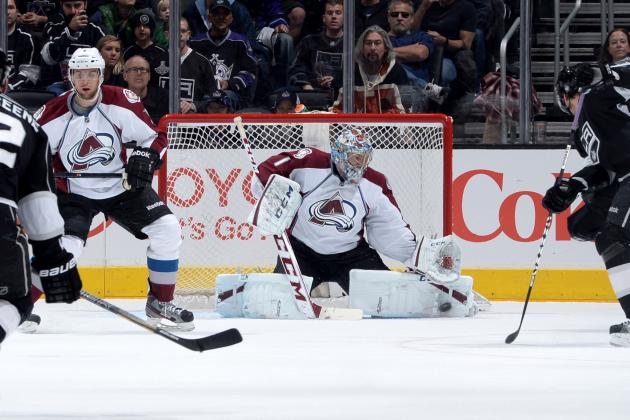 Andrew D. Bernstein/Getty Images

Anything short of the gold medal at the 2014 Winter Olympics in Sochi would be a major disappointment.
This team will boast a roster full of stars from both the NHL and KHL, and their talent will be difficult to match up with in round-robin play and beyond.
Aside from Slovenia, their Pool A opponents in the round-robin portion of the tournament are competitive teams. Slovakia and USA likely won't have the offensive firepower or the clutch goaltending to get past the host nation's team, but they'll put Russia's top talents to the test.
The performance of Russia's top-flight players will dictate just how far this team goes in the 2014 Winter Olympics. Look for them to make some noise in pursuit of Russia's first gold medal since 1992.
Ilya Kovalchuk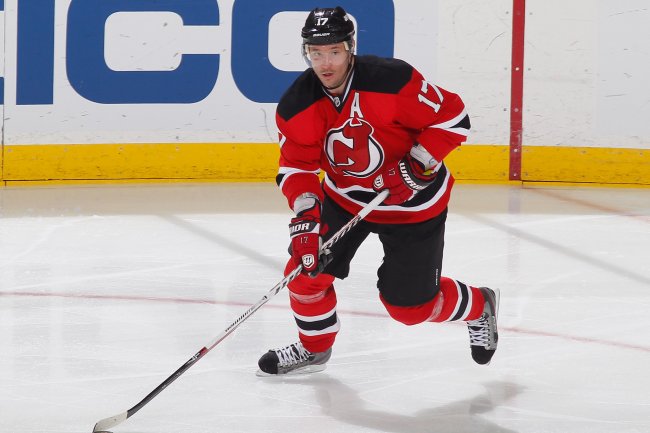 Andy Marlin/Getty Images
Remember Ilya Kovalchuk?
The former Atlanta Thrashers and New Jersey Devils star has 25 points in 19 games for SKA Saint Petersburg in the KHL this year. While his former NHL squads are certainly missing his production, the Russian hockey team will benefit from his NHL-hiatus.
Ilya Kovalchuk.. https://t.co/tqaArrnsWO

— Hockey Vines (@TheHockeyVines) December 6, 2013
The Russians are expected to lean heavily on KHL talent when filling out their 25-man roster. Kovalchuk's success in both the KHL and NHL makes him a key player for their potential gold medal run, more so than any other KHL stars.
Kovalchuk's familiarity with the KHL talent of other squads—and his success against them—will make him a force on the attack for Russia.
The Russians have plenty of other attacking threats after Kovalchuk, but watching him succeed will make their lines even deeper and more dangerous. With defense and goaltending that appear to be a bit questionable, they'll need all the offense they can get.
Slava Voynov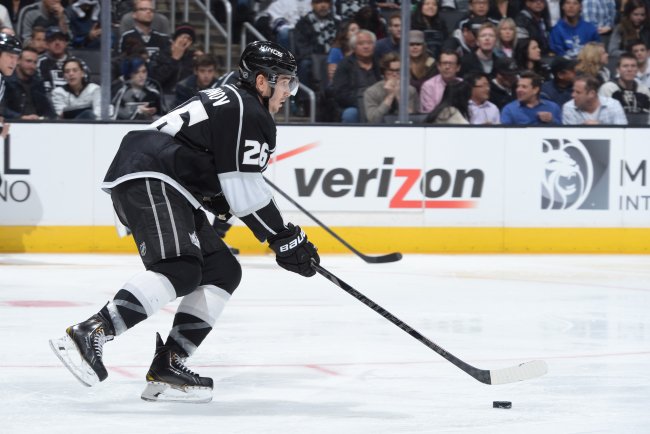 Andrew D. Bernstein/Getty Images
Slava Voynov, a 24-year-old defensemen of the Los Angeles Kings, has made a name for himself as one of the better young defenders in the NHL.
He has a plus/minus of plus-19 in his three-year career, and he's also tallied 61 points.
Voynov started off this season poorly after signing a six-year, $25 million deal over the summer. But, he always had the confidence of general manager Dean Lombardi. Via Lisa Dillman of the Los Angeles Times said, "I think he knows that he can be better and that's the most important thing."
The fact that Voynov recognizes when he isn't playing well is important for a young player. He's since turned it around a bit, and Russia will need his better play to continue through the Winter Olympics.
On an older defense that features Sergei Gonchar (39), Andrei Markov (35) and Anton Volchenkov (31), the play of youngsters like Voynov is incredibly important.
Even if he doesn't play a factor on a loaded offense, Voynov will be useful in doing his job on the other end of the ice.
Semyon Varlamov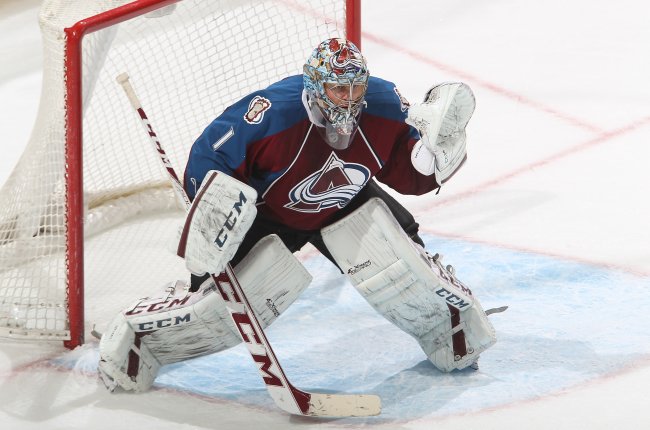 Michael Martin/Getty Images
Off-ice issues aside, it's been a pretty good year for goaltender Semyon Varlamov.
The Colorado Avalanche have surprised the NHL this season, and Varlamov's strong start has been at the forefront of their early-season run. The 25-year-old is 17-8 in net for the Avalanche, including a career-high save-percentage of 92.6.
Which goaltender will be more successful for Russia?
Sergei Bobrovsky, Varlamov's main competition in net for Russia, was very good last season for the Columbus Blue Jackets. Russia will likely go with the hot hand between the two at the time of round-robin play. At this point in time, that honor will go to Varlamov.
Whoever is in net for Russia needs to provide a steady presence behind the defense. The offense will be strong enough to put up five or so goals per game, but there's no telling how this defense will fare against international opponents.
Keeping the opposing offenses in check will be key. Russia can afford to allow three goals per game given their offense, but anymore than that will be detrimental to their success.
Varlamov will need to do his best to limit the opposing attack.