Kicks Aren't Going Anywhere: Tarec Saffiedine
January 2, 2014

USA today
Kicks are getting bad press this week. While the severity of Anderson Silva's injury at the hands of Chris Weidman was unusual, he got hurt by taking the risk of not setting up a power low kick. Kicking without setup and with no means of preventing the opponent checking—and especially power kicking without something to hide the kick—is a great way to hurt your leg, even if a shin snap is pretty unusual.
Many want to write off the end of that match as fluke, but in doing so, they are ignoring one of the most important rules of striking in MMA—setting up low kicks. To those folks I say this: If a gymnast were to practice his floor routine on a cement floor instead of mats, he would probably be able to get away with it for a good amount of time, but when he did botch a landing, it would mess him up. If a gymnast were practising back flips on concrete, then broke his neck, you would not be surprised.
Power low kicking without setup is failing to take proper precautions. It's similar to throwing right-hand leads or pulling straight back from punches. When you do get hurt, it's not unfortunate—it's because you were playing with matches. 
There are a great many considerations to make in the kicking game, but with that said, there are two brilliant kickers coming up on UFC Fight Night 34 who are worth watching out for. They are the low-kicking machine that is Tarec Saffiedine and the king of the snap kick, Katsunori Kikuno.
Tarec Saffiedine's Kicking Chops
In the main event of UFC Fight Night 34, Tarec Saffiedine will make his long-awaited UFC debut. The last time I wrote about Saffiedine was in January of 2013 when he beat Nate Marquardt handily to capture the Strikeforce welterweight belt. The title was basically worthless, of course, because that was the final fight under the Strikeforce banner, but it was Saffiedine's coming-out party, as he handily outfought a dangerous veteran in Nate Marquardt.
Now, almost a year to the day since his last fight, Saffiedine will make his Octagon debut. Saffiedine, being a Western European fighter, lacks the wrestling pedigree that many Americans come into the game with. He has picked it up well, but his main strength is his brilliant kicking game.
As you will notice in Hello Japan's excellent highlight, Saffiedine has an affinity for the Brazilian kick (fake low, go high; also called mawashi geri or a question-mark kick) and low kicks. 
Now the first thing which Saffiedine benefits from is the seeming reluctance to check low kicks in MMA. Many of his opponents will not even attempt it until they are certain that the kicks hurt. Only defending something once it's hurt you, of course, marks an enormous target on that point. Checking kicks once your leg is already hurting is no easy feat either.
Strikeforce
Much like Ernesto Hoost and many other great low-kickers, however, Saffiedine's success with that weapon stems from his being able to threaten with another. His hands are very solid and smooth, and his upright stance ensures he is always ready to snap out a hard low kick.
Similar to Hoost, again, he is not concerned with connecting full power kicks all the time. Indeed, in his bout with Nate Marquardt, Saffiedine was happy to throw a few slappy kicks without setup, right out of his stance, just to test Marquardts reactions. Hoost said it best when he pointed out that he wasn't ever able to land full power kicks, because they require almost a run-up. He instead liked to work with what he could sneak in without it getting checked. Little and often is almost always better than loading up and missing.
One thing that Saffiedine does incredibly well is catch his opponent's lead leg when it is not planted on the ground. That may sound strange, as just the other day, we talked about the importance of ensuring an opponent can't lift his leg to check. But any time an opponent is retreating, his front leg is not in a braced posture, simply trailing with little to keep its structure when it is kicked. A kick to the outside of a trailing lead leg can hurt a lot more than a kick to a leg which is braced on the floor, and can cause havoc on the opponent's stance as well.
Strikeforce
This happens in one of two ways. Saffiedine will back his opponent up with punches and connect with the low kick, or he will cover (a dangerous thing to do in four-ounce gloves) and deliver a kick as his opponent exits the pocket after striking. Notice both methods on display here.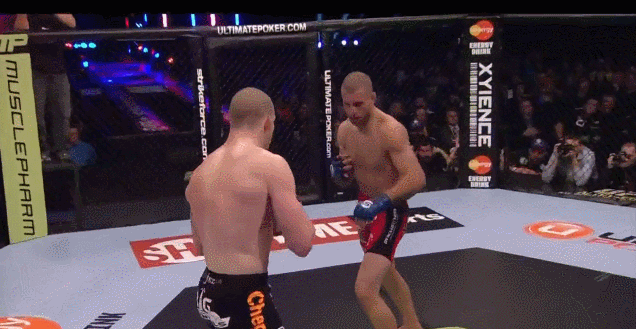 Strikeforce
Here's another example of Saffiedine using a short, fast kick to catch Marquardt recovering from a jab. These aren't huge power connections, but they messed with Marquardt's stance, and the damage over time really added up. Marquardt was wincing in response to every kick by the end of the bout.
Saffiedine's kicking game has served him tremendously well through his short MMA career, and I anticipate more striking excellence from him on Saturday. If clips of Saffiedine's son on YouTube are anything to go by, this kicking game could serve the Saffiedine family for another generation as well.
All quotes were obtained firsthand.
This is the first in a two-part series on the great kickers who will be fighting at UFC Fight Night 34. Check out the second part, on Katsunori Kikuno, here.