The Definitive Blueprint to New York Jets' Perfect Offseason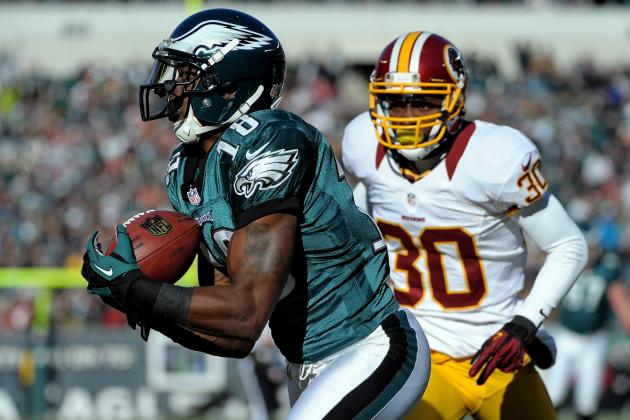 USA TODAY Sports

The New York Jets were able to finish their season on a high note, but the real work has yet to begin.
While they were much more competitive than many predicted, 2013 was a rebuilding season for Gang Green with an emphasis on youth and development. Now, the next step for the Jets is to trim their roster of bloated contracts and add pieces that will transform the Jets into a contender.
The Jets may have more maneuverability this year with an increased amount of cap space, but spending their resources foolishly will only stunt their development as a franchise.
Here is the blueprint for a perfect offseason for the Jets.
Begin Slideshow

»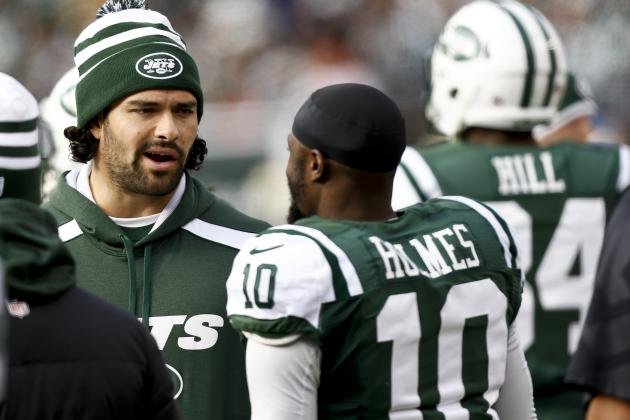 Jeff Zelevansky/Getty Images

The Jets are primed to have a lot more cap space to work with this year, but not without making a few easy roster cuts first.
By ridding themselves of the two worst contracts on the team, Mark Sanchez and Santonio Holmes, the Jets will free up about $16.5 million in 2014 cap space. Sanchez and Holmes will make rosters elsewhere, but nowhere near their current salary.
Sanchez's downfall as the former starting quarterback has been well-documented, and having shoulder surgery all but confirmed his departure. On the other hand, Holmes is an immensely talented player, but his spotty injury history, questionable character and inconsistent production on the field will force the Jets to look elsewhere for their No. 1 receiver.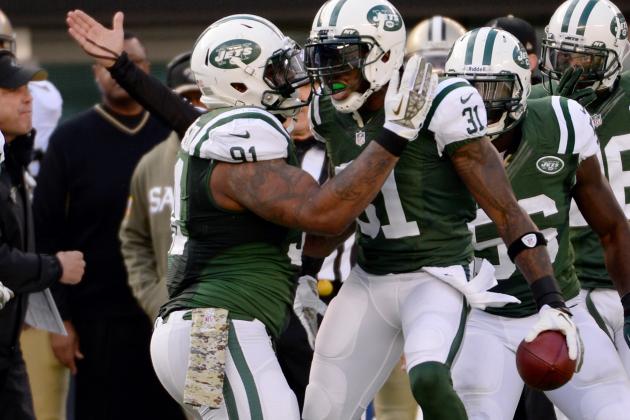 Robert Deutsch-USA TODAY

While the Sanchez and Holmes situations are easy to solve, Antonio Cromartie's future is a bit messier. He was dreadful this season, ranking as 103rd-best cornerback in the NFL (out of 110), according to Pro Football Focus.
Cutting Cromartie would seem like a no-brainer, as doing so would save $9.5 million in cap space. However, there is logic to restructuring Cromartie and bringing him back at a lower rate.
There is plenty of reason to believe that most of Cromartie's struggles stem from a hip injury he suffered in training camp. If the Jets believe his hip can be fully healed by next season, bringing him back at a lower rate (which he has stated he is willing to do) makes a lot of sense for the cornerback-needy Jets.
After all, he is just a year removed from finishing his team-MVP 2012 season.
A lot has to happen for Cromartie to take a pay cut and get his hip back to 100 percent, but getting the "old" Cromartie back at a discount would be a huge boost for the Jets.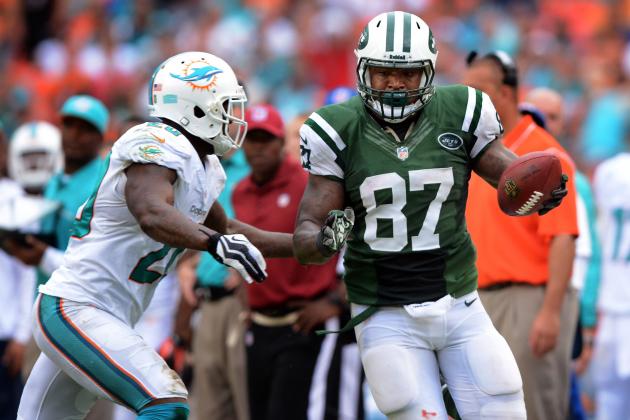 Brad Barr-USA TODAY Sports

Operating on a one-year tender, the Jets were going to give Jeff Cumberland a chance to earn the starting tight end job outright.
While Cumberland has surpassed a lot of expectations up to this point as a former undrafted free agent, he gave the Jets no reason to believe he can be anything more than an average role player.
Cumberland finished with just 26 catches for 398 yards, with a sizable amount of his production coming in garbage time against relaxed defenses in blowout losses. He was a huge liability as a blocker in both the run game and in pass protection.
Cumberland can be useful as a second or third tight end, but now going into his fifth season, there is not much room between him and his ceiling of potential. The Jets would be better off saving their money and drafting a player with more potential to occupy the second or third tight end spot.
Kevin Hoffman-USA TODAY Sports

The Jets have plenty of holes on the offensive side of the ball, but they will have even more if they don't lock down the right side of the offensive line, which was arguably the best aspect of the Jets' offense in 2013.
In his second season as a starter, right tackle Austin Howard was the Jets' best offensive player, excelling in both the running game and pass protection. Now that he has proved himself working under a one-year tender, the time is now for the Jets to pony up and give him the extension he deserves.
Right guard Willie Colon was also working on a "prove it" one-year deal. While he was the Jets' best pass-protecting offensive lineman, the biggest question surrounding Colon was his ability to stay healthy.
While he managed to finish all 16 games, he suffered a bicep tear and will need offseason surgery to repair it, according to ESPN's Rich Cimini.
Still, as long as the Jets' doctors believe Colon will recover in time for next season, both of these players need to be retained.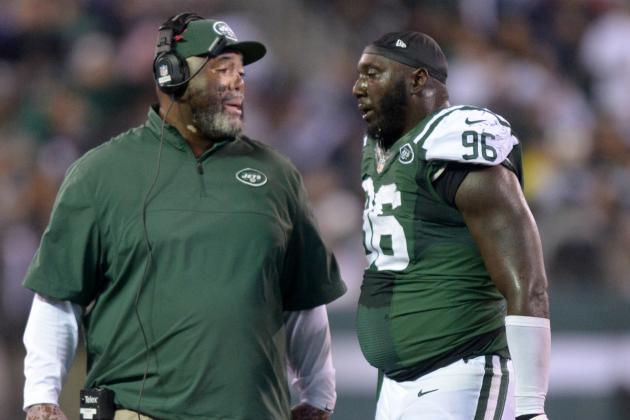 Kirby Lee-USA TODAY Sports

The Jets have invested a lot of high draft picks into their defensive line, but they owe a lot of their success to defensive line coach Karl Dunbar for the rapid development of their young players.
Muhammad Wilkerson, Sheldon Richardson and Damon Harrison have a combined five years of starting experience, but they make up what is arguably the best 3-4 defensive line in football in large part thanks to Dunbar's work.
Dunbar's track record speaks for itself. He built the exceptional Bears defensive line in 2004 before creating the famed "Williams Wall" with the Vikings from 2006-2011.
With a report from Ian Rapoport stating that John Idzik may be pushing Rex Ryan to make changes to his defensive staff, Karl Dunbar's future in New York could be in danger. If Rex does wind up making staff changes, he needs to ensure Dunbar stays around to continue the outstanding development of the defensive line.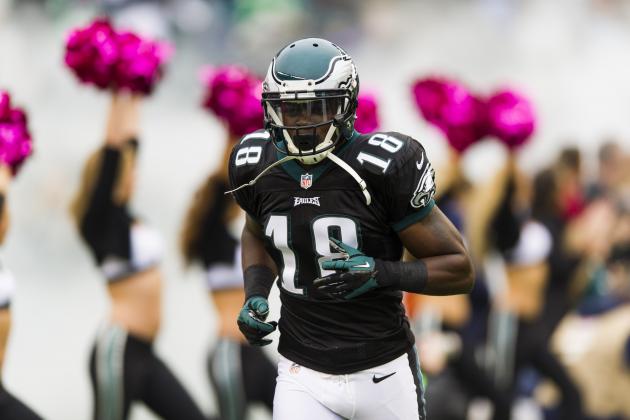 Howard Smith-USA TODAY Sports

It has been a painfully obvious fact for some time now that the Jets are starved for talent at the skill positions. If they want immediate help that can help them win in 2014, they must use a significant amount of money on a wide receiver in free agency.
Jeremy Maclin has made a name for himself as one of the most explosive wide receivers in the NFL, but he has hurt his value in free agency after tearing his ACL in training camp.
While ACL tears are always a risk, the Jets make as much sense as any team to take a chance on him.
For one, his ACL tear occurred early in training camp, meaning he will have had a full year of recovery before camp even starts. Second, he has a connection with Jets offensive coordinator Marty Mornhinweg in the pre-Chip Kelly era in Philadelphia.
If the Jets can get Maclin on an incentive-laced deal that gives them some protection in case Maclin is not the same player, they should not hesitate to bring him on.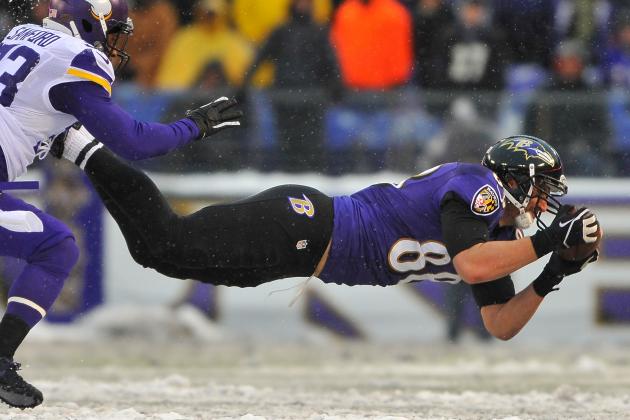 Larry French/Getty Images

The only group on the Jets in worse shape than the wide receivers are the tight ends, making bringing in a known commodity at a position that will already have two pending free agents a high priority.
There are a few superstar names on the tight end market this year, including Jimmy Graham and Jermichael Finley. However, Mickey Loomis should have his head examined if he does not retain Graham, and Finley is recovering from a career-threatening injury.
This is where Dennis Pitta, who eased concerns about his recovery from hip surgery in the final weeks of the season, comes in. In four games, he caught 20 passes, eight of which came in the final week of the season.
Pitta will not be cheap (he will likely be seeking somewhere around $7 million annually, as noted by Rotoworld.com). However, if the Jets are going to spurge on a sticker-price free agent, it may as well be at the team's thinnest position.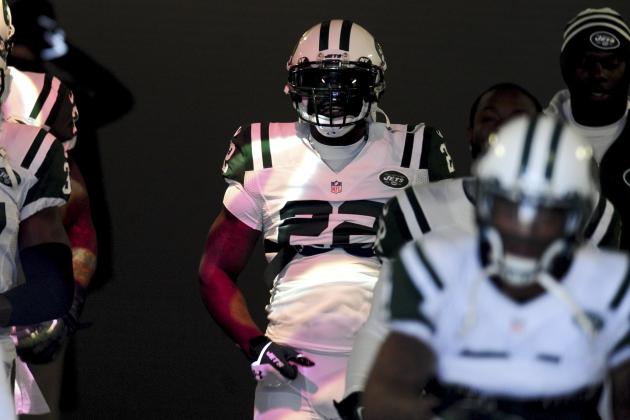 Evan Habeeb-USA TODAY Sports

One of the few mistakes John Idzik made last year was bringing in Ed Reed in the middle of the season.
With clearly diminished skills and speed, Rex Ryan compounded the problem when he decided to start Reed over younger (and better) players, namely Antonio Allen. Not only did the Jets get a short-term downgrade at free safety, but they also stunted Allen's development in the process.
Giving Reed, who had no interceptions before he signed with the Jets, a starting job only made the Jets' leaky pass defense even worse, as he was responsible for as many touchdowns let up as anyone else in the secondary.
Reed has had a magnificent career and is a lock for the Hall of Fame, but the Jets are better off in the short and long term if they allow another team to take another chance on him.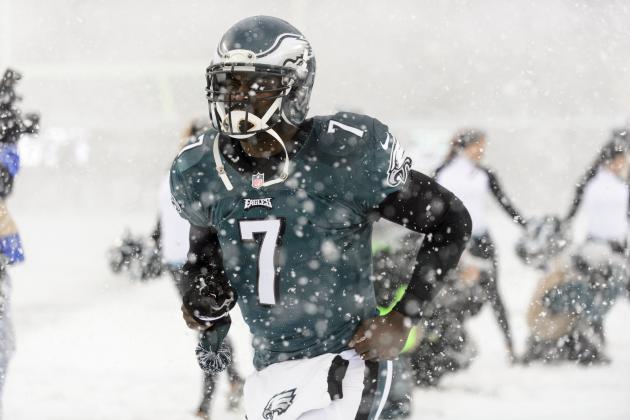 Howard Smith-USA TODAY Sports

Geno Smith may have earned his right to remain atop the depth chart going into next season, but he will not stay there without dealing with some competition first.
Vick may have lost his starting job to Nick Foles, but it was not because he was playing poorly. Vick actually won the competition in training camp, but Foles ran away with the job after Vick went down with an injury.
Even at the age of 33, when healthy, Vick can throw and run as well as a kid fresh out of college.
Of all of the free-agent options, Vick would make the most sense for the Jets. He already has a connection with Marty Mornhinweg from their time in Philadelphia, where he was able to turn his broken career around. Rex Ryan is also a known fan of Vick, as he was reported to have been interested in signing him in 2011.
If Vick is able to win the competition or Geno Smith falters in the middle of the season, the Jets can insert Vick and give their season a fighting chance, and they can get back into the young quarterback market next season.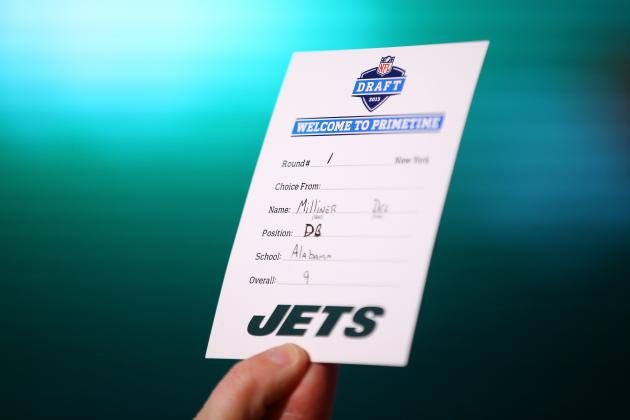 Al Bello/Getty Images

With so many obvious needs on offense, it may be tempting for the Jets to close their eyes and take whichever receiver is left on the board in the middle of the first round.
However, if the Jets want to field the most talented team possible that will win in the long run, they need to stick to the philosophy of drafting the best player available.
The Jets proved this philosophy right when they took Sheldon Richardson with their 13th overall pick in 2013. At the time, the pick raised a lot of eyebrows, as Richardson was the third defensive tackle drafted by the Jets in the first round in as many years.
As it turned out, the Jets may have wound up with the best defensive rookie in the league, all thanks to their willingness to stick to their draft board.
If the best player available happens to be a receiver or a tight end, it would be icing on the cake—but as soon as they start to "reach" to fill a position, they are making moves that losing teams tend to make.
The Jets are still developing their roster—trying to fill holes with "forced" draft picks will only hurt them down the line. If they continue to take the best players on their board, the Jets will reap the rewards in due time.
Advanced statistics provided by ProFootballFocus.com (subscription required). Contract information provided by spotrac.com.