Arsenal vs. Cardiff City: 6 Things We Learned from Premier League Clash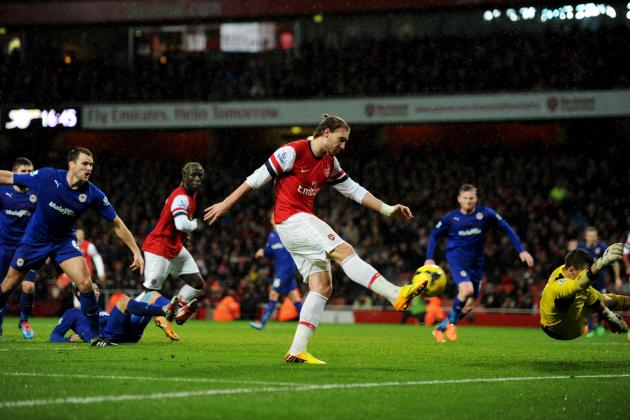 Shaun Botterill/Getty Images

Nicklas Bendtner and Theo Walcott scored two late-late goals to gift Arsenal a victory over Cardiff City at the Emirates after the Bluebirds had frustrated the Gunners for fully 88 minutes.
The opening goal came with just two minutes to go after Nacho Monreal crossed to Bacary Sagna, whose header was saved by David Marshall. Bendtner, however, was the quickest to react and prodded the ball home from point-blank range in the scruffiest of fashions.
With Cardiff's defense and hearts broken, Walcott then put the game to bed in injury time when he latched onto Jack Wilshers's sublime through ball to loft the ball over the advancing Marshall.
The Emirates Stadium, quite understandably, erupted with joy, elation and massive relief.
The win returns Arsenal to the top of the Premier League after Manchester City had won the early kickoff against Swansea.
Cardiff were excellent at the back with Steven Caulker and Kim Bo-Kyung putting in outstanding defensive performances. They frustrated Arsenal, who really looked like they had no answer to the questions they were posing.
The first half was best described as dire. Neither side were up to much in an attacking sense. Arsenal did not have a single shot on target and Cardiff managed just one. Walcott was the Gunners' most progressive player and tried to get behind the Bluebirds' deep defense, but Caulker and Co. were far too disciplined and never allowed the winger, or any other Arsenal player for that matter, any space.
Arsene Wenger would have given his team a rollicking at halftime, especially as Manchester City had returned to the top of the Premier League having beaten Cardiff's Welsh neighbors Swansea City.
However, the game started off at the same pedestrian pace and it really looked like injuries and fatigue were taking their toll on both teams.
The game turned in the 63rd minute when Bendtner was introduced for the ineffective Lukas Podolski. From there the Gunners pegged Cardiff's determined defense back and eked out the kind of chances that had been denied them during the previous hour.
It was not until Arsenal started going more direct that they broke down Cardiff's defensive barriers. Even then, Per Mertesacker and Jack Wilshere were denied by the post.
The Bendtner substitution proved masterful as Arsenal recorded a more-than-valuable victory.
Unfortunately for the giant Dane, he seemed to twist his ankle during his goal celebration and never returned to the field of play after receiving attention.
Read on as Bleacher Report offers six things we learned from Arsenal vs. Cardiff City...

Begin Slideshow

»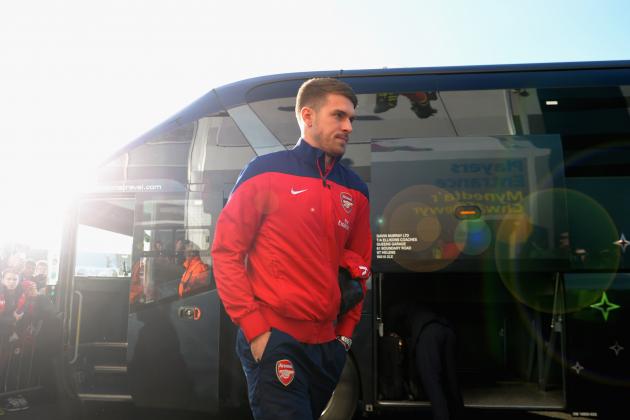 Christopher Lee/Getty Images

Since the beginning of the season on August 17, Arsenal have played 29 games.
Since December 4, the Gunners have played an astonishing eight matches.
In short, Arsene Wenger's team have played almost 25 percent of their entire season's matches over the course of the last month.
Every team in the Premier League faces this gruelling schedule, but combined with injuries, December can often prove a mountain too high to overcome.
According to PhysioRoom.com, Arsenal currently have 12 players out injured.
The fact that Arsenal's overall record reads as W-19 D-4 L-6 and that they are fighting it out at the top of the Premier League shows that Wenger has a considerable squad at his disposal.
Wenger must now look at the FA Cup as an ideal time to rest certain players, but the fact that they play Tottenham Hotspur provides its own problems.
How Wenger deals with this conundrum will be interesting to see as their tilt at the title might depend upon it.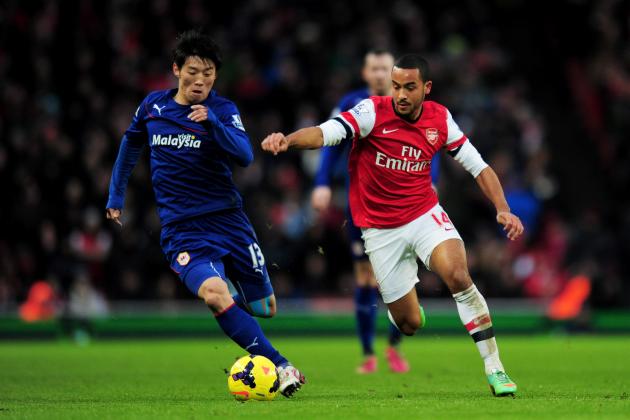 Shaun Botterill/Getty Images

Kim Bo-Kyung is one of the hardest working players in the Premier League.
When Cardiff signed the the South Korean 24-year-old from Cerezo Osaka in July 2012 for £2.5 million, some eyebrows were raised. However, over the course of the intervening 18 months and some 40-odd games for the Bluebirds, he has become one of their most important players.
Bo-Kyung is capable in both defensive and offensive areas of the pitch and works the flanks tirelessly.
Against Arsenal he tucked into the left side of their midfield and thoroughly frustrated Theo Walcott with his work rate and intelligent positional sense. He constantly supported 18-year-old left-back Declan John, who was making only his sixth appearance of the season.
Greater players have crumbled under the pressure of having to face Walcott at the Emirates and it is with great credit to Bo-Kyung that John played so well.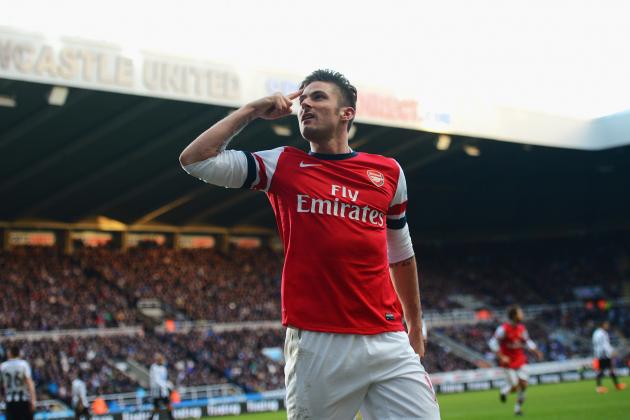 Michael Regan/Getty Images

While Aaron Ramsey, Mesut Ozil and Mathieu Flamini have won many plaudits this season, it is fair to say that Olivier Giroud has become, perhaps, their most important player.
The World Cup-bound 27-year-old missed the game after picking up an ankle injury. In truth, Wenger was probably going to rest the striker for this game anyway.
He links midfield and attack seamlessly and allows runners from the middle to break past him through the center. He is also a very dangerous target in the box and when worst comes to the worst, he is a great out-ball when Arsenal punt it long to get out of danger quickly.
Quite simply, Lukas Podolski is not the same type of player, and I am not convinced that Arsene Wenger sees the German international as a conventional striker.
Podolski has generally been employed on the left side of attack and his style just does not suit the way Arsenal are now set up.
Giroud was badly missed as the Gunners struggled to break down the Bluebirds.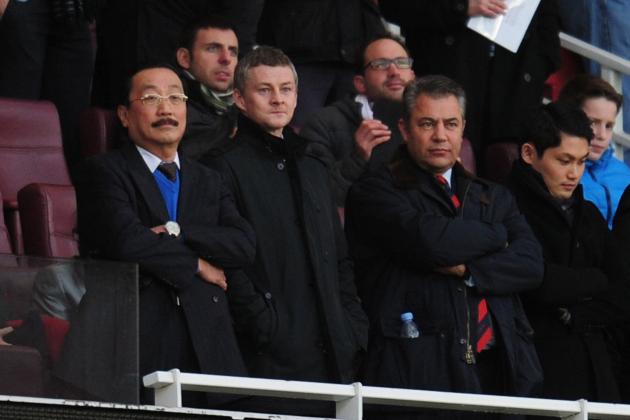 Shaun Botterill/Getty Images

Ole Gunnar Solskjaer's appearance at the Emirates Stadium alongside Vincent Tan and Mehmet Dalman would suggest that the former Manchester United player will be Cardiff City's next manager.
Malky Mackay was sacked by the Bluebirds on December 27 following a 3-0 home defeat to Southampton, as per BBC Sport.
Cardiff have almost exclusively used a defensive-minded 4-5-1 system this season and were sitting just two points above the relegation spaces. According to Soccerbase, the Bluebirds spent over £30 million on transfers last summer.
BBC Football stated on January 28 that Solskjaer will be given substantial funding in the January transfer window.
Given the fact that Solskjaer used an attack-minded 4-3-3 system at Molde in the Tippeligaen in Norway and that he was, as far as football is concerned, raised by Sir Alex Ferguson, it is fair to assume that he will bring an attacking ethos to Cardiff.
If Solskjaer can bring entertaining football to Cardiff and combine it with intelligent spending, a number of Premier League teams will be in grave danger of slipping down the pecking order.
The Bluebirds, one of only two Premier League teams based in Wales, have something of an exclusive catchment area. If they can attract more fans and regularly fill their 26,828 stadium with a view to increasing it, they could, in time, become a Premier League mainstay and eventually a power.
It all begins with Solskjaer.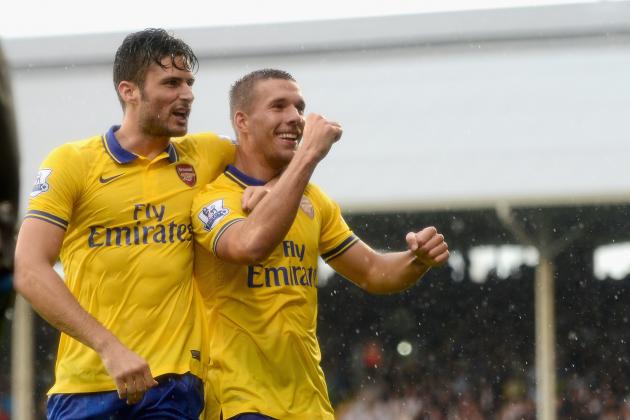 Jamie McDonald/Getty Images

Arsenal have become so accustomed to playing with a target man like Olivier Giroud that against Cardiff they struggled to break their obstinate defense down.
Podolkski either kept coming short or was looking to run onto through balls and never offered himself as a target like Giroud.
The fact that Podolski started ahead of Nicklas Bendtner would suggest that the 25-year-old Danish striker has no future whatsoever at the Emirates, even if he did come off the bench to score.
Considering that Arsenal need to sign a striker sooner rather than later and that Wenger has funds available, the Gunners would be better off splashing the cash in January rather than in the summer.
Signing a striker of note would give Arsenal a huge boost and provide them with a much better chance of winning the Premier League.
Radamel Falcao is believed to be available for transfer from Monaco, and Soccerbase say he is priced at 5-2 for a January exit. Arsenal could do a lot worse.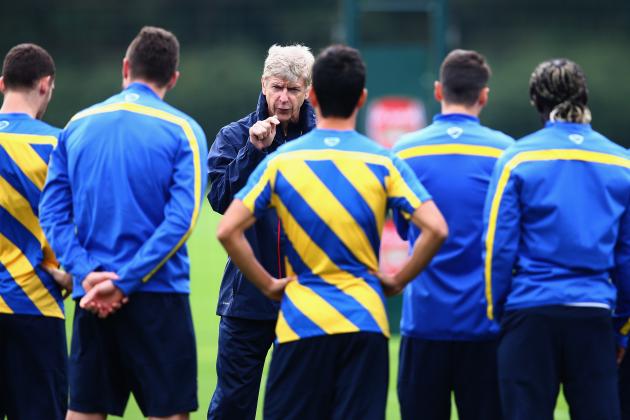 Paul Gilham/Getty Images

A champion and an also-ran can often be separated by their powers of concentration.
At the very highest levels of the game, players should be technically excellent and supremely fit. They must also possess super-human levels of concentration. The best players in the world possess all three attributes. Most possess only two and very few can boast just one.
Each attribute is incredibly important, but the most underestimated is mental strength and concentration.
Ever since the day that Arsene Wenger walked through the hallowed marble halls at Highbury, the Gunners have been regarded as technically excellent and incredibly fit. Wenger has brought sport science in football to a new level and only buys technically gifted players.
His best teams have always had great mental strength, and this latest incumbent are getting closer to those lofty heights.
They have a fundamental belief in their system and style and always play for the full 90 minutes. They do not turn off late in the game. Against Cardiff they showed great patience in terrible conditions against a team who were purely designed for damage limitation.
However, analyzing the Gunners' contribution, they pushed and pushed and pushed for that elusive winner that almost never came.
What is important to note is that Arsenal never gave up on winning the game when it would have been so easy to settle. This shows that Wenger's team have developed in terms of maturity and attitude.
Nicklas Bendtner's 88th-minute winner may have been have been very harsh on Cardiff, but it showed real growth on Arsenal's behalf.