For much of the 2013 season, Joe Flacco was without his favorite target, Dennis Pitta, who battled with an injury that cost him all but four games. Barring another injury, however, Flacco won't have to go without Pitta next season, as the tight end has re-signed with the Ravens on a five-year deal. The team confirmed the reports on Wednesday:
It's OFFICIAL! Dennis Pitta just signed his 5-year deal! pic.twitter.com/O6AvdZDsgy

— Baltimore Ravens (@Ravens) March 5, 2014
The Baltimore Sun reporter Aaron Wilson first had the news and financial details:
Ravens have reached a five-year deal with tight end Dennis Pitta, according to league sources

— Aaron Wilson (@RavensInsider) February 28, 2014
Dennis Pitta contract includes $16 million guaranteed, $21 million payout in first three years, according to sources

— Aaron Wilson (@RavensInsider) March 1, 2014
ESPN's Adam Schefter later confirmed the news:
Ravens and TE Dennis Pitta reached agreement on a five-year deal, as @RavensInsider reported.

— Adam Schefter (@AdamSchefter) February 28, 2014
NFL Network's Albert Breer and Pro Football Talk also reported details of the deal:
Ravens TE Dennis Pitta's five-year deal is worth about $32.5 million.

— Albert Breer (@AlbertBreer) February 28, 2014
Per league source, the new contract for Ravens TE Dennis Pitta is expected to average between $6 million and $7 million per year.

— ProFootballTalk (@ProFootballTalk) February 28, 2014
In his four games after returning from a hip fracture and dislocation, Pitta instantly produced, catching 20 passes for 169 yards and a score. It wasn't easy to adjust back into the fold 12 games into the season, but Pitta quickly found his footing, as he noted (via Ryan Mink of BaltimoreRavens.com):
It's always tough jumping in at the end of the season, being out four months. Everyone is in midseason form.

I felt good about what I was able to do. Health wise, I feel great, had no issues with my hip. It was big for me to be able to show that I'm healthy again and that I can be back.
After catching 61 passes for 669 yards and seven touchdowns in 2012—and also being an instrumental figure in Baltimore's 2012 postseason run and eventual Super Bowl title, catching 14 passes for 163 yards and three touchdowns in four games—Pitta was supposed to be Flacco's favorite possession receiver with Anquan Boldin gone.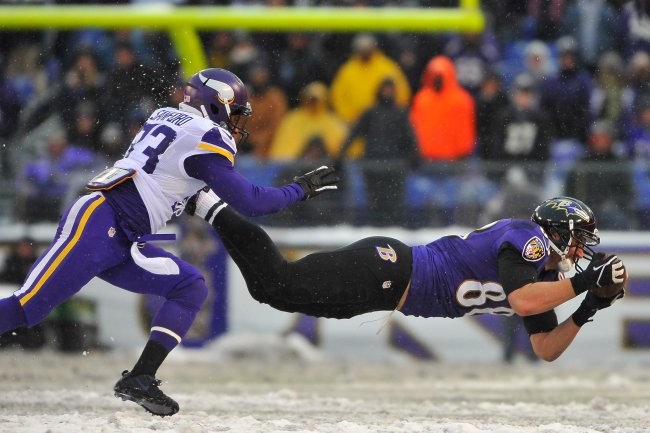 Larry French/Getty Images
However, his injury derailed those plans. And it may have derailed Baltimore's plans in general—they finished 18th in passing offense, a disappointing mark for an offense that underachieved across the board in 2013.
Still, with Pitta back on board, Torrey Smith continuing to establish himself as a true No. 1 receiver (65 receptions for 1,128 yards and four touchdowns) and Marlon Brown playing well in his rookie season (49 receptions for 524 yards and seven touchdowns), Baltimore's passing attack should be improved in 2014.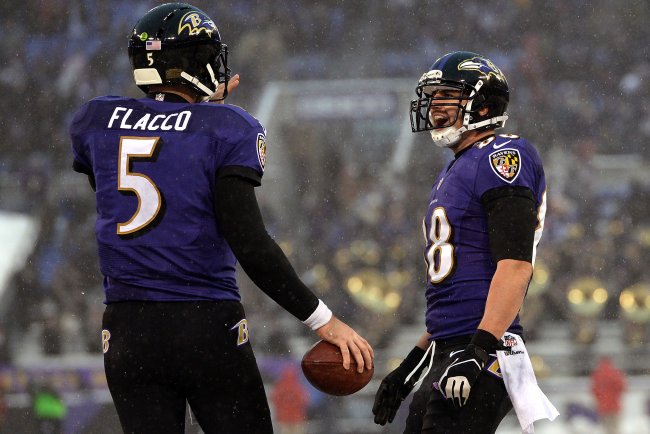 Patrick Smith/Getty Images
But it's Pitta's connection with Flacco that is the primary reason he simply had to return, to the point that fellow free-agent tight end Ed Dickson noted before free agency that the Ravens had to retain Pitta (via Wilson):
No. 5 [Flacco] and No. 88 [Pitta] have a connection. It's like that John Stockton and [Karl] Malone connection. I'm not saying that's the only thing you need, but you've got to keep that alive. I'm proud of the way he battled back from injury. He's a great tight end and he will be great for years to come.
Clearly, the Ravens felt the same way.