2014 NFL Mock Draft: Where Top Prospects Should Land
Use your ← → (arrow) keys to browse more stories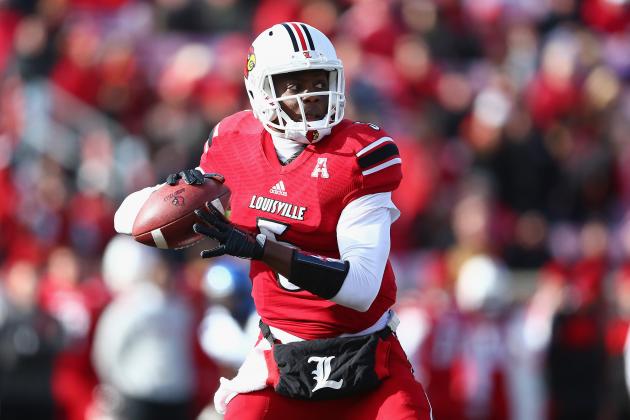 Andy Lyons/Getty Images

The NFL Playoffs are about to begin, and while 12 teams still have to game-plan for upcoming games, the other 20 squads can focus all of their attention on improving in the offseason.
The college bowl games are also winding down. Thus, collegiate prospects are making their final in-game impressions on scouts and general managers—aside from their participation in college all-star games.
With so many moving parts in the NFL draft world, it still isn't too soon to speculate on the best landing spots for the top prospects who are expected to be in the 2014 NFL draft class.
Here's a look at my first mock draft of the year.
1. Houston Texans - Teddy Bridgewater, QB, Louisville Cardinals
Houston was pitiful in 2013, and it needs almost everything. That predicament generally lends itself to identifying and chasing the best available quarterback.
As of right now, most draft experts would agree that guy is Bridgewater. Things could change as the draft approaches, but for now, the Cardinals star would be the pick.
Bridgewater made it official on Wednesday when he announced that he'd be foregoing his senior year at Louisville:
BREAKING: Louisville QB Teddy Bridgewater will enter the NFL draft and not return for his senior season. (via @McMurphyESPN)

— NFL on ESPN (@ESPNNFL) January 1, 2014
Time flies when you're having fun. Thankful for the many relationships formed and the many lessons learned over these past 3 years. #L1C4

— Teddy Bridgewater (@teddyb_h2o) January 1, 2014
2. St. Louis Rams (via Washington) - Sammy Watkins, WR, Clemson Tigers
The Rams had to love watching the Washington Redskins struggle this season. That is not because they are a sadistic bunch, but because it meant that their draft choice would be that much higher.
Still reaping the fruits of the trade that allowed the Skins to take Robert Griffin III, the Rams are in position to get their own quarterback a much-needed weapon in the passing game.
In a draft class likely stocked with solid wide receivers, Watkins is the best of the bunch.
3. Jacksonville Jaguars - Johnny Manziel, QB, Texas A&M Aggies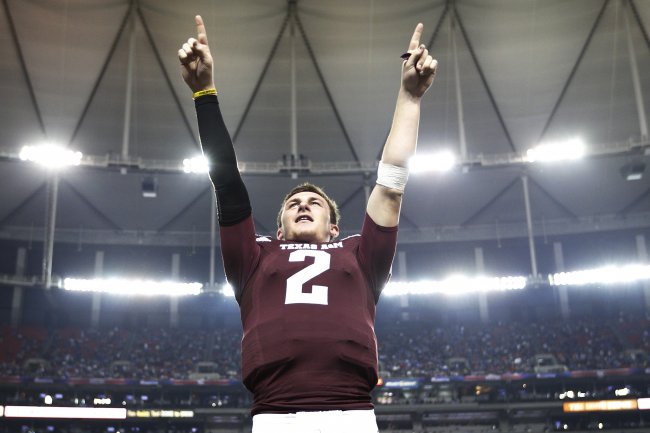 Joe Robbins/Getty Images
In need of a quarterback and a transcendent presence, the Jags would be wise to make Johnny Football their next franchise quarterback. He doesn't have the strongest arm, most polished mechanics or ideal size (6'1", 209 lbs.), but he's a winner.
If his dynamic performance against Duke in the Chick-fil-A Bowl was his coup de grace to the college football world, the Jags should make sure he's the man that carries the offensive hopes of their franchise for the next 7-10 years.
4. Cleveland Browns - Blake Bortles, QB, Central Florida Knights
Bortles has good size (6'4", 230 lbs.), intangibles and accuracy (68.1 completion percentage in 2013), and the Browns need a quarterback for their new regime.
Bortles has the type of overall package teams can look to build around. More than ever, NFL teams are built around the talents and leadership of the quarterback. Bortles would give the Browns one of the best young prospects at the most important position in the game.
5. Oakland Raiders - Jadeveon Clowney, DE, South Carolina Gamecocks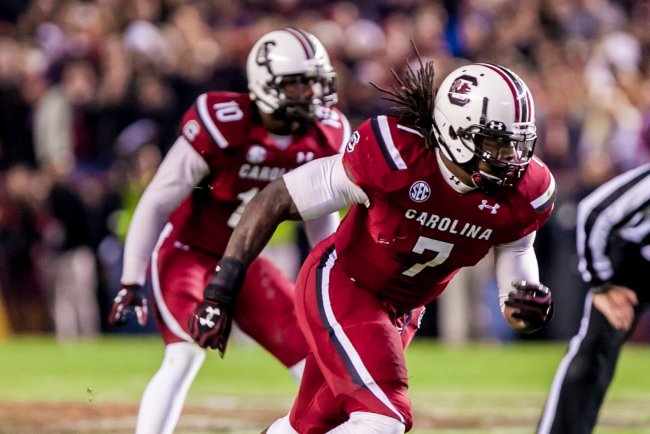 Jeff Blake-USA TODAY Sports
Terrelle Pryor deserves at least one more opportunity to be the starting quarterback in Oakland. He was 3-6 as a starter for a team that doesn't have a ton of offensive weapons. If the Raiders want to draft a quarterback, they would be better off doing so in the later rounds.
With that established, adding a potential game-changer on the defensive side of the ball makes more sense in the first round. Oakland was 28th in the NFL against the pass and ranked just 14th in sacks. Nabbing Clowney could help improve the team in both categories.
Like Bridgewater, Clowney made his intentions to head for the NFL known on Wednesday:
BREAKING: South Carolina DE Jadeveon says he's entering the 2014 NFL Draft. Here's Clowney 1 yr ago today. http://t.co/Far3QRbIrl

— NFL on ESPN (@ESPNNFL) January 1, 2014
6. Atlanta Falcons - Jake Matthews, OT, Texas A&M Aggies
Matt Ryan was sacked 44 times, and the team's rushing offense was dead-last in the NFL in 2013. Those two unfortunate rankings imply that the offensive line needs to improve if the Falcons are to return to their 2012 form.
Matthews is the best offensive line prospect in the draft and a potential game-changer from Day 1 in Atlanta.
7. Tampa Bay Buccaneers - Mike Evans, WR, Texas A&M Aggies
Mike Glennon proved he's at least worth another look as a starting quarterback in 2014. In order for he and the Bucs' offense to take the next step, however, they need to add a dangerous weapon across from Vincent Jackson at wide receiver.
Evans' body type and physical skills are similar to Jackson, but the Chicago Bears proved just how valuable two big receivers can be for an offense in 2013. Jackson and Evans could be Tampa Bay's version of Brandon Marshall and Alshon Jeffery.
Which QB will have the better career?
8. Minnesota Vikings - Derek Carr, QB, Fresno State Bulldogs
Carr can sling it, and the Vikes definitely need a long-term option at quarterback.
He may seem like the least prominent of the top-rated quarterbacks on the board, but he still gives Minnesota what it needs. He's a strong-armed quarterback with a high football IQ and solid leadership skills.
9. Buffalo Bills - Marqise Lee, WR, USC Trojans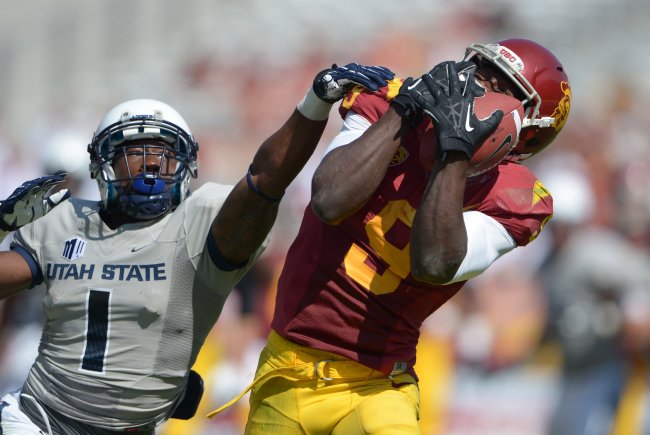 USA TODAY Sports
This may seem like a stretch now, but by the time the draft rolls around, Lee's stock will have risen. He's a dynamic athlete who is destined to impress at the NFL combine and at his pro day.
Aside from that, the Bills' offense is in desperate need of a playmaker. Tight end Scott Chandler led the team in receptions with 53. Lee would be an ideal fit opposite Stevie Johnson, and he'd be reunited with college teammate Robert Woods.
10. Detroit Lions - Justin Gilbert, CB, Oklahoma State Cowboys
Talent isn't the problem in Detroit; leadership and character is.
Jim Schwartz has been fired, and the next step could be examining whether Matt Stafford is the right quarterback. The Lions would be wise to draft a developmental quarterback late in the draft.
In the first round, though, addressing a need at cornerback is the smartest decision. You never know what defense the Lions will play in 2014, but Gilbert has the size and skill set to be effective in most schemes.
11. Tennessee Titans - Khalil Mack, DE/OLB, Buffalo Bulls
Mack may hail from a smaller program, but he is a big-time talent.
He's an explosive pass-rusher off the edge, and that is something the Titans need. Tennessee ranked just 21st in the NFL in sacks in 2013, and Mack would be an instant upgrade at defensive end.
12. New York Giants - Kony Ealy, DE, Missouri Tigers
The Giants' defensive line is aging, and it's time for the franchise to replenish its talent and depth. Ealy is a major pass-rushing prospect that reminds some, including B/R senior analyst Danny Flynn, of former Tiger and current 49ers star, Aldon Smith.
Ealy's strength and versatility is exactly what the G-Men need to replace Justin Tuck, should the 30-year-old leave via free agency. Even if he stays, Ealy only makes the Giants' defensive line rotation stringer.
13. St. Louis Rams - Cyrus Kouandjio, OT, Alabama Crimson Tide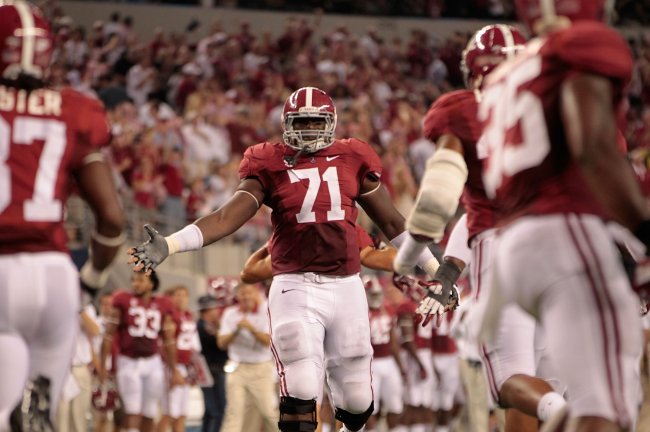 Leon Halip/Getty Images
Strengthening the O-Line is perfectly aligned with the identity the Rams adopted in the second half of the season, when St. Louis became the smash-mouth team that seems to best fit head coach Jeff Fisher's style.
With Jake Long going down late in the season and with room for improvement at right tackle, the Rams could use a proven winner like Kouandjio.
There is something to be said for a offensive lineman who has been an integral part of a unit that has enjoyed the level of success that the Tide's O-Line has.
14. Chicago Bears - C.J. Mosley, LB, Alabama Crimson Tide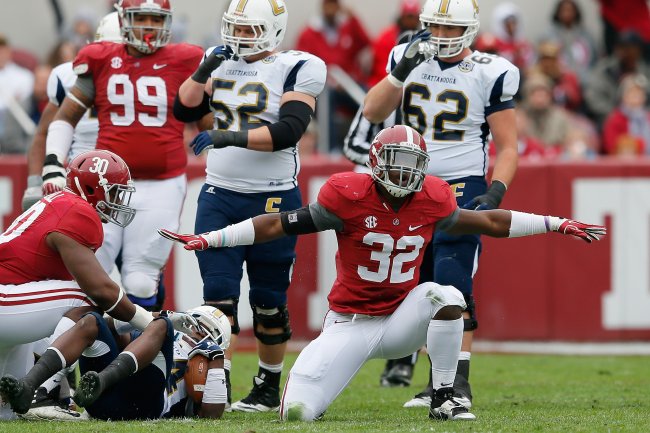 Kevin C. Cox/Getty Images
It will be hard to resist drafting Mosley's college teammate, safety Ha Ha Clinton-Dix, with this pick, but the Bears' defensive woes were closer to the line of scrimmage. Mosley figures to impact the putrid run defense more than a safety, though replacing Chris Conte with a capable player is also paramount.
Mosley is a solid athlete that brings a tradition of winning, a high football IQ and great tackling fundamentals. He would instantly improve the Bears defense and provide insurance once Lance Briggs moves on.
15. Pittsburgh Steelers - Greg Robinson, OT, Auburn Tigers
The Tigers' dominant rushing attack is certainly a team effort, but Robinson has more than played his role effectively.
If he declares for the draft, his stock could rise to a point where he is out of range for the Steelers. If he is available for Pittsburgh here, the team would be adding a top talent that would be able to protect Ben Roethlisberger and someone who is a proven force in the run game.
(Coin toss will decide draft order with Baltimore Ravens and Dallas Cowboys. Alphabetical order will be used for now.)
16. Baltimore Ravens - Taylor Lewan, OT, Michigan Wolverines
Lewan may have cost himself by coming back to Michigan for his senior season, but he can still land in a good spot.
The Ravens' running game fell off, and the O-Line allowed 48 sacks in 2013. Those two issues are perhaps the biggest reason the defending champs didn't make the playoffs.
Lewan is a physical and decently-athletic tackle who can offer versatility to Baltimore in an area of need.
17. Dallas Cowboys - Benardrick McKinney, DE, Mississippi State Bulldogs
Without a doubt, the Cowboys need to draft defensive players with at least their first two picks in the draft.
Dallas was 27th in the NFL in sacks, so a pass-rusher should be at the top of the team's list. McKinney only had 3.5 sacks this season, but scouts are excited about his first step and ability to make plays in the backfield.
18. New York Jets - Eric Ebron, TE, North Carolina Tar Heels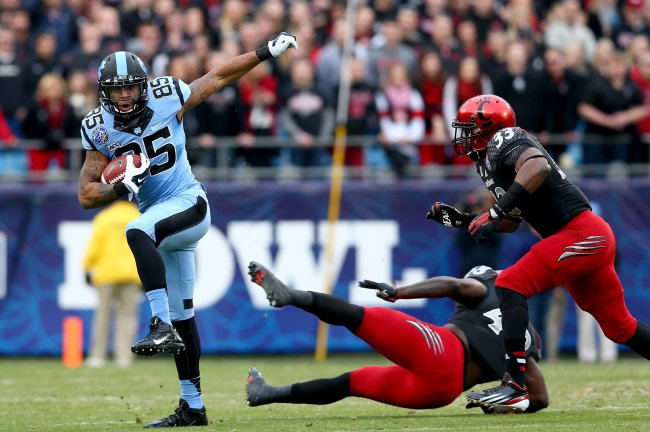 Streeter Lecka/Getty Images
One of the best gifts a team can give a young quarterback is a dependable, pass-catching tight end; that's exactly what Ebron would represent for Geno Smith.
He's not a titanic tight end, but at 6'4" and 245 pounds, he's big and fast enough to create matchup issues for linebackers and safeties.
19. Miami Dolphins - Cedric Ogbuehi, OT, Texas A&M Aggies
The Aggies are so well represented in the first round, it makes you wonder how the team didn't qualify for a BCS bowl game. Oh yeah, their defense is terrible.
At any rate, Ogbuehi is the type of pass protector who can help keep Ryan Tannehill healthy over the long-term for the Fins. Tannehill was sacked a league high 58 times in 2013; that's not good for longevity.
20. Arizona Cardinals - Cameron Erving, OT, Florida State Seminoles
Protecting Carson Palmer and future Cardinals quarterbacks has to be the primary concern for Arizona in the offseason. Palmer was sacked 41 times in 2013.
Had the Cardinals' offensive line been a shade better, they may have made the playoffs. Erving's athleticism and football IQ rate high and make him a solid fit for Arizona at No. 20.
(The order of picks 21-32 will be based on the outcome of the playoffs.)
21. Green Bay Packers - Anthony Barr, LB, UCLA Bruins
Barr slips on my board after a virtually non-existent performance against Virginia Tech in the Sun Bowl. He was rarely a factor on any play, as teammates Jordan Zumwalt and Myles Jack made more of an impact.
Barr could light it up at the combine, but the needs of teams ahead of the Packers might allow him to fall to them.
That would be cause for rejoicing in Green Bay. The Packers need an outside linebacker capable of setting the edge, being a force against the run, rushing the passer and covering tight ends. Barr could fill that role nicely.
22. San Diego Chargers - Darqueze Dennard, CB, Michigan State Spartans
Dennard's ability to shutdown the opponent's best wide receivers is attractive to NFL teams. It should especially be of note for a team like the Chargers, who are devoid of a presence like that in their secondary.
Dennard could start from Day 1 with the Chargers.
23. Philadelphia Eagles - Jason Verrett, CB, TCU Horned Frogs
With the 32nd-ranked pass defense in the NFL, no matter how far the Eagles advance in the playoffs, you'd have to think the team would look to add help in the secondary this offseason.
Verrett is aggressive, physical and possesses good-to-great recovery speed. He could make an impact in Philly right away.
24. Kansas City Chiefs - Jace Amaro, TE, Texas Tech Red Raiders
Bringing Alex Smith a weapon at tight end that is similar to what he had in San Francisco with Vernon Davis is a smart move.
Amaro's run-after-the-catch ability is a great fit for an offense that lacks explosiveness—aside from Jamaal Charles' speed out of the backfield.
25. Cincinnati Bengals - Ifo Ekpre-Olomu, CB, Oregon Ducks
Ekpre-Olomu hasn't made his decision on the NFL draft yet, but he stands to be a first-rounder if he decides to head to the NFL.
The Bengals need to get younger at cornerback. Adam Jones and Terrence Newman are aging, and Leon Hall is always injured. This pick would make sense for Cincy.
26. Cleveland Browns (via Indianapolis) - Allen Robinson, WR, Penn State Nittany Lions
Robinson proved himself to be a top-notch receiver in 2013 for the Nittany Lions.
After the Browns have grabbed Bortles or any quarterback of the future with its first selection, finding him a weapon to pair with Josh Gordon is essential.
27. New Orleans Saints - Ryan Shazier, LB, Ohio State Buckeyes
In the Saints' 3-4 look, Shazier's explosion off the edge could give the team another impact pass-rusher. With the offense still formidable under Sean Payton and in the hands of Drew Brees, strengthening the defense within its scheme is a smart move.
28. New England Patriots - Odell Beckham, WR, LSU Tigers
This is an important pick for the Patriots. The team can't expect Tom Brady to continue to make magic out of a group of makeshift weapons in the passing game.
Beckham would give Brady the type of athletic presence at wide receiver that he hasn't had since he and Randy Moss nearly rewrote the single-season passing and receiving record books.
Beckham isn't quite as fast as Moss, but he's more physical and quick enough to get downfield and make big plays.
29. San Francisco 49ers - Brandin Cooks, WR, Oregon State Beavers
Though he's smallish, Cooks has electrifying speed and solid toughness.
The Niners know that Anquan Boldin will be walking away soon, so finding another option to play across from Michael Crabtree is a good move for the future.
30. Carolina Panthers - Bishop Sankey, RB, Washington Huskies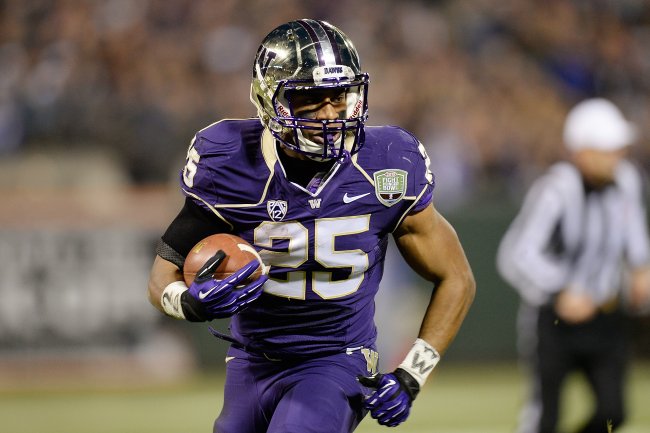 Thearon W. Henderson/Getty Images
This might be considered a reach, but again, the combine hasn't happened yet. Players still have a ton of time to impress and improve their draft stock.
For my money, Sankey is the best running back prospect in the draft.
DeAngelo Williams is 30 years old, and Jonathan Stewart played in only six games this season. Sankey could step in and offer the Panthers a steady and dangerous force out of the backfield.
He's even a solid receiving option, as he caught 28 passes this season and 33 in 2012.
31. Denver Broncos - Ha-Ha Clinton-Dix, S, Alabama Crimson Tide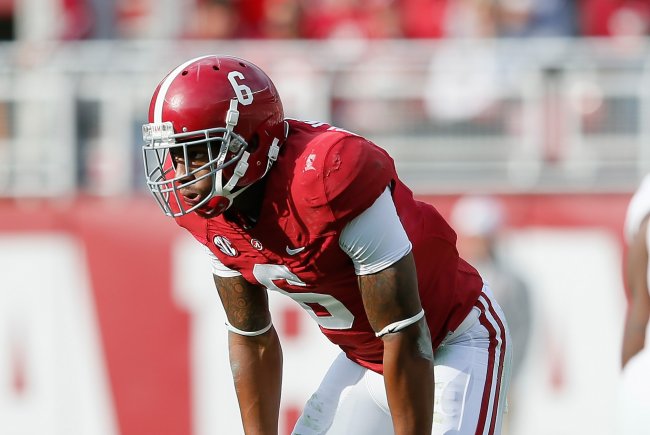 Kevin C. Cox/Getty Images
What position will be drafted first. RB or G?
If Clinton-Dix is available this late for Denver, the organization should break a record for the fastest selection in draft history. The Tide star is one of the best players in the draft, but I can see him slipping because teams put other needs ahead of their holes at free safety.
The Broncos could go another direction, but Clinton-Dix is too good to pass up.
32. Seattle Seahawks - Austin Seferian-Jenkins, TE, Washington Huskies
The hometown pick makes sense in this situation. One of the few positions the Seahawks aren't abundantly talented in is tight end.
Seferian-Jenkins has the size to be a force in the running game, but he also has the hands and leaping ability to be a dangerous weapon in the passing game—especially in the red zone.
Follow me for news and opinions on sports.