Penn State Football: Loss of Bill O'Brien Leaves Nittany Lions Plenty of Options
Use your ← → (arrow) keys to browse more stories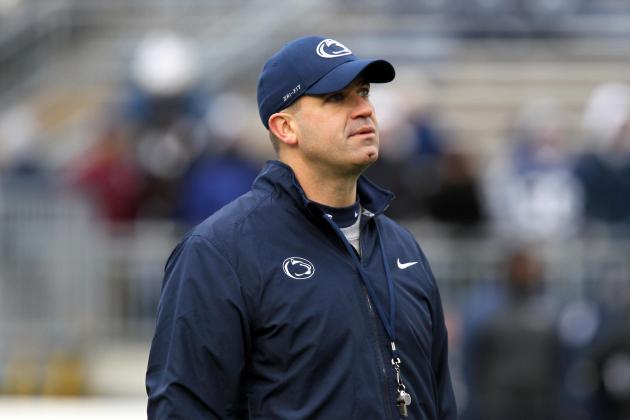 Matthew O'Haren-USA TODAY Sports

In a move that surely smacks of betrayal to the Nittany Lions faithful, Penn State head coach Bill O'Brien has elected to take his talents back to the NFL—this time as head coach of the Houston Texans.
Yet, the Nittany Lions are just fine without O'Brien.
ESPN's Adam Schefter helped to break the expected news on New Year's Eve:
Filed to ESPN from me and @mortreport: Bill O'Brien has reached agreement to become the new head coach of the Houston Texans, per sources.

— Adam Schefter (@AdamSchefter) January 1, 2014
But this move has been in the pipeline for weeks. While O'Brien was seemingly torn on the decision (or attempting to incite a bidding war), Penn State was ensuring its future success as hinted by NFL Network's Ian Rapoport:
From #NFLGameDay: Penn State is preparing to lose Bill O'Brien. Their AD is ready to make a strong push for #Bucs coach Greg Schiano.

— Ian Rapoport (@RapSheet) December 29, 2013
That is the same Greg Schiano who lost his gig with the Tampa Bay Buccaneers around the same time:
Here it is RT @TBBuccaneers: via @ScottSBucs: Bucs dismiss GM Mark Dominik and Head Coach Greg Schiano: http://t.co/Ywf2x3Q6qA

— Ian Rapoport (@RapSheet) December 30, 2013
While a crushing blow to fans and student athletes who remained faithful to O'Brien in a tough rebuilding period after the scandal that rocked the collegiate football world, the framework of O'Brien's work remains intact for the next man up to assume.
O'Brien kept the program afloat the last two seasons after taking over for Joe Paterno. Despite being hit with a postseason ban and a loss of scholarships, the Nittany Lions went 8-4 in 2012 and 7-5 in 2013.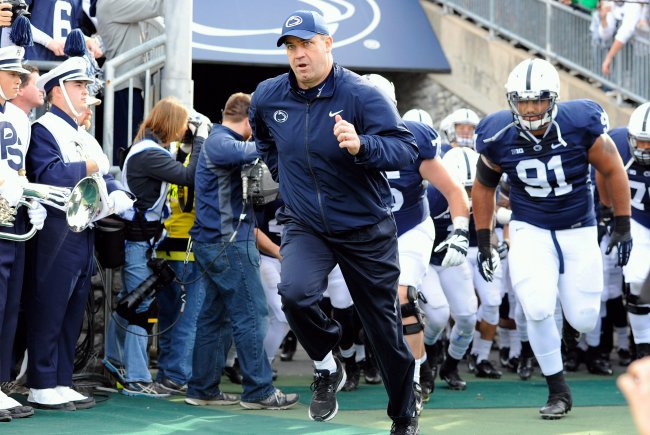 Rich Barnes-USA TODAY Sports
Even more, O'Brien performed much better than anticipated in recruiting in the wake of the scandal, remaining in the top 50 in Rivals' recruiting rankings in 2013 and inside the top 25 in the 2014 cycle.
This framework will now go to a man like Schiano, who clearly has no intention of returning to the NFL anytime soon. In fact, the NFL likely will not want him after a tenure in Tampa Bay lined with chaos.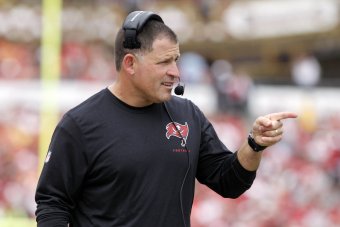 Kim Klement-USA TODAY Sports
But Schiano is an excellent collegiate coach and is made for a school like Penn State. He spent six years with the Nittany Lions as an assistant from 1990-95. He then turned around the Rutgers program, going 68-67 in 11 years, with the high point being his final seven in which he ran up a record of 56-33.
He also appeared in six of the school's nine total bowl games, not to mention the fact the school is now set to join the Big Ten.
Not a bad deal. O'Brien jumps ship and the Nittany Lions scoop up Schiano, a man well-versed in rebuilding programs.
Or the Nittany Lions can go after Vanderbilt head coach James Franklin, the other name that has been tossed around by folks such as CBS Sports' Bruce Feldman:
Stock is hot RT @djoneshoop: James Franklin is prime target in #PennState's sights--if it can get to him soon enough http://t.co/HvoSUxCu9C

— Bruce Feldman (@BFeldmanCBS) December 30, 2013
I think if #PennState wants James Franklin (17-8 last 2 yrs at Vandy) #NittanyLions may need to move fast to get him.

— Bruce Feldman (@BFeldmanCBS) January 1, 2014
Best man to replace Bill O'Brien?
Franklin is a local man from Langhorne and has taken the Commodores of the SEC, normally only known for their academic prowess, and gone 23-15 in three seasons. He has also taken them bowling each year—Vanderbilt has only been to six bowls all-time.
So no, O'Brien's departure is not the end of the world. In fact, it is just the beginning. O'Brien was the man for the job to guide the ship through tough waters.
Could he have taken the team all the way in a few years? Sure, but there are plenty of other willing and capable candidates who can assume the mantle and make the transition a seamless one as Penn State football continues on its upward trajectory.