The Iowa Hawkeyes and the No. 16 LSU Tigers are set to clash in the 2014 edition of the Outback Bowl in a contest littered with intriguing storylines sure to grab the attention of fans as they recover from holiday festivities.
Outside of the classic Big Ten vs. SEC implications, these two will provide plenty of reasons to watch. At 8-4, the Hawkeyes are left wondering what could have been with an easier schedule, while the 9-3 Tigers are wondering the same thing had they not blown it in big games.
When the two sides meet at Raymond James Stadium on Jan. 1, something will have to give. Fans should enter the contest well-versed to get the so-called full experience.
The Freshman Under Center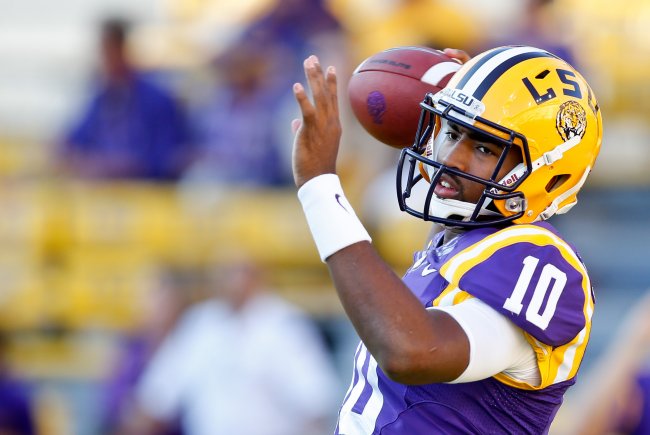 Derick E. Hingle-USA TODAY Sport
The final game of a season is not the best time to debut a freshman signal-caller, but Les Miles' team will have to do just that thanks to a season-ending injury to starting quarterback Zach Mettenberger.
Now LSU must turn to freshman Anthony Jennings, who has attempted all of 10 passes in his collegiate career. He completed six for 99 yards.
While fans will point out the fact he led a 99-yard drive to steal a victory against Arkansas, leading a comeback over the three-win Razorbacks should not act as a major bragging point.
Still, Miles is expecting big things from Jennings, as he told Jim Kleinpeter of The Times-Picayune:
The greatest characteristic of Anthony Jennings is poise...He's always been a guy who came in and sought extra coaching and knowledge of the game when he was second team. The confidence of the team when he went under center didn't change a lick. He knew what to expect. We expect him to play well.
Jennings does bring another dimension to the game the Hawkeyes will have to prepare for, as he is effective on the ground—as shown by his 14 carries for 49 yards and a score in 2013.
But Iowa is well-versed in shutting down anything thrown its way. The Hawkeyes rank just outside the top 10 with an average of 18.8 points allowed per game. In a battle of wills, can a freshman prevail?
Which Running Back Can Take Over?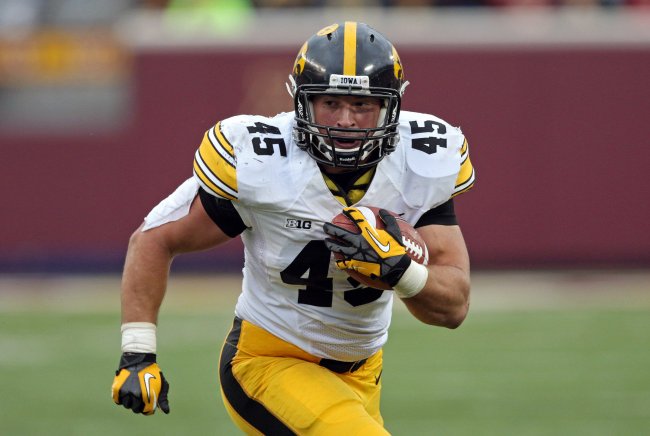 Jesse Johnson-USA TODAY Sports
Both LSU and Iowa have stellar running backs capable of controlling a game on their own.
For the Hawkeyes, the job falls on junior Mark Weisman, who rushed for 938 yards and seven touchdowns in 2013. While his production dipped as the season wore on, Weisman will be heavily leaned on to keep the LSU offense off the field.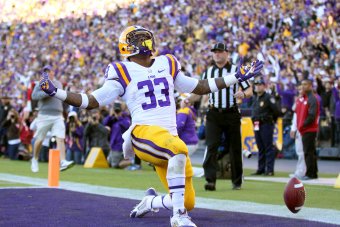 Crystal LoGiudice-USA TODAY Spor
Yes, the Tigers have a freshman at quarterback, but Iowa is going to want to keep the ball out of the hands of sophomore running back Jeremy Hill. He ran for 1,185 yards and 14 scores on an impressive 6.8 yards-per-carry average in 2013.
When asked to take on big-name backs, the Iowa defense has faltered this season. A 28-9 loss to Wisconsin saw James White rush for 132 yards and two touchdowns. It was a similar story in a 34-24 loss to Ohio State as Carlos Hyde ran for 149 yards and two scores.
Both Hill and Weisman will be asked to take over. Whoever answers the call will put their team at a major advantage.
Which Team Exorcises Its Demons?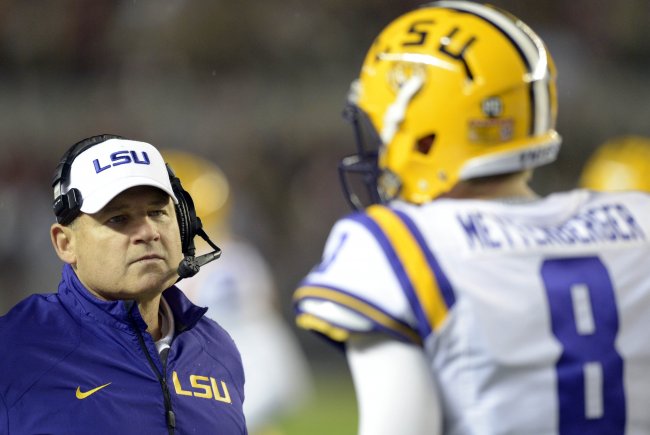 John David Mercer-USA TODAY Spor
This game is one final shot at redemption for both schools.
Iowa, while a quality team, was gifted with one of the nation's most brutal schedules. The Hawkeyes' four losses came against Northern Illinois, Ohio State, Michigan State and Wisconsin—teams with a combined 45-6 record.
Two of those teams (Ohio State and Michigan State) played in the Big Ten Championship and play in BCS Bowls this year. One played in the MAC Championship (Northern Illinois) and had a Heisman contender at quarterback (Jordan Lynch).
The story for LSU is a bit different. Obviously, the schedule was tough with the team residing in the SEC. But this is a Tigers team that defeated the Auburn Tigers this year—but lost to Alabama, Georgia and Ole Miss.
The Outback Bowl is one last chance for both teams to turn things around after seasons littered with disappointment. Expect both teams to be at their best in the pursuit of ending the season on a high note.