Liberty Bowl 2013: 10 Things We Learned from Rice vs. Mississippi State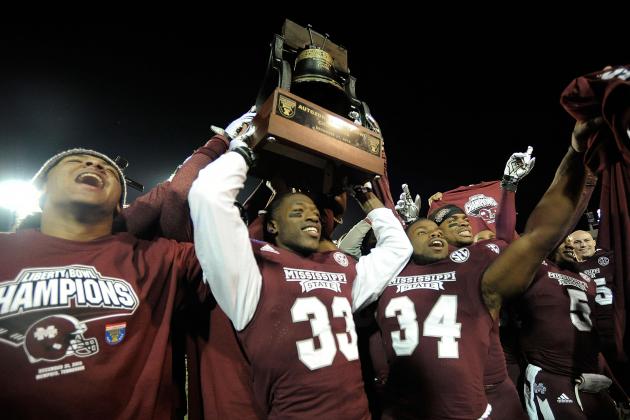 Stacy Revere/Getty Images

The Mississippi State Bulldogs destroyed the Rice Owls, 44-7, in the 2013 edition of the Liberty Bowl.
Dual-threat quarterback Dak Prescott carried Dan Mullen's team, scoring five total touchdowns, and Jameon Lewis had a career day for the Bulldogs.
Rice opened the game's scoring, but the Owls mustered just 67 yards over their next 32 plays and allowed 44 unanswered points.
While Mississippi State finished its season at 7-6, Rice dropped to 10-4, and both teams taught viewers a few lessons along the way.
Begin Slideshow

»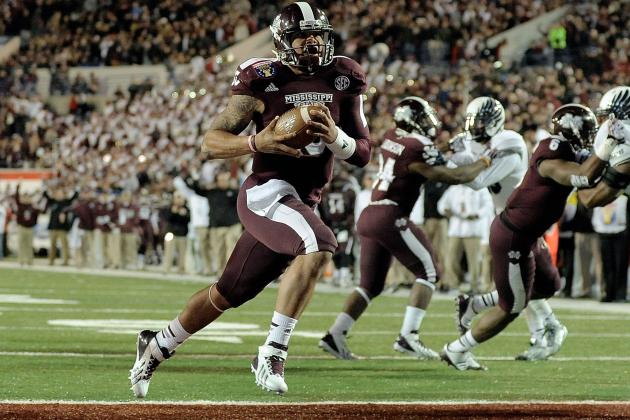 Stacy Revere/Getty Images

Throughout the 2013 season, Dak Prescott struggled to be consistent, battling injuries and the loss of his mother.
But the sophomore put together his best game of the year, throwing for 283 yards and three touchdowns while adding 78 yards and two scores on the ground.
His most impressive play came during the first quarter. Facing a 3rd-and-19, Prescott pump-faked, eluded three defenders and bulldozed his way across the first-down line.
Ultimately, Prescott was named the Liberty Bowl's Most Valuable Player.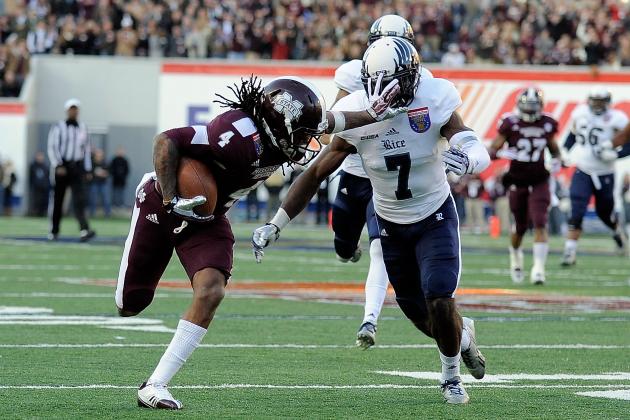 Stacy Revere/Getty Images

The only thing Jameon Lewis didn't accomplish was a touchdown reception.
I have a feeling, however, that Mississippi State coaches don't mind.
Lewis entered both the Liberty Bowl and school record books, racking up 220 yards, including a long of 65 yards.
The junior receiver also set a career high with nine receptions, constantly providing Prescott a target on third down. The duo connected for eight first downs, helping move the Bulldogs into scoring territory all game long.
Lewis and Prescott will be an interesting combination to watch next season.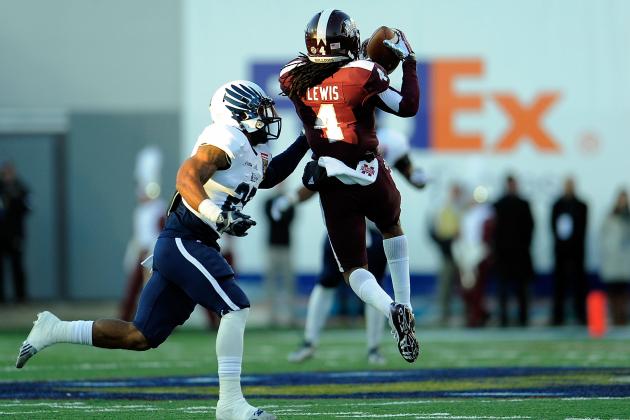 Stacy Revere/Getty Images

Jameon Lewis would love to say he shook defenders to make his nine catches, but that wasn't the case.
Cornerback Phillip Gaines headlines the Rice secondary, but the NFL prospect rarely manned up against Lewis.
For example, Jaylon Finner was lined up over Lewis, but Lewis ran past him and made the grab for a 28-yard gain. He didn't make a single cut or juke, he literally just ran.
Lewis certainly will not concede any success to bad coverage, but that's exactly what it was; Lewis capitalized, and Rice was constantly burned.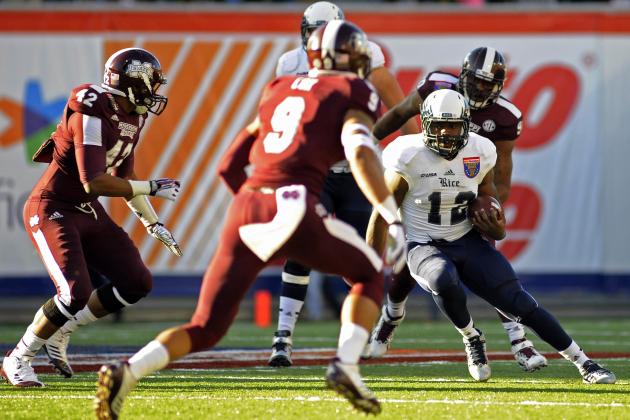 Justin Ford-USA TODAY Sports

Senior running back Charles Ross entered the Liberty Bowl with seven 100-plus-yard rushing performances this season.
And that's exactly how he left Memphis, Tennessee.
Ross scored the Owls' lone touchdown, and it appeared that Rice would be able to pound their star running back throughout the day.
However, Mississippi State limited the 1,200-yard rusher to 28 yards on 10 carries.
The Owls were dominated on the line of scrimmage by the Bulldogs' size, and Ross was held in check because of it.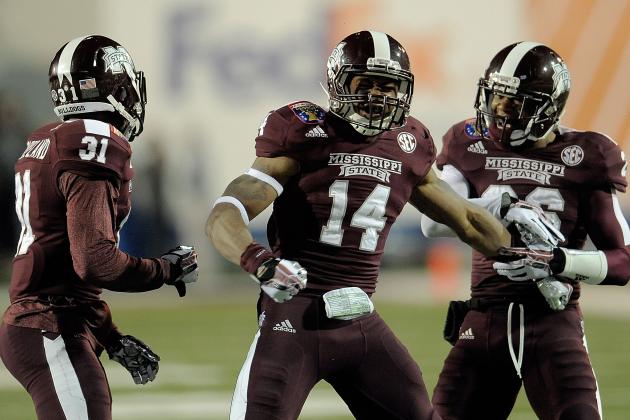 Stacy Revere/Getty Images

The Bulldogs refused to let either Rice quarterback get comfortable, disrupting the pocket on nearly every passing down.
Taylor McHargue wasn't expected to beat Mississippi State with his arm, but he had a rough day.
McHargue completed 8-of-15 passes for just 84 yards and was sacked twice. Plus, the senior quarterback lost two yards on six rushing attempts.
Reserve Driphus Jackson was also sacked twice, so the Bulldogs tallied four on the day. After replacing McHargue, Jackson injured his leg and was forced to leave the game.
Even though Jamerson Love had a great chance, Mississippi State did not intercept a pass. But Ryan Brown, Denico Autry, Benardrick McKinney and A.J. Jefferson each notched one of the sacks, and Preston Brown earned a quarterback hit.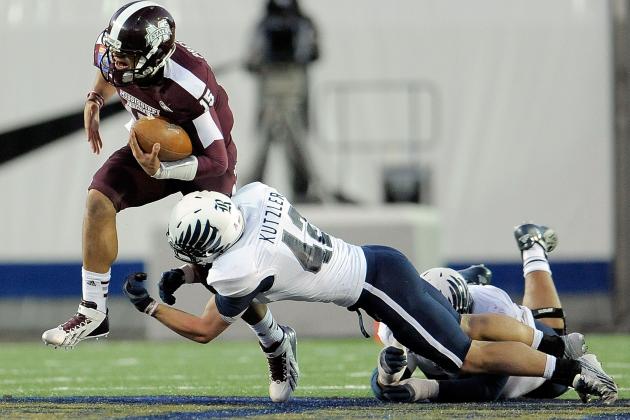 Stacy Revere/Getty Images

Barring its first two offensive possessions, Rice did not have many bright spots.
Senior linebacker Michael Kutzler provided one of them, however, flying to the ball and tracking down Prescott multiple times.
Kutzler racked up 10 tackles (1.0 for loss) and also notched a quarterback hit.
The former walk-on finished the season with a team-high and career-high 96 tackles.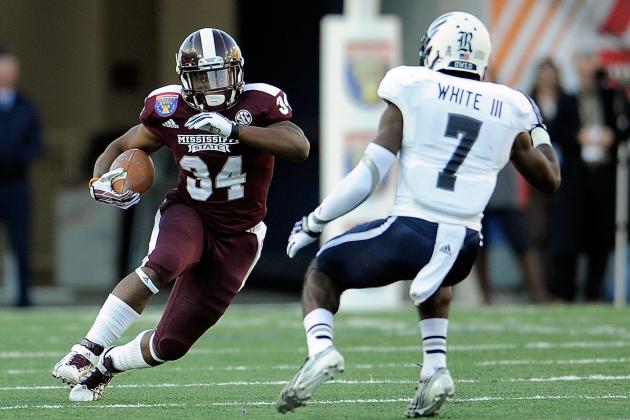 Stacy Revere/Getty Images

Late-down conversions and red-zone success are two of the main reasons a team will win.
During the Liberty Bowl, Mississippi State controlled the latter on both sides of the ball.
Prescott and backup Damian Williams led the Bulldogs to conversions on eight of their first 10 tries, including five when facing 3rd-and-8 or longer.
Additionally, Mississippi State scored touchdowns on its first six red-zone opportunities, putting the game well out of reach by the conclusion of the third quarter.
Stacy Revere/Getty Images

It doesn't sound like an amazing accomplishment, but consider the following statistic.
According to the Mississippi State football twitter account, this is the first time the Bulldogs have won three consecutive games to close out the year...since 1974.
With 40 college football seasons separating the accomplishment, it is still an important feat for Mississippi State.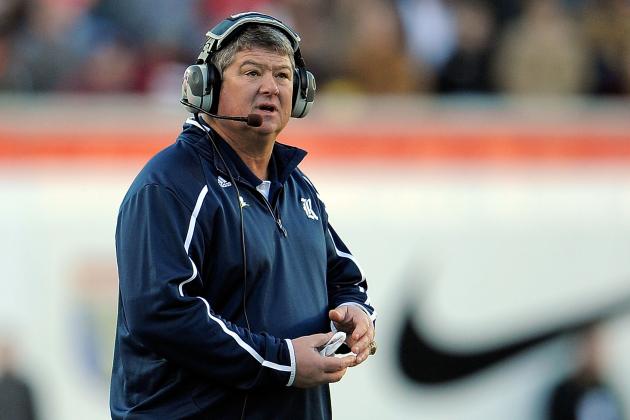 Stacy Revere/Getty Images

No, a 44-7 blowout was not the optimal ending to a very successful 2013 campaign.
But Rice had just that: an important, program-building season.
The Owls tied a program-high with 10 victories, which was the second 10-win season under head coach David Bailiff.
Rice won its first conference championship in 20 years, and it was also the first outright title since 1957.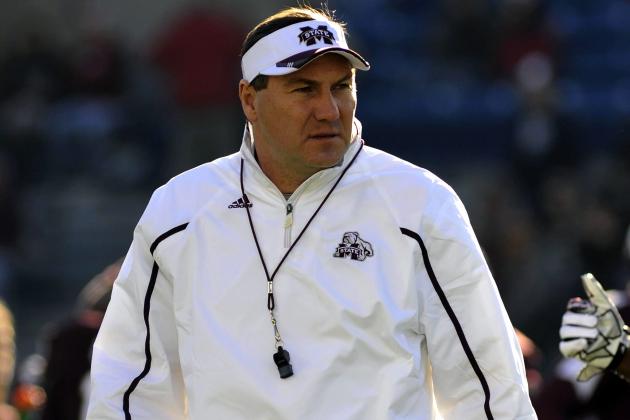 Justin Ford-USA TODAY Sports

Since Dan Mullen took over at Mississippi State for the 2009 season, the Bulldogs have been close to national relevancy but haven't quite made it there.
Year after year, Mullen is keeping Mississippi State headed in the right direction, winning seven games for the fourth consecutive season. The last time the program accomplished this was from 1997-2000.
Mullen can take these results into the houses of recruits and try to persuade top prospects to help them make the next step. And if he can do that, the Bulldogs can get over the hump in 2014 and into the double-digit win range.
HailState.com's Bob Carskadon notes Mullen said, "We want to win the SEC West and find a way to go represent the state in Atlanta."
It won't be easy, but Mullen has a young team that is prepared for the challenge.