New York Knicks forward Carmelo Anthony set out to spread some cheer and wrap up 2013 with some well-wishes for his Twitter followers. Sure, this included promoting his new line of Jordans, but he meant well.
One of his followers decided this was a good opportunity to let Anthony know how he feels about his performance on the court.
Happy New Years Eve! Start the year off right with a pair of pre-release M10s #MELOGIVEAWAYS #NYEDanceOff http://t.co/CGW64OR15C

— Carmelo Anthony (@carmeloanthony) December 31, 2013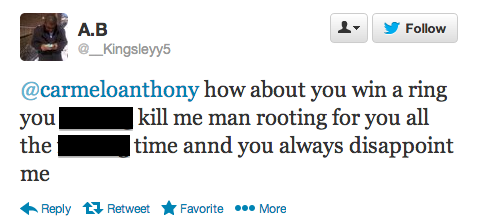 (via __Kingsleyy5)
Melo didn't take kindly to this and decided to fire back.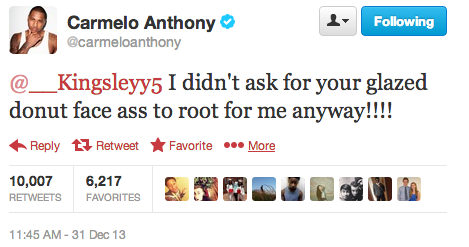 via @CarmeloAnthony
The fan who wrote him originally didn't appear to be too offended by the response. He was happy to get acknowledged by his favorite player, even though the acknowledgement came with an insult.
what a way to close out my year

— A.B (@__Kingsleyy5) December 31, 2013