Virginia Tech vs. UCLA: Breaking Down Bruins' Dominant 2013 Sun Bowl Win
January 1, 2014

Andrew Weber-USA TODAY Sports
UCLA beat Virginia Tech at the 2013 Sun Bowl, 42-12, but the final score doesn't indicate how close the game was for much of the afternoon in El Paso, Texas. 
After Michael Branthover drilled a 22-yard field goal late in the third quarter to pull the Hokies to within four points (14-10), it appeared the game was either team's to win. 
The mystery didn't last long, however.
Brett Hundley threw two touchdowns late to cap off a lopsided fourth quarter that saw the Bruins outscore the Hokies 28-2, leading to the final score, as highlighted by ESPN's College GameDay:
Here's a closer look at what Hundley accomplished in the game, followed by an examination of how UCLA's defense was able to shut down the offense of Virginia Tech. 
Breaking Down Hundley's Huge Game

Andrew Weber-USA TODAY Sports
Hundley's performance was truly remarkable, and it highlighted the reasons why many NFL draft analysts are drooling about his pro potential. 
The redshirt sophomore struggled to connect with his receivers in the first half, as pointed out by Bruin Report Online:
However, he rushed for 168 yards and two touchdowns, which was a Sun Bowl record, as Jill Painter Lopez of the L.A. Daily News relayed:
In particular, Hundley's 86-yard touchdown scamper in the second quarter illustrated his freakish athletic abilities. 
Bleacher Report, via CBS Broadcast
The second half featured a different quarterback altogether, as Hundley actually lost seven yards rushing.
He made up for that lost yardage with a brilliant display of passing in the game's final 30 minutes, including a 59-yard dagger to Shaquelle Evans late in the fourth quarter to put the Bruins up by 30 points. 
Andy Bitter of the Roanoke Times was convinced after that throw that Hundley is ready for the NFL, and he may be right:
Hundley played one of his best games, helping UCLA reach the 10-win mark for the first time since 2005 while making some history of his own, as ESPN Stats & Info noted:
If it was Hundley's last game for UCLA, then he surely made the most of his chance to leave on top. If he returns in 2014, then the Bruins will have a great chance of challenging Stanford and Oregon for the Pac-12 title. 
Bruins Defense Bares Its Claws

Kirby Lee-USA TODAY Sports
From Jordan Zumwalt's game-altering hit on Hokies quarterback Logan Thomas in the first half to Myles Jack's 24-yard pick-six in the fourth quarter, UCLA's defense took it to Virginia Tech's offense all game long. 
Zumwalt's vicious hit knocked Thomas out of the game.
He was flagged for the play, and many, including Ryan Kartje of the Orange County Register, thought it was a dirty hit:
However, a closer look revealed what appeared to be a clean, legal hit.
Bleacher Report, via CBS Broadcast
 Zumwalt stayed in the game, eventually earning co-MVP honors along with Hundley for his efforts.
The entire front seven played tough all game long, and the culmination of the team's efforts on the defensive side of the ball was Jack's interception for a touchdown early in the fourth quarter—the team's second touchdown in 62 seconds.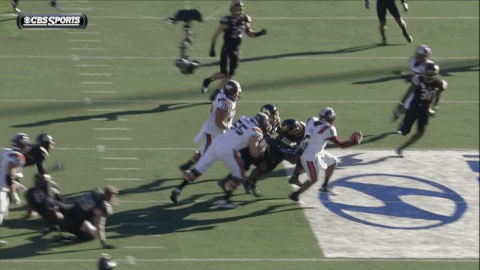 Bleacher Report, via CBS Broadcast
Backup Hokies quarterback Mark Leal simply made a terrible decision, and Jack made him pay. 
Follow me on Twitter @JesseReed78